Test during pregnancy can detect heart anomalies: Doc
Paediatric cardiologist talks about foetal heart problems
Megha Mann
Tribune News Service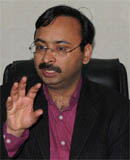 Dr Sushil Azad talks about the success rate of surgeries conducted on infants
Bathinda, February 13
Families having one case of congenital heart problem should closely monitor the second pregnancy as the risk of the second child being born with a heart problem increases, said paediatric cardiologist, Dr Sushil Azad from Medanta Medicity, Gurgaon.
In the city to examine newborns and children with heart ailments, Dr Azad said during the second pregnancy, the mothers should undergo echocardiography test during 16 to 18 week pregnancy to ensure that the second child is fine.
"During the echocardiography test since only the foetal heart is checked, any kind of anomaly in the heart can be immediately detected," he said adding that recurrent abortions are also specific indicators of the foetus having heart problems.
A member of the world famous cardiologist Dr Naresh Trehan's team, Dr Azad said every year, 1.80 lakh children are born with congenital heart defects.
Of these 1.80 lakh children, 30 to 50 per cent cases are critical to the extent that they require surgical intervention. In the rest of the cases, only treatment is needed to help children lead normal lives.
"The problem is when parents discover that their child is suffering from a heart defect, they immediately leave things to fate. People don't know that treatment is available and has got excellent success rate with less than one per cent mortality," he said.
He added that a hole in the heart was the commonest heart problem that children are born with, which once closed, does not recur.
He added that the cost of surgery ranges between Rs 1.5 to Rs 2 lakh, which was meagre keeping in view the 60 to 65 years of healthy life it is supposed to ensure for the child.
"Those belonging to financially poor background and lower income group in our country cannot afford the treatment," he said.
To reach out to such people, the Medanta Hospital, under its community outreach programme, is holding camps.
One such camp was held at Bajaj Hospital today with an aim to make consultation, diagnosis and treatment available in the pockets where there are not enough paediatric cardiologists.
He checked twins, 10 to 15 day old children and elder ones too.