MGN College organises kho-kho competition
Tribune News Service
Jalandhar, February 16
MGN College of Education, Jalandhar, has organised an inter-college kho-kho competition on the college campus. A match was played between the hosts and GN College of Education for Women, Kapurthala. MGN College of Education won the match with a score 8-9, 9-7.
Speaking on the occasion, MGN College principal Dr Amit Kauts urged students to play traditional sports of India to maintain physical fitness and develop stamina.
Seminar on electronics


The ECE department of Mehr Chand Polytechnic has organised a seminar by Ankit Puri, PRO, Global Electronics, Jalandhar. Students got awareness regarding latest technologies in electronics and about the value of small projects in the lives of an engineer. Head of the department VK Sangar asked students to get involve in every task they perform.
62nd athletic meet
The 62nd athletic meet of DAV College was organised at the college playgrounds. Jalandhar Division Sucha Ram Ladhar commissioner inaugurated the meet. College principal Dr BB Sharma, head of the sports department Dr Manu Sood and members of the athletic council and staff welcomed the chief guest.
In his inaugural speech, Ladhar applauded the contribution of the college in the field of academics and sports.
The best sportsman of the college award was shared by Harkanwardeep, college football team captain, and Shamsher Singh, a medal winner at the inter-university fencing contest.
In the second session, cricket coach Desh Prem Azad was the chief guest. He has the honour of coaching cricketers like Kapil Dev, Chetan Sharma. Apart from this, S. Sukhwinder Singh Bhullar, SP Head Quarters and S. Sarwanjeet Singh, member Indian hockey team (illumines) of the college also attended the function.
The chief guest Desh Prem Azad shared memories of his student life in this college.
Guest lecture


The Apeejay Institute of Management Technical Campus organised a guest lecture on "Android applications". SQL Technologies director Manider was a guest speaker on the occasion.
Jaskaran Singh and Jatinder Bhola of SQL Technologies also shared the views on the topic. Speaking on the topic, Jatinder Bhola shared his ideas about the opportunities in Android application development. He also discussed the various technologies that are used for the development of these applications.
Later, students were engrossed in a power point presentation and made the session more interactive by asking relevant questions. Students were enriched with examples from various industries and how various companies are using the latest technologies for the application development. Jatinder told students that Android developers in India frame the main role in the application development process. Due to the rapid growth of such advanced platform, they are on high need. Director of the institute DrRajesh Bagga expressed that such programmes would enable students to enhance their technical knowledge, professional experience and creativity.
Basant celebrated
Basant Panchami was celebrated with full fervour at Innocent Hearts, Green Model Town and Innocent Hearts, Loharan. Students chanted Saraswati Shlokas and sung songs of Basant. The trophies were presented to students of Class I who attained Grade A in all subjects. Director of the school Shally Bowry graced the function. Principal Dheeraj Banati congratulated the students who attained Grade A in all subjects and explained the importance of Basant to them.
Songs, dance mark the day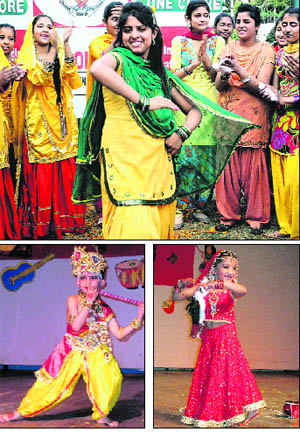 (Top) Students of St Soldier Divine Public School present a cultural programme during a function; and students of APJ School dance during an event in Jalandhar.@@Tribune Photos: Malkiat Singh and Sarabjit Singh
Basant Panchami was celebrated in Eklavya School with great fervor and enthusiasm. The programme began with a speech on Basant Panchami given by Srijan and Rhythm of Class V. On the occasion, students of Class II offered prayers to Goddess Saraswati by singing the song "Jayati Jayati Maa Saraswati". Young dancers from Class III and IV performed a dance on "Maa Saraswati Sharde". Shades of sunny yellow brightened the ambience of the school. The school was decorated with coloured kites.
Eklavya School director Seema Handa was the chief guest on the occasion. Seema Handa explained the importance of the festival to students. Sapna Bakshi, manager Eklavya School and Dimpal Sharma, principal Eklavya School, appreciated the efforts of students.
Yellow dress code
MGN Public School celebrated Basant Panchami with great pomp and show. Boys were dressed in yellow patka, turban and girls in yellow ribbons and suits. Principal Satwant Gakhal and vice principal Birinder Badwal congratulated staff and students on this occasion.
Lecture on economics, statistics
The Department of Economics of Apeejay College of Fine Arts organised a lecture on importance of economics and statistics in career building and placements.
Dr Nitin Arora from the department of economics, Panjab University, Chandigarh, was a keynote speaker on this occasion.
He provided an in-depth analysis of career opportunities available in the fields of economics and statistics such as those in Indian Economic Services, Indian Statistical Services, Indian Administrative Services, Reserve Bank of India and the corporate sector. He discussed at length about the selection process of research officers in organisations like NCAER, ICRIER, RIS, CRRID and IDC. He explained how all the disciplines like history, philosophy, sociology and even political science are converging into economics these days.
Dr Arora and Supreet Talwar, head of the department, judged the power point presentation presented by 15 students. Slides highlighted various social, economic and current issues like FDI in India, GM crops, backwardness of Indian agriculture, problems of poverty, unemployment, environmental degradation, child labour etc.
Tania, B.Com I was declared first, Sanjay and Ria (B.Sc (Eco) I jointly bagged the second position. Navpreet B Sc (Eco) I and Bikramjit BA I shared the third place. College principal Dr Sucharita also attended the event.
Best teacher award
The CT Group of Institutions organised a "Best Teacher Award" ceremony at Maqsudan to commemorate the 150th birth anniversary of Swami Vivekanand. Nearly 200 college and school teachers were conferred with the title of "Best Teacher" based on a survey conducted by undergraduate and postgraduate students pursuing higher education in the CT Group of Institutions. CT Group of Institutions chairman Charanjit Singh Channi and Maqsudan Campus director Dr Sanjay Bahl were present at the event. Students presented cultural programmes, including vandana, song, "Laughter ke Master" - a skit based on student-teacher relations, and gidda.