Mobile quiz on 'Know your country' organised at Kanya Maha Vidyalaya
Tribune News Service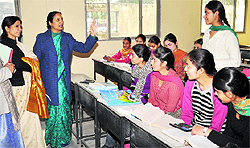 Students of KMV participate in a mobile quiz on the college campus in Jalandhar on Wednesday. Photo: Sarabjit Singh

Doctors examine students of Jullundur Model School during a medical camp in Jalandhar. A Tribune photograph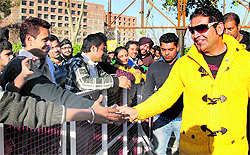 Singer KS Makhan shake hands with fans on a visit to Lovely Professional University for the promotion of his upcoming Punjabi film "Sajjan" in Phagwara, near Jalandhar, on Wednesday. Photo: Sarabjit Singh

Jalandhar, February 6
Young Historians Association and Gandhian Studies Centre organised a mobile quiz for the students of all streams of Kanya Maha Vidyalaya. Students were asked questions related to India's freedom struggle, constitution, Indian economy and politics under the programme 'know your country'. Navkiran, Sunil Kumari and Satvir of BSc (biotech), Kanchan, Harpreet, Rimpi and Inderjit of BSc IT (first year), Anchal, Jaspreet and Richa from BSc non-med (first year), Charanjit, Lovepreet and Krishma from BCom professional (third year), Lakhbir, Baljit and Deepali from MA economics (second year) and Kirti, Archana and Suman from BCom professional (first year) won prizes. Gurjot Kaur, Dr Monica, Shilpy and Sonia conducted the programme for the students.
TV dance show
Parthveer Singh, a student of Ivy World School, won the regional auditions held on January 20, to reach the North Zone final auditions for a dancing reality show of Star Plus channel. The auditions were held at the Model Town KFC Dance Factory.
Parthveer beat 300 other contestants in the auditions and amazed the judges through his locking popping moves, popularised by Prabhu Deva. He will be contesting for the North Zone competition to go to Mumbai on February 17 at Chandigarh.
Fashion show
Dhilwan International Public School organised a fashion show for the students of pre-primary wing. The tiny-tots looked enchanting and glamorous in their winter attire. Decoration of the venue and light music added to the feel of the event. Principal Romila Sharma said judgement was done on the basis of originality in idea of dressing, cat-walk, confidence, accessories and hair style. Baljeet from pre-nursery, Tanureet from nursery, Bhavleen of KG, Sukhmanjit of prep were the winners in girls' category. On the other hand, Jatish of pre-nursery, Armaan of nursery, Tanmay of KG and Manvir of prep were declared winners from among the boys.
Workshop on parenting
CT Public School organised a workshop on parenting which was attended by nearly 500 parents of students of class third to tenth. The resource person was Simarjit Gill, a career-counsellor. The emphasis was laid on 'nature and nurture' which explained the upbringing of the child in all aspects and fields. Principal of the school, Ranjana Rajput thanked the resource person.
16 Apeejay institute students get placements
ICICI Securities visited the campus of the Apeejay Institute of Management, Technical Campus, for the placement of the MBA 2011-13 batch. The recruitment process was conducted by Piyush Purohit, cluster manager retail and Vasundhra Kaul, regional manager HR. Sixteen students were selected including Amandeep Kaur, Batool, Deepak Pal Singh, Deepika, Gurleen Kaur Walia, Harpreet Kaur, Heena Sethi, Samroti Chopra, Vaishali Kaushal, Tanya Banga, Kartilk Malhotra, Nishant Kalra, Sahil Tulli, Manik Soni, Jesse Akshat Dass and Ashish Sagar Bansal. The students would join their duties in May 2013 with an annual salary package of Rs 3.75 lakh. Director of the institute Dr Rajesh Bagga congratulated the students.
LPU students bag jobs
Asian Paints, Pepsico India Holdings, Bose Corporation and NJ India Invest have selected LPU's MBA students. The selected ones will join their duties in June 2013 with an annual salary package of Rs 3.8 lakh per annum, plus incentives and variables. Prior to selection, the recruited students faced a thoroughly designed selection criteria, based on presentations, group discussion, aptitude test and interview. LPU pro-chancellor Rashmi Mittal congratulated the students.
Cancer awareness
A seminar on cancer awareness was organised by the Youth Red Cross Society of Hans Raj Mahila Maha Vidyalaya, in collaboration with BJP Medical Cell. The chief guest of the occasion was Dr TC Malhan, former Director, Health Services, Punjab and state president of BJP medical cell. The function was presided over by officiating Principal Paramjit Chahal. Dr Archana Dutta, Radiologist, PIMS, gave a presentation on breast cancer, skin cancer and lung cancer. She talked about the symptoms of the disease and made the students aware about its treatment process. In charge of Youth Red Cross Society Deepshikha also attended the event. An interactive round was also held.
Seminar on communication networks
A seminar on communication networks was organised by Computer Science Department of GND University College, Ladowali Road, Jalandhar. The guest speaker on the occasion was Dr Jyoteesh Malhotra, Associate Professor and Head of the Department of Electronics and Computer Science, Guru Nanak Dev University, Regional Campus, Jalandhar. He explained the importance of the latest trends in wireless and cellular technology to the students. He also emphasised on the next generation technologies such as body area technology and retina technology. Principal MJ Kalra thanked Dr Malhotra for the seminar. The stage was conducted by Assistant Professor Kanupriya Aggarwal. Assistant Professors Anubha Gauba, Savita Dhingra, Ridhima Bhalla and Vishal Bajaj were also present on this occasion.