Admn fails to streamline growing traffic on roads
Travelling in and around the city during peak hours is a nightmare. In the first part of the series, Jalandhar Tribune reporter Deepkamal Kaur and photographer Sarabjit Singh take the Bhagwan Mahavir Marg and explain how and why the situation has come to such a pass
Deepkamal Kaur
Tribune news service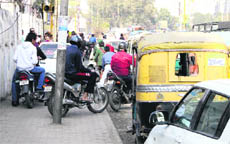 Kapurthala Chowk
Motorcyclists use footpath to move ahead at Kapurthala Chowk.
Jalandhar, february 2
For years, the district administration and the Municipal Corporation perhaps seem to have failed to streamline the burgeoning traffic across the busy stretches of the city.
The roads in the city, with an area of 167 sq km and population touching 8.73 lakh, are facing problems of encroachments, lack of adequate parking provision with commercial establishments, bad engineering of roads, untamed auto-rickshaws, illegally plying tractor-trailers and an ever-increasing number of vehicles. Nearly 1 lakh new vehicles were registered in the city in 2012.
It is the residents who end up wasting a lot more time on commuting than required. The city is also witness to VIP cavalcades, ambulances and school vehicles often getting caught in jams.
Tribune reporter Deepkamal Kaur and photographer Sarabjit Singh travelled on the 4-km stretch of 80-foot-wide Bhagwan Mahavir Marg from BMC Chowk to Workshop Chowk to find out the plight of the commuters who bear with the traffic mismanagement at least twice everyday. Owing to application of brakes after every two minutes, it took nearly 25 minutes to cover the stretch, which should have been covered in less than 10 minutes. Earlier, this road was considered to be a better alternative to using the old GT Road for those commuting towards HMV College, but a ride across it has now become equally nightmarish.
PROBLEMS YOU HAVE TO GRAPPLE WITH

Sinking manholes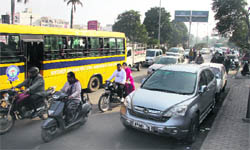 Patients and visitors to hospitals park their vehicles on the road on Bhagwan Mahavir Marg.
Falling on the BMC Chowk via a traffic light underneath the flyover itself remains a Herculean task owing to six narrow lanes converging into it with a huge inflow of traffic from all sides. As soon as a new entrant to the city takes to the Mahavir Marg, his vehicle will surely sink into any of the six manholes which lie quit low from the road level.

In front of Apeejay
Having crossed just a few hundred metres, comes the first bottleneck on the road in front of the Apeejay School and Apeejay College of Fine Arts. There being no traffic lights installed here, those coming from the BMC Chowk side, from institutes, from Guru Nanak Mission Chowk and from New Jawahar Nagar side converge here finding it difficult to cross over.
The scene is worst when the school closes around afternoon. There are parents waiting outside in cars, students coming out of school and crossing the road on foot, school buses moving in different directions and staff coming out in cars. The traffic here comes to a complete halt with area becoming highly jam-prone owing to BMC Chowk flyover just culminating there. The MC's proposal to install a foot overbridge with elevator on each side also remains pending owing to shortage of funds.

Lights not synchronised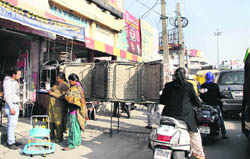 Shopkeepers encroach upon the road by displaying their goods at Nakodar Chowk.
The commuters along the road had heaved a major sigh of relief when the traffic lights at all the points had been synchronised about two years back. By the time, they used to reach the next point, the light used to go green and they could continue to maintain their vehicular speed. The synchronisation keeps on getting faulty every now and then. Varinder Sharma, a businessman and a resident of Adarsh Nagar, believes that if lights get synchronised half of the problems of commuters would get resolved.

Lack of parking
There are quite a few shopping malls, showrooms, banks, hotels and private hospitals falling on the road with most of them lacking adequate parking. The visitors to these buildings park their vehicles on the road owing to which the left lane cannot be used by the motorists.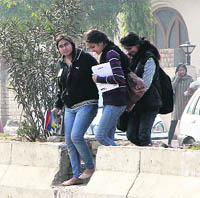 Girls cross road from a broken divider.

Slow-moving vehicles
Nakodar Chowk remains largely choked owing to a large number of cyclists and trolleys crossing across. Such slow-moving vehicles reduce the speed of other vehicles passing by. Further, the city bus also follows this route and keeps halting every now and then and even when there is green signal to take on board a passenger. Its enormous size blocks a huge traffic behind.

Broken dividers
The residents of colonies on either side of the stretch of the road between Kapurthala Chowk and Workshop Chowk have broken the newly constructed raised dividers at many points. Owing to this, the residents keep on crossing the road every now and then. The commuters have to slow down to avoid any accident.
Kind of commuters


Mostly school, college students, office goers, those commuting towards PTU, Science City, Kapurthala and Amritsar. As per one study, only 17 per cent of the vehicles starting from BMC Chowk make it to Workshop Chowk. Nearly 12 per cent turn from Kapurthala Chowk.
KIND OF VEHICLES
School buses, auto-rickshaws, cars/SUVs, two-wheelers, city bus, private local buses, tractor-trailers and cycles.
WHO IS TO BLAME?
The administration, MC and traffic police have perhaps spared little time to sit down and discuss such vital issues that affect the lives of residents daily. The MC, too, has not paid heed to resolve certain technical problems like sinking of manholes and measures required during road laying to check this. The proposal to construct foot overbridge in front of Apeejay has also been kept pending putting the lives of the youth to risk daily. The proposal to construct underpass for people wanting to cross the road from either side has also not been taken up.
WHAT NEEDS TO BE DONE
The challaning of illegally plying tractor-trailers, loaded with construction material, those too without registration numbers, needs to be done. Illegally plying auto-rickshaws, too, need to be checked. City bus must stop at designated halts and not just anywhere. Underpasses of foot overbridges should be constructed wherever required. The synchronisation of lights should be done with annual maintenance. Hospitals and other commercial establishments should be forced to ensure proper parking arrangements on their premises by making provision of basement or taking vacant plots in their vicinity on rent. The diameter of Nakodar Chowk can be reduced to allow easy movement of traffic.
SUGGESTIONS
BY RITES
The RITES in its Comprehensive Mobility Plan for the city had given suggestions to the MC to construct two elevated roads from Guru Nanak Mission Chowk to Nakodar Chowk and again Nakodar Chowk to Kapurthala Chowk. The administration is little hesitant to follow it as it involves shifting of a statue of Dr BR Ambedkar, which is installed on Nakodar Chowk. There also has been a suggestion to construct a subway beneath Chick Chick Chowk.
CHOKE POINTS
In front of Apeejay school and college, in front of malls and hospitals near Nakodar Chowk and Kapurthala Chowk, people waiting for auto-rickshaws and local buses at both roundabouts, encroachments near Nakodar Chowk, groups of people criss-crossing road jumping broken dividers from Kapurthala Chowk to Workshop Chowk every now and then.
OFFICIAL SPEAK
We are working on the problem of traffic in front of Apeejay School. There is a proposal to install foot overbridge with provision of elevators on either side. The problem of synchronisation of lights was resolved. I am not aware that it again is out of order. Funds, too, are a constraint with us for any kind of futuristic planning.
Viney Bublani, Commissioner, MC.
COMMUTERS speak

There definitely is a need for a foot overbridge in front of Apeejay College. At times vehicles descending from the BMC flyover are coming at a high speed and the students from the school and college are unable to cross the road.
— Anushka
Even a traffic light point installed here can work as commuters coming from four sides converge outside Apeejay College. But there definitely has to be a solution to the problem as it is a big bottleneck.
— Manisha

This road is full of choke points at all the traffic lights. The synchronisation of lights at times does not work, which irritates me a lot. The Municipal Carporation has done a little by forcing shopkeepers to remove their encroachments, but it has to be followed on regular basis or else the impact will go.
— Rajan
Commuting on this road almost daily, I have realised that the residents should just stop depending on the administration, police and Municipal Carporation. The only thing that needs to be done is that all commuters go into self-correction mode and just be disciplined while on road. That alone can help provide solution to all problems.
— Chetan Kapoor