College sets up women grievance cell
Tribune News Service
Jalandhar, January 27
Ramgarhia Institute of Engineering and Technology (RIET) has set up a "Women Grievance Cell" to ensure the safety of women. To set up the cell, a meeting was held at RIET with director Dr Vyoma Bhogal Dhatt and Dr RK Dhawan Principal, RIET. The institute had set up a cell headed by Gurpreet Kaur (HOD, MBA, MCA), Niveta (HOD applied sciences), Er Harneet (Assistant Prof), Er Sukhwinder (Assistant Prof), Er Rishma (Assistant Prof). The cell shared their views on how to augment the safety of women and boost their confidence. They decided to take various measures to give a platform so that women too feel equal to men and avail all opportunities provided to them. They decided that various new measures would be taken to empower female students of the institute. Moreover, the institute was already under the CCTV surveillance for 24 hours.
Director Dr Vyoma Bhogal Dhatt assured that the institute will spare no effort to promote security and safety of women on campus and would work closely with "Women grievance cell" to implement the same.
Documentary-making competition
An intra college documentary-making competition was conducted at the Apeejay Institute of Management Technical Campus, Jalandhar. The students had to select any social issue and make a video documentary on the same. The time limit for the documentary was eight to twelve minutes.
A total of 21 teams participated in the competition and seven teams were shortlisted. The students made documentaries on issues like poverty, child labour, drug menace, women harassment and human trafficking. The first position in the competition was bagged by the team of Anoop Arora, Lucky Kaura and Shikha Kashyap of MBA II B (poverty), second was bagged by Gurjot Singh, Gupadam Singh and Jyotika Khosla of MBA II C (drug menace), third position was bagged by Aarushi Dada, Nikita Dutta and Harmanjot Kaur of MBA II C (changing face of humanity).
The event was judged by Dr Anurag Pahuja and Kanika Chopra, Assistant Professors, School of Management Studies. Dr Rajesh Bagga, Director of the Institute congratulated the winners.
National Girl Child Day
National Girl Child Day was celebrated at CJS Public School, Jalandhar. Students presented catchy slogans depicting importance of the day with full zeal and enthusiasm. Other activities like talks, songs, poem recitation were also held. Students pledged to take care and respect the girl child. Cash prizes were awarded to winners for the best slogans. First prize was bagged by Sukhjeet Kaur (X-B), second by Lovepreet Singh and Shubhpreet Kaur of same class and third by Kirti (IX-B). Principal Ranbir Kaur said girls should be welcomed in the family.
Overall trophy
MK College of Education Shahpur bagged the overall trophy in the Inter College Competitions held at Innocent Hearts College of Education, Jalandhar. As many as 14 colleges affiliated to Guru Nanak Dev University, Amritsar, including Khalsa College of Education, Amritsar; Paradise College of Education, Jalandhar; Ramgarhia College of Education, Phagwara, participated in the competition. CT College of Education bagged first and third position in chalkboard writing competitions in English and Punjabi, respectively. Students of MK College of Education won the overall trophy. The students won individual prizes in chalkboard writing, power point presentation and group prize in educational quiz competition. S Charanjit Singh Channi, chairman, CT Group of Institutions congratulated winners.
The Golden Gate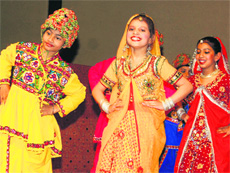 Students of Sanskriti KMV School participate in a cultural programme in Jalandhar on Sunday. A tribune photograph
Sanskriti KMV School celebrated their 10 years of existence through their annual function named 'The Golden Gate'. On this special day Principal Rachna Monga welcomed the chief guest Gurpreet Deo (IPS officer), president Chander Mohan, general secretary Alok Sondhi, manager Dr Atima Sharma, RK mayor, treasurer, Dr Sushma Chawla, Dr Deepali Luthar and other reputed members of the managing committee. Students of classes II-XII presented variety of traditional, classical and semi-classical dances, mime, English and Hindi plays, Yoga. English and Hindi plays highlighting civic responsibilities "Concern for Girl Child" and "Birbal Wisdom" received applause.
National voters' day
National voters' day was celebrated at the Guru Nanak Dev University Regional Campus, Ladhewali, by NGO Jalandhar Welfare Society in which 150 law students participated. Saini told students to be vigilant by casting their vote, thereby giving strength to Indian democracy. Dr RL Marwaha, Dr Rupam Jalota, Dr Ravinder Singh and other faculty members were present at the function.
Annual science exhibition
Science exhibition was organised at the Eklavya School. Students from LKG to Class X participated in the exhibition. There were various projects, activities and live models displaying the knowledge and aptitude of students.
Sunil Jyoti, Mayor, Jalandhar was the chief guest on the occasion. SBS Mishra (HOD chemistry) and KS Nagla (HOD robotics) from NIT Jalandhar also graced the occasion and appreciated students' efforts. Seema Handa, director, Eklavya School, Sapna Bakshi, manager, Eklavya School and Dimpal Sharma, principal, Eklavya School were present on the occasion.
The main highlight of the exhibition was ATM, where the students- Aditya (Class VII), Miral (Class VII) and Manisha (Class IX) explained the functioning of an ATM.
Another attraction was USB Gurus, where the students of Class VIII Rishabh, Komal and Navneet explained how USB's can be used in an effective and eco-friendly way. The students of Class IX and X named themselves as innovative inventors made telescope (Shaleen), fire alarm (Jasmeen), electromagnetic buzzer (Fioana), light house (Roopleen), touch alarm (Harshpreet), hydraulic lift (Angad), mouse trap car (Raghav Vasudeva) and earthquake resistant house (Sanamdeep).
They also exhibited the robotic car and windmills which were made under the international cultural exchange programme with our two partner schools i.e. Alderman Peel High School and Langham Village School in UK.