from schools and colleges
Competitions organised at Innocent Hearts College
Tribune News Service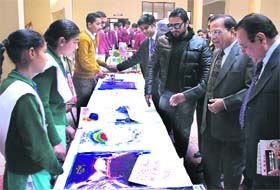 Students present their projects on the "Challenges to environment in modern age" during the Intellect Fiesta-2013 organised on the campus of the Ramgarhia Institute of Engineering and Technology in Phagwara. Tribune photo: Malkiat Singh
Jalandhar, January 24
Keeping in mind the healthy competitiveness among the would-be teachers, inter-college competitions were held at the Innocent Hearts College of Education. A number of colleges of education, affiliated to Guru Nanak Dev University, participated in the events which included chalkboard writing competition, power point presentation, elocution and educational quiz.
In chalkboard writing competition (English), the first position was bagged by CT College, Jalandhar, the second position was bagged by MGN College, Jalandhar and MK College, Jalandhar, got the third position.
In chalkboard writing competition (Hindi), Kamla Nehru College, Phagwara, bagged the first position, MK College bagged the second position and MGN College bagged the third position.
In chalkboard writing competition (Punjabi), Sidana Institute, Amritsar, got the first position, Ramgarhia College, Phagwara, got the second position and CT College got the third position.
In power point presentation, Khalsa College, Amritsar, secured the first position, MGN College secured second position and MK College secured third position.
In elocution, Sidana Institute got the first position, Lyallpur Khalsa College of Education for Women, Jalandhar, got the second position and Khalsa College got the third position.
In educational quiz, Sant Baba Bhag Singh Institute of Education bagged the first position. Khalsa College bagged the second position and Lyallpur Khalsa College bagged the third position. The overall trophy was bagged by MK College.
Aradhana Bowry, Executive Director of Innocent Hearts College of Education, distributed the prizes among the winners. Dr DK Joshi, Principal of the college congratulated the winners.
Management fest
Commemorating the 150th birth anniversary of Swami Vivekananda, the CT Institute of Management and Information Technology (CTIMIT), Maqsudan, organised its annual management fest 'Colors-2013'. The event saw the participation of management students from 25 management colleges of UP, Rajasthan, Haryana, Punjab and Himachal Pradesh. An estimated 500 students contested 15 events which brought to fore the various aspects of management studies.
Innovative business ideas were put forward by students and management concepts were illustrated in role-play contest. Contests for logo designing, ad-designing and tag line making saw students exhibiting their creative skills in brand management, whereas events on creative marketing, simulation and strategy formulation highlighted the core attributes of management sciences.
There were contests in case analysis, debate and information analysis, essay writing and face painting competition. A nukar natak was also staged to create awareness regarding social evils prevailing in the society.
In the cultural program held in the evening DJ Dr Zeus from UK enthralled the audience with top numbers. He sang his famous songs too.
Placement drive
In a placement drive of the Apeejay College of Fine Arts, 38 students scored placement in IBM. These students had to clear three stages of competition before they were finally selected. Dr Sucharita, principal of the college, congratulated Jagmohan Mago and Manisha of the placement cell for their initiative.
Lecture organised
The NSS unit of Hans Raj Mahila Maha Vidyalaya organised a lecture on the occasion of the 150th Birth Anniversary of Swami Vivekananda, in which CS Talwar, retired IAS officer and founder president of Swami Vivekananda Study Circle, Punjab, addressed the students on the 'Importance of Swami Vivekananda's ideology in the 21st Century'. He said Swami Vivekananda was a spiritual as well as an intellectual genius who presented the essence of India before the West. He also released a book 'Rabindranath Tagore diyan shreshth baal kahaniyan' translated into Punjabi by Veena Arora, Punjabi lecturer. Dr Rekha Kalia Bhardwaj, principal, and Dr Mahima Khosla, NSS Programme Officer, were also present on the occasion.
Creative writing
Kanya Maha Vidyalaya's Department of English and the English Literary Society organised a creative writing competition. The competition was conducted by Satinder Kaur, Head of Department, Department of English. The students expressed their creativity through poetry. Principal Dr Atima Sharma addressed the students and encouraged them to participate in such activities that provide a platform to hone their writing skills.
Voters' Day
Lovely Professional University would organise National Voters' Day tomorrow. Chief Electoral Officer, Punjab, Kusumjit Sidhu, would be the chief guest on the occasion. During celebration, electors photo ID cards (EPIC) would be distributed among 20 newly eligible voters. Awards would also be distributed among 10 officials for best electoral practices. During the felicitation ceremony, a cultural programme would also be held to let the young voters understand the value of voting and they would also be administered a pledge to use their voting right judiciously, said Vice-Chancellor Ashok Mittal.
IT bonanza
PG Department of Computer Science and IT of Lyallpur Khalsa College won the overall trophy in IT bonanza held by BD Arya Girls' College, Jalandhar Cantonment. Navdeep and Sumit stood first in website development. Gagandeep and Kamini stood first in poster making. Puneet, Umesh and Bharat got the second position in IT quiz. Jashanjeet Kaur stood second in software showcase. Taranjot and Harvinder got the second position in poster making. President Balbir Kaur along with Principal Dr Gurpinder Singh Samra and Prof Manohar Singh, Head, PG Department of Computer Science and IT, congratulated the students.
PG sponsorship
A BCA (Bachelor of Computer Applications) student of the Apeejay Institute of Management, Technical Campus, got sponsorship for postgraduation MS-Programme in Wipro.
This offer was made to students across India after a three-phase testing process. A total of 1,500 students participated in the process and eight students were selected for the programme. The selection procedure for the programme comprised of three stages- a common entrance test, technical interview and HR interview.
Intellect Fiesta
The Ramgarhia Institute of Engineering and Technology, Phagwara, organised Intellect Fiesta-2013 on its campus today. Dr Vyoma Bhogal Dhatt (Director, Ramgarhia Educational Institutions) and Gagandeep Singh Dhatt (Director, International Studies) were the guests of honour.
The main aim of the fiesta was to integrate creative and playful learning with educational processes. The fest included educational events such as essay writing, poster making, cartooning, on-the-spot painting, collage making, quiz competition, debate etc.
Seminar held
A seminar was held at the MGN College of Education, Jalandhar, on the occasion of Swami Vivekananda's 150th birth anniversary. An inter-house slogan writing competition was also held, in which students artistically depicted the philosophy of Vivekananda through various slogans. Speaking on the occasions, Principal Dr Amit Kauts emphasised on the need to remember and seek continuous guidance from the achievements and philosophy of Swami Vivekananda.
National Girl Child Day
DIPS, Dhilwan, organised slogan writing and essay writing competitions today to commemorate the National Girl Child Day. The aim of these competitions was to imbibe sensitivity in the society and remove prejudices against the girl child. Principal of the school Romila Sharma encouraged the students to create awareness regarding gender equality and empowerment of girls.