Kashipur IIM to evolve into centre of excellence
Pithoragarh, February 23
The Indian Institute of Management (IIM) at Kashipur will evolve itself into a centre of manufacturing excellence as it has the atmosphere to do so and is situated in the industrial area, said Director, IIM, Dr Gautam Sinha. He was speaking at a seminar organised by the institute last evening.


Cold wave resurfaces in state
Dehradun, February 23
Cold wave-like conditions were witnessed in Uttarakhand today with most parts of the state experiencing rain and snowfall. Higher reaches of Badrinath, Kedarnath, Auli, Joshimath, Gangotri, Yamunotri, Harsil and Munshiyari experienced heavy snowfall while plains of the state witnessed intermittent rain.
A family during rain in Dehradun on Saturday. Tribune photo: Vinod Pundir

CM releases book on Rawain-Jaunsar
Dehradun, February 23
Uttarakhand Chief Minister Vijay Bahuguna yesterday released a book published by Social and Environment Welfare Committee. Releasing "Rawain : Kal, Aaj aur Kal" at his camp office, he said that the Rawain-Jaunsar area had a unique identity and had contributed greatly to the cultural heritage of the state.
Chief Minister Vijay Bahuguna releases a book on the Rawain- Jaunsar area in Dehradun.
Face of the week
Keeping beauty of written word alive with passion
Dehradun, February 23
When writing is no more a passion with academicians, Ruby Gupta has been managing to pen down books, taking time off from her gruelling teaching sessions at the Dehradun Institute of Technology, Dehradun, where she heads the humanities section.
Murder case solved; policemen rewarded
Dehradun, February 23
Uttarakhand's Dehradun police today solved the sensational Ranipokhri headless body case. Addressing a press conference in Dehradun today, Dehradun SSP Kewal Khurana disclosed that one Surendra Kumar's headless body was recovered from Sangoan, Ranipokhri, a couple of days back.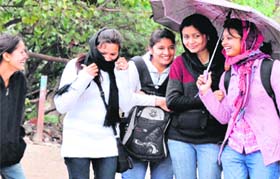 BREEZING FACES: With pleasant weather conditions prevaling, smiling young girls stroll in a park in Haridwar on Saturday. Tribune photo: Rameshwar GauR
Action plan for Nanda Devi reserve approved
Dehradun, February 23
Chief Secretary Alok Kumar Jain yesterday approved a Rs 63.28 lakh annual action plan for the Nanda Devi Biosphere Reserve. Of this, Rs 9.79 lakh is for natural resource management, Rs 17.24 lakh for value addition activities, Rs 8 lakh for social welfare work, Rs 13.25 lakh for eco-tourism support, Rs 2 lakh for capacity building and Rs 1 lakh for repairing quarters.
Women Help Cell workshop in inter-college
Dehradun, February 23
The State Women Help Cell continues to hold workshops in schools of the city to spread awareness about gender sensitisation. Superintendent of Police Jaya Baluni yesterday held one such workshop at Government Inter-College at Dobhalwala.
500 Gayatri Parivar followers on Gujarat tour
Haridwar, February 23
A group of 500 Gayatri Parivar volunteers of Shanti Kunj left for Gujarat to generate awareness about social aspects and disseminate the message of Shanti Kunj founder Pt Shri Ram Sharma Acharya here today.
5-member team to visit Gairsain
Dehradun, February 23
In view of the proposed Vidhan Sabha building to be constructed in Gairsain, a five-member team led by Dr Anusuya Prasad Makhuri, Deputy Speaker of the Uttarakhand Legislative Assembly, will be leaving on a tour of the Himalayan states to study the architectural plans of their Assembly buildings.