last word
SushilKumar Shinde
Taking all controversies in his smile
By Ajay Banerjee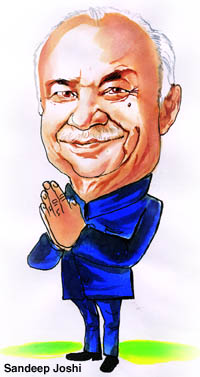 A perpetual smile on his face, conciliatory tone, half-finished sentences and an uncanny knack of creating controversies, Union Home Minister Sushilkumar Shinde is hardly a man who comes across as the one to take tough decisions and smoothly run the behemoth Home Ministry.
Shinde, a former Chief Minister of Maharashtra and long-time Gandhi family loyalist, has to his credit gaffes and controversies that divided society, but his seven-month tenure, starting August 1, 2012, has been a milestone of sorts, with two executions of terror case convicts, a new anti-rape law and somewhat ironed-out Centre-state relations.
When he was shifted from the Power Ministry to the Home Ministry, it was not just a leap in his political stature, but also a social climb for a man, who in his younger days was a court bailiff and later a Sub-Inspector in the Maharashtra Police. In fact, it was a double promotion, with the Congress also appointing him Leader of the Lok Sabha, replacing Pranab Mukherjee. His "Dalit identity", pliability and eagerness to carry out orders of the party high command at any cost, made him an apparent choice for Raisina Ridge.
His innings at the Home Ministry headquarters have been more like a golf course - some green with many holes and hurdles in it. Shinde has been sporadically, and simultaneously, applauded for his tough decisions on the one hand, and accused of having a slippery tongue on the other. The RSS called him the "darling of terrorists" after he spoke about "Hindu terror" during the Congress Chintan Shivir. The BJP, which demanded his sacking, applauded the decisions to execute Ajmal Kasab and Afzal Guru.
Conducted in secrecy, both executions bore the hallmark of police operations, which Shinde possibly picked during his six years in the CID wing. Asked why Afzal's family was not informed, he smiled and said: "I did not send the letter, the jail authorities did." He went on to say secrecy had to be maintained or the "country cannot run".


From a court bailiff and sub-Inspector to Home Minister, Shinde has come a long way. Yet, his off-the-cuff remarks keep getting him in trouble
'Dalit badge'
Replacing Chidambaram, Shinde virtually wore his "Dalit" badge on his sleeve and stirred the caste cauldron saying: "Dalits usually never get the Home Ministry. Rajiv Gandhi was the first to give the ministry to a Dalit when he made Buta Singh the Home Minister and now it has happened under Sonia Gandhi and Manmohan Singh".
At the Jaipur conclave, he projected the BJP and RSS as a cabal of rapacious terror mongers and blamed them for promoting "Hindu terrorism" through training camps. When this comment threatened to stall the budgetary session of Parliament, Shinde, goaded by the Congress, stated on February 20: "There is no basis for suggesting terror can be linked to organisations mentioned in my brief speech in Jaipur. Since a controversy has been created on account of my statement, I am expressing regret to those who felt hurt by my statement."
It may look unprecedented for a Home Minister to apologise, but Shinde has often had to eat his own words. During the monsoon session of Parliament, he had a stormy debut as Home Minister. Assam riots had claimed many lives. During a debate on the issue, he chided Jaya Bachchan, a Rajya Sabha MP, saying: "This is a serious matter. It is not the subject of a film." Jaya and the entire opposition protested, after which Shinde was forced to regret it. "I apologise for that. She is my sister. I know the entire Bachchan family for whom I have great respect."
Foot in mouth
During the December 2012 Gujarat Assembly elections, Shinde went on to stir another controversy, this time a communal one and with serious repercussions in officialdom. He claimed at an election rally: "The Congress has made a person whose name is (Syed) Ibrahim chief of the Intelligence Bureau." His public assertion raised several questions. Does the ruling party, and not the government, choose the Director of Intelligence Bureau, tasked with all internal intelligence? How did the faith of a top IPS officer become the talking point in a rally? The Home Minister was nearly sacked for this comment, but Ahmed Patel, Sonia Gandhi's pointsman, stepped in for damage control.
Shinde, however, remains unfazed. He stuck to his characteristic smile - earning him the sobriquet of 'hansmukh' - no matter how he had damaged the reputation of the Intelligence Bureau and its chief.
The December 16 gangrape in Delhi triggered a wave of protests. Shinde was blamed for not meeting the protesters. A day after the police crackdown on agitators at India Gate and Rashtrapati Bhawan, Shinde justified it saying: "When it (the protest) went out of hand, hooligans joined the protesters. We had to act and use force. We can't identify goons in 3,000 people. It's very easy to say the Home Minister should go meet protesters there. Tomorrow if Maoists demonstrate with weapons, will I go and meet them too?"
He courted another controversy when he in a lighter vein he responded to questions about coal block allocations. "Earlier Bofors was a talking point, but people forgot about it. Now it is coal. This, too, will be forgotten," he stated.
His biggest flip-flop was to come on Pakistan. In August and October, Shinde accused elements in Pakistan of fomenting trouble in India, but in December, he was shaking hands with his verbose counterpart Rehman Malik who was visiting Delhi to sign a new visa regime. Malik embarrassed India when he equated the November 2008 Mumbai attacks with the 1992 Babri Masjid demolition. Shinde felt slighted even as the BJP and political observers were aghast that there was no rebuttal to Malik's utterances.
Shinde's harakiri-prone tenure has resulted in Janata Dal (United) president Sharad Yadav advising him: "He has come to Delhi very recently. His importance is due to the Congress. It is better he confines himself to speaking about the Home Ministry. He should speak less on political issues."