Hagel must set the record straight on India soonest
Post the 2001 Afghan war, India has played its diplomatic cards brilliantly. While the US forces got embroiled in Afghan internal affairs, India focused on rebuilding Afghanistan. Will the new US Defence Secretary please take note?
Raj Chengappa

The bombing of Kabul had just begun when I undertook the arduous but exciting journey in October 2001 to cover the Afghan war that would result in the Taliban regime being overthrown by a combination of decisive air strikes by the US-led coalition forces and a ground attack by an array of rebel Afghan forces.
With great difficulty we were able to enter Afghanistan by driving from Dushanbe in Tajikistan to the Afghan border town Khwaja Bahawudin. We had to cross the Amu Darya by boat at night to avoid sniper fire from the Taliban stationed in the surrounding hills.
Among the many memorable meetings I had there was a meal with Attiqullah Baryalai, then a top military commander of the Northern Alliance forces, at his makeshift HQ overlooking the Amu Darya. Over a sumptuous meal that included dal imported from India, Baryalai told us presciently, "The US, like all other invading armies of the past, should remember that it is easy to get into Afghanistan but very difficult to get out. Every army that comes here gets sucked into the vortex."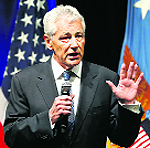 New US Defence Secretary Chuck Hagel.

I remembered Baryalai's words when last week there was a controversy over the remarks made by Chuck Hagel, the new US Defence Secretary, about India's role in Afghanistan when he was a professor in a university in 2011. Hagel had then told an innocuous gathering at Oklahoma University, "India has over the years financed problems for Pakistan in Afghanistan." Concerned that Hagel may still subscribe to such a jaundiced view of India's activities in Afghanistan, the Ministry of External Affairs registered a strong protest.
The US Defence Department did make the right noises and the matter seems to have been sorted out. But doubts linger about a possible US tilt towards Pakistan as Hagel gets down to fulfilling President Barack Obama's promise to his nation to withdraw US troops from Afghanistan in 2014.
The situation in Afghanistan is far from stable and the stakes for India remain high. The last thing India would want is that after the exit of US forces, Pakistan uses Afghanistan as its strategic backyard and ensures that the obscurantist Taliban that had the backing of Islamabad prior to the 2001 Afghan war returns to power again.
Post the 2001 overthrow of the Taliban and the installation of a democratic Afghan government led by Hamid Karzai, India has played its diplomatic cards brilliantly. While the US forces got embroiled in Afghan's internal affairs, as Baryalai had predicted they would, India focused on providing aid to rebuild Afghanistan. It included building critical road links, assisting power generation and setting up health and educational institutions.
Much to Pakistan's chagrin, Afghanistan chose India as the first country to sign an Agreement on Strategic Partnership in October 2011 that ensured cooperation in a range of fields, including political, economic, security and social. By then India had pledged US $ 2 billion in aid, making it the fifth largest bilateral donor to Afghanistan.
India has started training the Afghan National Security Forces, particularly the Afghan National Police. India has also signed memoranda of understanding for the development of minerals and natural gas in Afghanistan. The public sector Steel Authority of India has formed a consortium to invest in mining in the Bamiyan province.
The goodwill that India has generated in Afghanistan is palpable. A worried Islamabad has frequently accused Delhi of using Afghanistan as a base to fund and create internal disturbances in Pakistan. Though there is little substance in Pakistan's charges, Hagel appears to have reflected Islamabad's concerns when he made those unfortunate observations. It is important that Hagel sets the record straight at the earliest if he has to win India's confidence.
The major concern for India now is that the High Peace Council formed by the Afghanistan government to work out a "Peace Process Roadmap to 2015" had in November 2012 come out with a five-step process involving negotiations to make the Taliban and other armed opposition groups part of the government. The US is relying on Pakistan to facilitate the process.
Both Pakistan and the rebel Taliban forces appear to be playing a waiting game so that they could call the shots after the US and international armed forces have withdrawn. India has warned the US that any patchwork political process would jeopardise all gains the international community has achieved during the past decade and plunge Afghanistan into chaos again. History may then repeat itself.
On a visit to Delhi in 2004, Mohammad Zahir Shah, the last king of Afghanistan, told me, "Afghanistan's geographical position has a lot to do with the tumultuous events that have taken place in the past 100 years. It lies in the heart of Asia and at the crossroads of many countries. All I can say is that taking Afghanistan is very easy, controlling Afghanistan is very hard." Zahir Shah died in 2007 but it is good to remember his sombre advice as Afghanistan finds itself once again at the crossroads of history.
raj@tribunemail.com