HARYANA
Easy on taxes, hard on financial health
The target for zero-revenue deficit was last year, but even for 2013-14 the projected deficit is Rs 2,443 crore. Yet the state govt refuses to mobilise new sources of revenue.
By Ruchika M. Khanna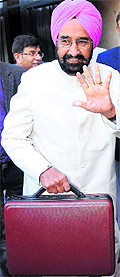 HAVE PATIENCE: Haryana Finance Minister HS Chatha arriving to present the state budget proposals on Friday. A Tribune photograph

Unwillingness to impose taxes, rising subsidy bill, falling capital expenditure, and mounting public debt are facilitating a fast slide in the Haryana Government's finances. Once a financially robust state, it is today close to a debt trap, unable to follow the fiscal consolidation road map laid by the Finance Commission.
Just five years back, Haryana was a revenue-surplus state. In year 2007-08, it had achieved a surplus of Rs 1,148 crore. But with the Congress government targeting a second term in office during the 2009 state Assembly elections, sops amounting to almost Rs 700 crore were doled out, leading to the government finances going into a tailspin. An additional jolt came from the implementation of the Sixth Pay Commission (a liability of over Rs 6,000 crore). The gap in the state's earnings and the spending has been increasing ever since.
Unmindful of the dire straits, state budgets over the years have played to the gallery. In the past four years, the finance ministers (Capt Ajay Yadav and now HS Chatha) have insisted on presenting "tax free" budgets. Though some extra-budgetary resource mobilisation drives (where some new taxes or hike in existing taxes are introduced after the budget) have been undertaken to keep the cash registers going, these have proved too meagre to address the mismatch in receipts and expenditure.
This time around (2013-14), there will be no room for additional resource mobilisation. With Chief Minister Bhupinder Singh Hooda eyeing a third consecutive term, it is clear that though the state is looking at an impressive increase in revenue (of over Rs 5,900 crore), this increased earning will come only from increase in VAT collections, excise duty, stamp duty, property registration charges and other existing taxes.
Tax-free bliss
Haryana presented a tax-free budget on Friday — fourth year in a row — even as it has been struggling to attain a revenue balance. As opposed to the target of becoming revenue surplus by March 2012, the revenue deficit has been increasing over the years. During the current financial year, too, the deficit (revised estimates) went up to Rs 3,163 crore, as against the budget estimate of Rs 2,455 crore. In the coming financial year (2013-14), the revenue deficit is estimated to climb down marginally to Rs 2,443.23 crore, but the state will still be nowhere near being revenue surplus.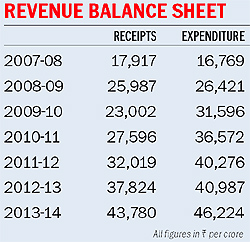 The debt burden too has been growing. From Rs 58,334 crore in this financial year, it is expected to increase to Rs 67,772 crore in 2013-14. Unless Haryana starts with additional resource mobilisation and introduces austerity measures to bring down its committed expenditure, the debt could well become unsustainable. Already, the share of debt and its servicing (interest payment) in Haryana's consolidated fund is expected to go up from 16.91 per cent in 2012-13 to 24.19 per cent in 2013-14.
Officials in the state Finance department, however, insist the state is observing most fiscal parameters laid out for it. Finance Secretary Sanjeev Kaushal says the revenue deficit as a percentage of the gross state domestic product (GSDP) has been coming down, and in 2013-14 it is expected to come down to 0.59 per cent.
"We have been introducing austerity measures, which have led to the state bringing down its administrative expenses by 10 per cent. The ratio of salary and pension to the total revenue receipts is also expected to come down from 38.68 per cent to 37.94 per cent. We are also expect the debt- GSDP ratio to decline marginally from 16.5 to 16.47 per cent," he said.
The fact, however, remains that Haryana needs to curtail its non-plan expenditure, which has been growing at almost 20 per cent each year. As against a non-plan expenditure of Rs 40,626 crore in 2012-13, it is expected to rise to Rs 45,826 crore in 2013-14. The state also needs to implement house tax forthwith; raise the power tariff in consonance with the power input costs (tariffs have not been raised except for a minimal hike announced last year, and the state loses Rs 2.50 per unit of power); ensure it collects abiana (canal water cess) from all farmers, and starts collecting the pending power bills, which have soared to almost Rs 4,000 crore.
Sop story
Haryana has to get out of the "sop" mode and curtail its rising subsidy bill. The power subsidy bill soared to Rs 55,129 crore during the current fiscal, mainly because of frequent adjustments made by the government against fuel surcharge. The huge outstanding power bills and reluctance to raise the tariff defeats the purpose of increasing the fuel surcharge adjustments. This year, the power subsidy bill of the state government is estimated at Rs 4,260 crore, and another Rs 500 crore is being doled out as various social security pensions. A couple of years ago there was move to implement a professional tax, but the move was scuttled after cries of protest from the public. These are resources Haryana cannot afford to ignore, even as it may continue to be a welfare state and promote inclusive growth.