WOMEN'S SPECIAL
Why mom is still right
As a society, we have failed our women and their collective wisdom by blindly following "research" that contradicts grandmother's heartfelt advice. Eating right is a family responsibility, so junk the packets
Rujuta Diwekar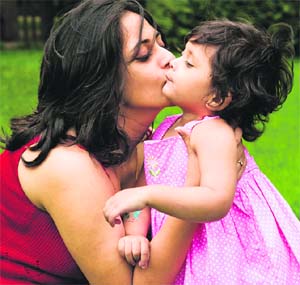 One of the many reasons why India is losing out on its native food wisdom is because its primary carriers are women and their role in the kitchen has been grossly misunderstood. Oops! Did I just say that? On International Women's Day where it's all about "power talk", the changing face and role of the Indian woman. But then right at the start of my career I decided that my job was to be ruthlessly honest. So stomach this. Traditionally, the kitchen has been the power centre, the place where all ingredients; fresh, local and seasonal, come together through the intuitive energies of these very upholders of our food wisdom and turn into delicacies like kadhi chawal, makai ki roti sarson ka saag, sidu, ghee etc.
---
ARTS
That graceful presence
Women of high rank were ordinarily not portrayed as observed from life but as idealised beings. It was only those from the lower strata like performers, working women or attendants, who were painted from life
B.N.Goswamy
There is incredible elegance, and refinement, in the manner in which painters of the past treated the feminine form in India. For centuries together. All those supple forms, those faces of porcelain beauty, come rushing to the mind: nayikas languishing on moonlit terraces, stepping out in the dark of stormy nights to keep a tryst, haughtily glancing down with a bare look to spare for lovers massaging the soles of their feet, peeping seductively from behind bamboo curtains, daintily gathering flowers with henna-ed hands. It is a magical world, as Coomaraswamy once wrote, in which "all men are heroic, and all women beautiful and passionate and shy".
---
Fitness
good health
Nutri nuggets
Nutritional needs change in various stages of a woman's life
During her lifecycle, there are several phases in a woman's life. Puberty and adolescence, pregnancy and lactation and menopause are three stages marked by significant hormonal changes. At each stage, a woman has special nutritional requirements.
Checks for healthy life
A woman's body goes through many changes. A regular checkup at every age can help prevent specific problems during that period
Dr Umesh N. Jindal
MAny a times we take our body for guaranteed, misuse it and still expect it to work efficiently. The fruits of a healthy lifestyle, an appropriate diet, activity and sleep pattern are appreciated in the later years of life. Besides maintaining a healthy lifestyle, regular health checkups can help to ward off or treat many diseases.
---
Society
Men-talities
Despite the market's attempt to cocoon souls in their self-enclosed mesh, men and women are actually meant to love, not hate each other. They need each other to foster nurturing relationships
Brian Mendon
Relations between men and women, if tenuous before, are even more fragile today. With the hype on individuality and the consumerist boom promoting a panacea of possessions, more men and women have been seduced by the spiel to end up single, unhappy and lonely. Rather than realising that men and women need each other to foster supportive, nurturing relationships, the sexes have widened the abyss between them in the 21st century. Marriages are floundering due to lack of adjustment. Many who are not married as yet don't want to get into it. Ostrich-like they bury themselves further in their work.
How he should reach out to her
Nishit Lal
Both women and men have been made from the same thread. They are connected and they are one. Lesser do we know that there is a man in every woman and the woman in every man. In situations, the man can see the reflection of a woman and the woman can see the reflection of her inner man. Take the role of a father and that of a mother. The job of a father is to guard and defend, while the job of the mother is to raise and nurture. At times, you will see that roles are being swapped. The father would raise and the mother would protect. Life is full of examples of single mothers playing the role of both father and mother.
---
TRAVEL
On the road less travelled
Women travellers are a fast-burgeoning demography. They are scaling new heights and even creating some unheard of peaks
Puneetinder Kaur Sidhu
travel is fun. Travel tales, even better. And trailblazers are the proverbial icing on the cake. And if these pathbreakers constitute women, they sure make it newsworthy.
From the hills of Himachal
Minakshi Chaudhry has worn many a mantle in life: as a journalist, cancer survivor and prolific author. But what defines her best is her endless love for travel, especially in Himachal Pradesh, her home state. Born in Solan, she was schooled in Nigeria before landing a job with a newspaper. The travel bug bit her early on, for when her family returned from Nigeria, her father booked hopping flights, choosing a different destination to visit each time.
Globetrotting
Solo sailing
Small in stature, big on heart, would be a fitting way to describe Galia Moss, the Mexican sailor currently on a solo east to west circumnavigation of Latin America — Mexico to Mexico — to be exact.
---
ENTERTAINMENT
Gender-benders of B-town
Deepa Ranade
If Kareena Kapoor-Khan, Katrina Kaif and Priyanka Chopra are waging a battle for pay-package parity for heroines in a male-dominated industry, some women working behind-the-camera have also asserted that 'not gender but talent' matters. In an industry where only 'heroes matter', debutant director Gauri Shinde broke not only the myth but also boxoffice records with her heroine-centric English Vinglish starring a 50-ish Sridevi. The ad-filmmaker-turned director's film about a woman seeking linguistic dignity was inspired by her own mother and the script dealt with an issue that was 'right under our noses' but only Gauri had the courage of the conviction.
Life behind bars
Bimal Roy's Bandini, which has completed 50 years, is perhaps the first Hindi film to depict the story of a woman prisoner, who was given life imprisonment for murder
Shoma A. Chatterji
Bimal Roy's most outstanding film Bandini, celebrates its 50th year. It won the National Award for the Best Feature Film (Hindi) in 1964. It won almost all major Filmfare Awards — Best Film, Best director, Best Actress (Nutan), Best Cinematographer (Kamal Bose), Best Sound Design (D. Billimoria) and Best Story (Jarasandha). It was a big commercial success. The film starred the smashingly handsome Dharmendra as the jail doctor while Ashok Kumar portrayed a political extremist. Gulzar entered into the world of lyrics in this film almost by accident.
---