Traffic policemen soft target for anti-social elements
GS Paul
Tribune News Service
Amritsar, March 21
There seems to be no end to the instances of policemen, particularly traffic personnel, being targeted by anti-social elements in the city.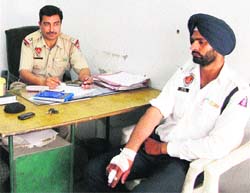 Injured policeman Balraj Singh, who was hit by car-borne youths in Amritsar on Wednesday. A Tribune photograph
A traffic policeman was run over by some youths near the Circuit House when the former signalled them to stop. In the past too, traffic policemen have faced similar instances, but in the absence of any concrete action, the accused get free, whereas such criminal activity goes on unabated.
These repeated instances point to the fact that there seems to be no fear of action in the minds of anti-social elements, a majority of whom have political patronage.
Nevertheless, it is being viewed that in the yesterday's instance too, the accused would likely be free, as has happened in a number of similar incidents in the past.
Regarding yesterday's incident, the investigating officer ASI Sohan Lal said rigorous Sections of the law were registered against the three occupants -Nishan Singh (driver of the Indigo Car), Gurditta, alias Gobind Singh, and Avtar Singh, but nothing objectionable was found during the preliminary investigations and that it appeared that they just ran over the policeman "out of fear".
"We have checked the antecedents and the car was thoroughly searched, but nothing objectionable could be found from them. The car belonged to Nishan Singh's brother-in-law, who incidentally is a policeman attached with the CM's security. In a statement given to the police, the accused admitted to breaking the signal at an earlier point and got nervous when the traffic cop Balraj Singh tried to intercept them again. Still, we have booked them and law will take its own course," he said.
In December, a head constable Karamjit Singh, deputed at a naka near Circuit House was physically assaulted by a group of miscreants who tore his uniform in broad daylight. They, too, were stopped by a police party deputed there for creating hooliganism. The accused Avtar Singh of Kot Salagram, Gulzar Singh of Shaheed Udham Singh Nagar, Taminderjit Singh and Gurinderpal Singh of Cheel Mandi were arrested. They had claimed that they belonged to a "prominent" political party in the region and possessed power to get all policemen dismissed from service.
The Civil Lines police registered a case under Section 353 (assaulting or use of criminal force to deter a public servant from discharging his duty), 332, 186, 506, 34 IPC in this regard.
"The culprits were on the wrong side and indulged in hooliganism. When I stopped them, they entered into a verbal dual. Then, after giving some political references, they physically assaulted me, threatened to get me dismissed and tore my uniform," he said.
On November 26, another traffic policeman was abused and manhandled by a couple in the Chatiwind area.
The offenders - Manjit Singh and his wife Sarabjit Kaur - reportedly got offended when the traffic policeman, Kulbir Singh, on duty at Chattiwind Chowk, near Gurdwara Shaheedan Sahib, asked the couple to stop their car at a proper place.
"I asked them to park their car in the designated parking place so that traffic should not get obstructed on the road. But this offended them. They manhandled me and tore my uniform. My only mistake was that I told them to park their vehicle properly," said the head constable.
On November 24, a traffic policeman Sardara Singh was thrashed badly by a group of five unidentified persons when he was on duty near Regent Cinema.
The accused attacked and injured him with a knife. A case in this regard was registered with the Kotwali police station. Even as a person was taken into custody on suspicion, the main culprits are still at large.