Narrow escape for 5 as Gypsy plunges into Thermal lake
Gurdeep Singh Mann
Tribune News Service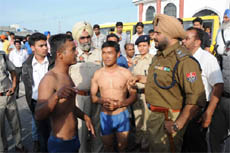 SSP Ravcharan Brar speaks to divers who rescued the occupants of the Gypsy, at the site of the accident. Tribune photo: Pawan Sharma
Bathinda, March 21
Five persons, including a two-year-old boy, his mother and a couple, had a narrow escape after the vehicle they were travelling in plunged into the Lake number 3 of the Guru Nanak Dev Thermal Plant on the Goniana road here today.
The incident occurred at around 4.15 pm when a Maruti Gypsy driven by a gurdwara priest Labh Singh from Dyalpura village collided with a Tata 407 mini-truck. While the truck turned turtle, the Gypsy veered off the road to break the boundary wall of the lake before falling into it.
On hearing a loud noise, the divers deployed to answer distress calls and ensure safety of people hiring private boats at the lake rushed to the rescue of the occupants of the Gypsy.
The occupants of the Gypsy were identified as Raj Kaur (25), who was in family way, her mother-in-law Sukhdev Kaur (48), her two-year-old son Akashdeep, Inderjit Kaur (36) and her husband Labh Singh.
They were rushed to the Civil Hospital by volunteers of NGOs, the Sahara Jan Sewa and the Naujawan Welfare Society. All of them have been declared out of danger.
Inderjit Kaur said they were returning to Dyalpura village after enquiring about the well being of an acquaintance undergoing treatment at a private hospital in Bathinda. She was sitting alongside her husband, who was at wheels, while others were sitting on the rear seats.
Inderjit Kaur said her husband tried to overtake the tempo when the accident took place.
SSP Ravcharan Brar, DSP Gurmeet Kingra, SP (D) Amarjeet Singh, SP (H) Gurmeet Singh, ASP Alka Meena, DSP Rupinder Kaur Sra and a large number of traffic policemen led by Thermal SHO Kaabal Singh and others reached the spot.
SSP Ravcharan Brar met the divers, who helped in rescuing the occupants of the Gypsy, and lauded their quick action. "For the instant action of the divers, five lives have been saved," the SSP said. He said the police would recommend life-saving bravery award for the divers.
DSP Gurmeet Kingra, who is a professional swimmer, said, "I never saw such a quick reaction on the part of lifeguards. Even a two-minute delay on the part of the divers could have proved fatal for the five occupants of Gypsy."
Subhash Kumar, the driver of the tempo, was rounded up by the police in the evening.
The police with the help of the National Disaster Response Force (NDRF) retrieved the Gypsy and ensured that nobody was left behind in the lake.