Wired? Yes. Wiser? No
The fast-changing gizmo world is charming the younger generation. This is a cause of concern and anxiety for parents, caregivers, educationists and psychologists. Questions like how much is enough, when is the right time to introduce the devices, how to strike a balance and avoid extremes, keep lurking in everyone's minds
Vibha Sharma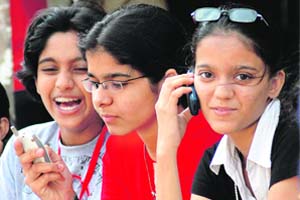 Change is definitely the one thing that is constant in life. That is precisely what we all are witnessing, thanks to quantum leaps that information and technology are making to pervade every sphere of our lives. The past couple of decades have been so IT bound that it is no exaggeration to say that the timeline would show a clear demarcation of era before Google and the one post it.


An educationist's viewpoint
---
ARTS
Raja of the raga
Classical vocalist Padma Vibushan Pandit Jasraj, whose voice has mesmerised generations of music aficionados, continues to cast a spell over listeners
Nonika Singh
Make no mistake. He is without doubt, the superstar of Indian classical music. Like Basant, the king of seasons, Pandit Jasraj is the monarch of all he surveys. No wonder his fans vie with each other to get their pictures clicked with him and seek his autographs as these were priceless possessions. Youngsters are only too eager to touch his feet as if he were some god.
Date with a view
The annual calendar has undergone a transformation and is regarded as a style statement
Priyanka Roy
This is that time of the year when the new calendar has already arrived and is adorning your wall or a table. The calendar as a concept is not a modern innovation, though. With the progress of human civilisation, the system of tracking dates and auspicious days for festivities also developed. Different cultures had different calendar systems for calculation like the Mayan calendar, Sumerian, Greek and Islamic calendar, etc.

broad brush
---
Fitness
good health
Celebrate Holi the healthy way
It is possible to have a good time without it taking a toll on our health. The way to indulge in festivities is to eat sensibly and make healthier choices
Ishi Khosla
Celebrating Holi or any other festival in India has its own charm and has a regional touch to it. Celebration with special foods is common. Different communities in India, have their own typical ways of celebrating festivals by preparing special sweets, snacks and food.

Health Capsules
---
Society
Meet the Axomiya Sikhs
They have lived in settlements in Barkola and Chaparmukh, in Assam, for over two centuries
Birinder Pal Singh
THE Sikhs living in Assam are the progeny of soldiers sent by Maharaja Ranjit Singh to support the Ahom king, Chandrakanta Singha. Chaitanya Singh, the commander of Maharaja Ranjit Singh's soldiers, was a brave soldier who died fighting valiantly at Hadira Chauki.
---
TRAVEl
In King Arthur's castle
Set high on the rugged north Cornwall coast, Tintagel Castle is steeped in legend and mystery. Said to be the birthplace of King Arthur, the castle also features in the tale of Tristan and Isolde
Nivedita Choudhuri
FOR a magical day out in Cornwall, take the family to Tintagel Castle," states the English Heritage tagline. The Historic Building and Monuments Commission for England couldn't be more accurate in its judgment. Tintagel's wonderful location, set high on the rugged north Cornwall coast, offers dramatic views.

Globetrotting
---
ENTERTAINMENT
Life of Lee
In a career spanning two decades, the versatile Taiwan-born American director Ang Lee has dazzled the lovers of good cinema with his skill and sensitivity
Saibal Chatterjee
THE biggest upset, and perhaps the only major surprise, of this year's Oscar night was Taiwanese-born American filmmaker Ang Lee beating the odds-on favourite, Steven Spielberg, to the statuette for "best achievement in directing".
Celluloid Man
The 164-minute documentary on P. K. Nair, the founder of National Film Archive, throws light on the significance of preserving and documenting films
Shoma A. Chatterji
A classic documentary, Celluloid Man, is based on the life of P.K. Nair, the founder-director of the first and largest cinema archive in India. He founded the National Film Archive, Pune, in 1964 and is singularly responsible for restoring and rescuing films virtually lost to history over his long relationship with NFAI till 1991.

television
---