M A I N N E W S
At BRICS, all eyes on Manmohan-Xi meet
First contact between Indian PM and new Chinese President expected to bolster ties
Raj Chengappa in Durban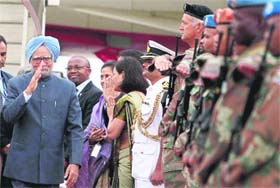 Prime Minister Manmohan Singh after his arrival at King Shaka airport in Durban on Monday. — PTI
March 25
As the five heads of state of BRICS countries arrive to participate in the fifth summit being held in eThekwini, the South African name for Durban, the bilateral meeting that is eagerly being anticipated is the one between Indian Prime Minister Manmohan Singh and the new Chinese President Xi Jinping.
The meeting scheduled for Wednesday evening on the sidelines of the summit would be the first eyeball-to-eyeball contact Manmohan Singh would have with Xi Jinping after he formally took over as President of China last week. The two leaders are expected to use the opportunity to share their vision of how best to take the relationship forward.
Signalling the significance India attaches to the meeting, in a statement before he embarked on the flight to Durban today Manmohan Singh said, "It will be an opportunity for me not only to greet the new Chinese President personally but to discuss how we can maintain the positive trajectory in our relationship and further strengthen this very important bilateral relationship."
Xi Jinping is both the power and the face of the new leadership that has taken charge of China in a smooth transition of power recently.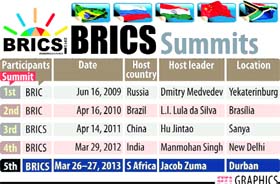 Before arriving in Durban, Xi Jinping had outlined his thinking on how to strengthen relations between India and China at a pre-summit media interaction held in Beijing. Xi Jinping told the Indian news agency PTI that, "China sees its relations with India as the most important bilateral relationship and is committed to pushing forward the China-India strategic partnership… we should take solid steps to bolster cooperation and exchanges in all fields and take China-India relations to a new height."
Xi Jinping then went on to elaborate the "solid steps" in the form of five policy proposals, "First, we should maintain strategic communication and keep our bilateral relations on the right track. Second, we should harness each other's comparative strengths and expand win-win cooperation in infrastructure, mutual investment and other areas. Third, we should strengthen cultural ties and increase the mutual understanding and friendship between our peoples. Fourth, we should expand coordination and collaboration in multilateral affairs to jointly safeguard the legitimate rights and interests of developing countries and tackle global challenges. Fifth, we should accommodate each other's core concerns and properly handle problems and differences existing between the two countries."
India has already welcomed the proposals and the assessment among senior officials before the meeting is that "all signs during the transition and after have been good and positive". Experts are debating as to what Xi Jinping meant by "core concerns" and they expect China to spell it out soon enough. For India, some of China's concerns like Tibet and the boundary dispute are known but whether it will include the contentious South China Sea is to be seen.
Of India's core concern on the border, Xi Jinping was candid that he didn't expect it to be resolved in the immediate future and appeared to opt for a status quo approach. In the same briefing, he told PTI, "The boundary question is a complex issue left from history and solving the issue will not be easy. However, as long as we keep our friendly consultations we can eventually arrive at a fair, reasonable and mutually acceptable settlement. Pending the final settlement of the boundary question, the two sides should work together to maintain peace and tranquility in border areas and prevent the boundary question from affecting the overall bilateral relations."
The interpretation is that China will not let the border dispute affect the progress of relations with India on other spheres. Official sources maintain that there was "no new language" and it signals a continuity in China's approach. The overall assessment of Xi Jinping's pronouncements, according to official sources, is that the new leadership in China is keen "on not only improving relations between the two countries but realising its full potential."
Official sources added, "Both sides see their future better from there than what is here. The two leaders would like to carry on the conversation and set the agenda for the road ahead." About reported concerns such as nuclear cooperation, dams over the Brahmaputra and development of the Gwadar port, the official opinion is that these are "not new issues" and one has to assess, " intentions and capabilities" and that India " will deal with it as it sees it."