EVMs stored in auditorium, school holds cultural activities in the open
Archit Watts
Tribune News Service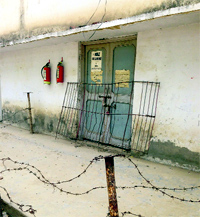 A sealed entrance to the auditorium at a government school in Muktsar. A Tribune photograph
Muktsar, April 2
An auditorium built at a cost of Rs 10 lakh at the Government Girls' Senior Secondary School here is not serving the intended purpose of holding cultural events.
For the past five years, the district administration has stored electronic voting machines (EVMs) inside the auditorium in 2005. Resultantly, the school authorities have been organising cultural programmes in an open ground.
Besides the auditorium, two rooms of the school have also been taken for the purpose.
The main entrance of the auditorium, which was built in 2005, has been blocked after raising a wall. Three cops guard the machines throughout the day.
School teachers said the auditorium was used to hold functions only twice, following which it was taken over by the district administration to store the EVMs.
They demanded that the authorities concerned should shift the machines to some other place. "The machines can be stored in a room at any other place but cultural events can't be held anywhere else except for the auditorium, especially when it was built after spending a huge amount of money. The authorities concerned must look into the matter and take a decision in this regard," added the teachers.
The principal of the Government Girls' Senior Secondary School, Neelam Bala, said, "It has been nearly five years that the machines have been kept in the school auditorium. The higher authorities are well aware of the situation as they frequently visit the school to inspect the machines. However, no decision has been taken so far to shift the EVMs to any other place."
When contacted for his version, Deputy Commissioner Paramjit Singh said he was busy in a meeting.
Election tehsildar Hukam Singh Sodhi, who was told by the Deputy Commissioner to comment on the issue, said, "The EVMs were kept in the school auditorium after the approval from the higher-ups. Moreover, this is the only hall in the town that has sufficient space."