prime concern
Civil Services exam
UPSC fairness on test
Nigavekar panel was set up to identify the desired profile of civil services aspirants. Changes were suggested in eligibility criteria, number of attempts, age limit and exam format. The UPSC reduced optionals weightage, but ignored some revolutionary recommendations. The idea of a level playing field is ripe, but not within reach yet.
By Aditi tandon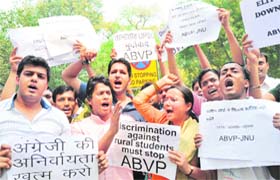 The Opposition resisted the introduction of compulsory English composition in Paper 1 and forced its withdrawal; and the UPSC (below) has added new general studies components.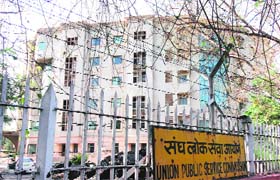 IT has taken the Union Public Service Commission (UPSC) long to realise that testing candidates for subject knowledge is not essentially the best way to select future civil servants. For the first time in the history of the Civil Services Examinations (CSE) in India, the predominance enjoyed by subject optionals in the mains for IAS, IPS, IFS and other Central services has gone.
The ground is ripe for a fairer competition where more aspirants will be ranked for general awareness and aptitude rather than their knowledge of disciplines such as engineering and sociology. The idea is to usher in a genuinely intelligent pool of people who can handle the challenges modern times pose in terms of problem solving and application of knowledge to real-life situations like law and order and disasters.
The UPSC, constitutionally tasked with administering CSE prelims and mains examinations to select senior bureaucrats, is now confident that its reformed mains examination scheme introduced from March 2013 will restore the rigour of recruitment process. "We hope to duck the trend where candidates opting for high-scoring subject optionals gained an advantage over those coming from less-scoring streams. Many students would opt for subjects they had never studied in graduation. This encouraged coaching culture that trained candidates to cram. We have reduced the optionals weightage to establish the primacy of general studies, of which there will now be four papers of 300 marks each instead of two of 300 marks each," UPSC officials explain.
Optionals weightage will be only 500 marks instead of 1200 in the past and general studies weightage will be 1000 instead of 600 earlier. Among the new general studies components are ethics, integrity, aptitude, biodiversity and disaster management, all relevant subjects considering rapid urbanisation. Considering there is no readymade text for these subjects, the UPSC is hoping analytically strong candidates will make the grade from now on. The prelims are on May 26.
The move to cut down optionals (from two to one) is rooted in recent surveys of candidates entering the elite services. Analysis of data from Lal Shastri Bahadur National Academy of Administration (where recruits undergo training) shows until 1980s, IAS officers were primarily from humanities.
Gradually, IITians began to dominate merit charts. In 1994, seven of the 10 toppers were IITians, among them Anil Singhal from IIT Kanpur, ranked second. Now private secretary to HRD Minister MM Pallam Raju, he says: "IITians had an edge because they opted for high-scoring maths and physics as optionals. The UPSC toughened the maths (around 2000 marks) syllabus so much that even engineers started switching to other scoring combinations like sociology and philosophy."
Among IAS recruits since 2001 only a third were arts graduates, 13 per cent were science graduates, 25 per cent engineers, 15 per cent doctors, 8 per cent managers and 6 per cent lawyers. In 2011, 15 out of the top 25 ranks went to engineers as against five humanities graduates.
Nigavekar Committee
In 2011, the UPSC set up a committee under the chairmanship of Arun Nigavekar, former UGC Chairman and Founder Director, National Assessment and Accreditation Council, to identify "desired profiles" for civil servants to enable them to deliver good governance. About 500 aspirants annually compete for each of the 1,000 vacancies in the IAS, IPS and other Central services, as against 14 in Japan.
The panel recently suggested revolutionary changes even in the eligibility criteria and number of attempts. It said students should be allowed to choose only those subjects as optionals which they had studied for graduation. The UPSC did not accept this recommendation in the changes notified on March 5, 2013, though it reduced the optional weightage.
Many recommendations were ignored. "We said prelims should be open only to graduates with 50 per cent marks. Right now all pass-outs are eligible. We agreed three attempts were sufficient irrespective of categories as against the practice of four chances to general class students, seven to OBCs and unlimited to SCs/STs. To prevent delayed entry into services we wanted the upper age limit to be 25 instead of 30 and the lower limit of 21 years abolished as students now graduate at 18 years also. The mains must test aspirants for knowledge of their degree subjects and optional papers should test how they apply this knowledge to solve problems," Nigavekar says.
Between 1960s and 1970s, the upper age limit was 24 years for general students with a five-year relaxation for SCs/STs. Gradually the limit rose to 30. The average age of a fresh entrant was 24 years then; it is 28 today.
The second Administrative Reforms Commission under Veerappa Moily had also lamented this trend saying: "Civil servants entering at a later stage find it more difficult to adapt. They have a shorter service span and do not get adequate chance to influence public policy."
It advocated 21 to 25 years age limit for general, 21 to 28 years for OBCs and 29 years for SCs/STs; and three attempts for general, five for OBCs and six for SCs/STs. The UPSC did not heed to these suggestions and the age limit continues to be 21 to 30 years with five year relaxation for OBCs and six years for SCs/STs.
Exams and language
The Nigavekar Committee proposed the inclusion of a compulsory English précis and composition section in Paper I (mains) which originally comprised an essay paper that candidates could write in any language. It also wanted the marks counted for ranking. "English composition and précis paper was to be of matriculation level. It would test if candidates could articulate their thoughts succinctly. We retained the essay paper, but added a section considering English is a global language and civil servants need to know it in a globally inter-dependent world," Nigavekar says.
"Students would take literature of languages like Pali in which there are few competitors and few invigilators. Since the syllabus is limited, they would have advantage. It was thought degree-level knowledge of the optional was important and at least 25 students should opt for a certain language to write their mains," a former UPSC member says.
These changes were rejected on March 21 after a furore in the Lok Sabha, where MPs said the move was anti-regional languages. Students can now write the mains in any Schedule 18 language and the essay paper remains of 250 marks and can be written in any language.
Many bureaucrats feel English composition paper was essential. "English connects the country and the world. English comprehension is a must for a civil servant to contribute better to policy making," RP Sisodia, Joint Secretary in HRD Ministry, says. A former UPSC member says sometimes entrants coming to the academy do not know any language except their own. "This hampers the objective of national integration. Originally, candidates used to take tests in English and Hindi only and pick up regional languages during postings," he says.
Aptitude test (prelims)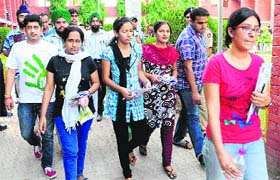 Two compulsory papers of 200 marks each
Civil services exam (mains)
Old pattern..
Nine papers: 2300 marks
English (qualifying) 300 marks
Indian language (qualifying) 300 marks
General Studies (two papers) 600 marks
Essay paper 200 marks
1st optional paper (two papers) 600 marks
2nd optional paper (two papers) 600 marks
Interview: 300 marks
New pattern..
Seven papers: 2075 marks
Paper 1
Section 1 (200 marks): Essay
Section 2 (100 marks): English composition; précis of matriculation level
(now rescinded)
Paper II
General studies 1 (250 marks): Indian heritage and culture, history, geography of the world and society)
Paper III
General studies (250 marks): Governance, Constitution, polity, social justice, international relations)
Paper IV
General studies (250 marks): Technology, economic development, biodiversity, environment, security and disaster management)
Paper V
General studies (250 marks): Ethics, integrity and aptitude
Paper VI
Optional paper (250 marks)
Paper VII
Optional paper (250 marks)
Interview: 275 marks