good news
Fruit of his success is seed for farmers' inspiration
A leading kinnow grower in the region and multiple-award winner, Sushil Periwal's farm database is being used by academicians as a case study in horticulture.
By Sarbjit Dhaliwal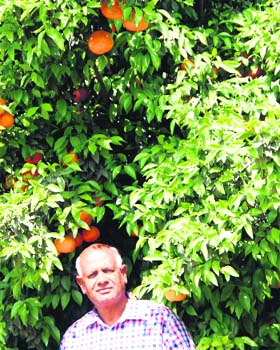 Sushil Periwal at his kinnow farm spread over 128 acres at Khippanwali village near Fazilka.
HAD he joined a bank after graduating in commerce about three decades ago, he would have been simply counting currency notes in some bank. There was no dearth of bank jobs for commerce graduates then, but he opted for farming, his first love. He did not foresee that agriculture would bestow upon him a unique identity and fill his house with awards. Sushil Periwal, a leading horticulturist from Khippanwali village, near Fazilka, has become a source of inspiration for other farmers in Fazilka belt known for quality kinnow and other fruits.
He has won 39 awards for growing quality fruit. The latest was the Chief Minister's award presented to him at the PAU, Ludhiana, for his outstanding performance in managing his kinnow farm in a most scientific and modern manner. He is one of the leading kinnow growers in this part of the country.
Sprawling farm
Lately, experts have been emphasising on moving away from traditional farming to horticulture. Periwal has been nothing short of a visionary for taking to this stream of farming several years ago. He is now a well-established farmer in the national kinnow market. Besides his kinnow farm spread over 128 acres, he has a cotton ginning factory in Rajasthan and his sons Shailesh and Sidharath look after the crasher business and kinnow farming, respectively.
"My grandfather was a big landlord. He owned hundreds of acres but following the Partition, he had to leave Pakistan. My father worked hard to rebuild our dwindled farm. I studied commerce and law in Rajasthan, but opted for farming," says Periwal.
"As my family owned over 100 acres at Khippanwali village, I thought of concentrating on farming instead of a government job. We steadily moved from traditional agriculture to horticulture decades ago and started growing 'malta'. Then we moved to kinnow, which has become popular across the country and nearly ousted orange from the fruit market in the north. We have a kinnow farm spread over 100 acres now. Once an investment is made in a kinnow farm, there is no need to look back for the next 20 years," he says.
There are more than 11,000 kinnow plants on his farm, which is divided into six zones and 25 sub-zones. Permanent labour monitors plants in each zone. The record of each plant, which is identified with a number inscribed on it, is meticulously maintained and computerised. Plants not giving adequate yield are removed after being watched for three years and replaced with new ones.
Going hi-tech
This makes it easy for him to monitor the entire farm. Feeding the history of the plant into a computer and updating it regularly, helps him know if any plant or any particular part in the farm is facing a problem or is diseased. With a click of the mouse, he comes to know when a particular plant was sprayed and pruned; what its yield was last year; and what was the yield growth pattern.
Canal water is used for irrigation. He has set up a drip irrigation system across the farm, which saves up to 30 per cent water and increases fruit yield. Two huge water tanks have been built on the farm, where water is stored and used for irrigation when there is shortage of canal water.
The farm is highly mechanised. Besides the drip irrigation system, he has a machine that can spray plants in 50 acres in a day. For the first time this year, he got the plants pruned in 6 acres with the help of a machine provided by the state horticulture department. It proved to be a good experience. He also has a cold storage facility at the farm where the fruit can be stored for some days before packing. The farm is fenced from all sides and there is only one exit and entry.
For the removal of weeds and other wild growth, he hires contractual labour and the picking of fruit is done manually. Periwal is trying to import a grading machine now.
For the supply of plants, he fully depends on the state horticulture department which has quality plants at its nurseries in Hoshiarpur. "Our experience with private suppliers of plants is not a happy one. We are satisfied with the quality of plants grown at the department's nurseries," he says, adding "against the usual practice of 55 per cent, we get 70 per cent 'A' grade fruit from our plants, 20 per cent 'B' grade and 10 per cent 'C' grade".
Profits follow
There is no problem with regard to the marketing of kinnow. His son has developed his own marketing system. Otherwise also, the fruit now has ready market all over the country, especially in big cities such as Bangalore, Ahmedabad, Delhi and Chandigarh, besides Punjab because its quality has improved tremendously in recent years.
Returns from kinnow are far better than traditional crops. There can be a yield of up to 150 quintals from an acre. "I can say this fruit has a great future. Farmers, who can afford to invest money, should turn to horticulture. We also spend money in research and development. In fact, the database built by us is being used by many academicians for studies in the horticulture sector," he says.