BJP criticises Congress for opposing Gujarat CM's visit to Haridwar
Dehradun, April 25
The Opposition BJP today criticised the ruling Congress for opposing the visit of Narendra Modi, who will visit Haridwar tomorrow on the invitation of yoga guru Ramdev.
Cong plans showing black flags to Modi today
Dehradun, April 25
The Uttarakhand Congress has announced to show black flags to Gujarat CM Narendra Modi who is slated to visit Haridwar tomorrow.
Party expels 93 rebels
Dehradun, April 25
In a week-long exercise, the Uttarakhand BJP managed to expel 93 rebels who had filed their nominations against the official candidates for the April 28 civic body elections.
BJP, Cong pitch it in strong in Kumaon
Pithoragarh, April 25
Electioneering in Kumaon region further intensified as senior leaders from both BJP and Congress addressed general gatherings and organised road shows today. BJP leader Bhagat Singh Koshiyari reached Pithoragarh town after campaigning for party candidates in Nainital, Almora and Bageshwar.
Social sites used for publicising election symbols
Mussoorie, April 25
With only few days remaining for the campaigning of the civic polls, the ward-level candidates are deploying all kind of tactics to garner support for themselves in Mussoorie.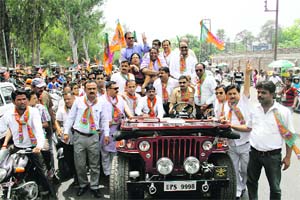 BJP mayoral candidate Vinod Chamoli take part in a roadshow organised by the party in Dehradun on Thursday. Tribune photo: Vinod Pundir
With BJP leaders' arrival, canvassing gains pace in Mussoorie
Mussoorie, April 25
The BJP has beefed up its campaigning for the Municipal Council elections with the visit of senior leaders in various wards in support of their candidates in Mussoorie today.
Rajni Rawat promises to solve public grievances
Dehradun, April 25
BSP mayoral candidate Rajni Rawat yesterday met the public in wake of the civic polls scheduled to be held on April 28. She addressed the people at DL Raod, Jakhan, Bapu Nagar, Indira Colony, Shastri Nagar, Subhash Nagar, Dharmpur, Balbir Road, Chor Khala, Gobind Garh, Happy Enclave, Patel Nagar and Bhandari Bagh.
DM reviews poll arrangements
Dehradun, April 25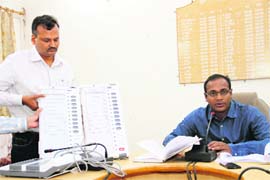 BVRC Purushottam, District Magistrate and District Election Officer, reviewed the preparations with regard to the civic body poll at a meeting with administration officials here yesterday. He told the officials "to perform the poll duty honestly lest they would be responsible for the negligence on their part".

Dehradun District Magistrate BVRC Purshuttiom addresses mediapersons regarding preparations for civic polls on Thursday. A Tribune Photograph



DM, SSP tell officers to hold joint inspection of poll centres
Dehradun, April 25
District Election Officer BVRC Purushottam and SSP Kewal Khurana yesterday addressed a gathering of zonal officers, sector officers of the police and zonal magistrates and assistant sector magistrates in the police lines in connection with the civic polls in the state.

Admn changes locations of polling centres
Dehradun, April 25
The district administration has made changes in the location of some polling centres on the demand of people from the area. Most of the centres have been changed because they have been written strangely in the documents.

Ensure women's safety, says Durga Vahini
Dehradun, April 25
Durga Vahni, frontal organisation of the Vishwa Hindu Parishad staged a protest at Clock Tower here yesterday to express concern over rising atrocities against women in the country.

EC notice to Principal Secy
Dehradun, April 25
On the complaint of the Uttarakhand BJP, the state Election Commission has served notice on Principal Secretary, Industries, Rakesh Sharma for poll code violation. "We have issued the notice to Principal Secretary Industries Rakesh Sharma who is part of the government," said Harish Joshi, state Election Commissioner.

BJP leaders to hold roadshows today


Dehradun, April 25
On the last day of the campaign for the civic body elections tomorrow, the top BJP leaders will hold meetings and road shows at several places in the state.