Will try to fulfil all commitments made in manifesto, says MC chief Mall
Sworn in along with 11 Mussoorie council members
Our Correspondent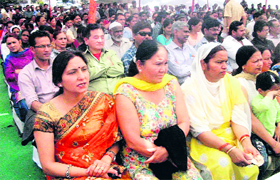 A huge gathering at the oath-taking ceremony of the Mussoorie councillors on Saturday.
Mussoorie, May 4
The SDM, Mussoorie, NS Dangi, today administered the oath of office to newly elected president of the Municipal Council Manmohan Singh Mall and 11 council members at a function held in a ground near the MC premises.
After taking the oath, the council members, Anuj Gupta from ward no 1, Ramesh Bharti ward no 2, Ramesh Bhandari ward no 3 Beena Panwar ward no 4, Sashi Rawat ward no 5 , Vinod Semwal ward no 6, Arvind Gusain ward no 7, Kuldeep Rawat ward no 8, Rami Devi ward no 9, Virendar Panwar ward no 10 and Jasveer Kaur ward no 11, reiterated their commitment to focus on development.
The oath-taking ceremony was attended by Cabinet minister Yashpal Arya, Urban Development Minister Preetam Singh Panwar, Sports minister Dinesh Agarwal, Mussoorie MLA Ganesh Joshi, former Mussoorie MLA Jot Singh Gunsola and former MC president OP Uniyal.
Senior Congress leaders congratulated Mall on his victory and assured of all support from the government for the development of the town.
Addressing a gathering, Mall thanked the voters and said he would try to fulfil all commitments made by him in the manifesto. He requested state ministers to sanction a proposal for the construction of Town Hall within a month and in the larger interest of the town.
Mall said he would focus on developing parking lots, housing colonies for the poor and several other projects related to promoting tourism in the town. He said no project would be sanctioned without the availability of budget in the council during his tenure. He appealed to the people to keep pointing out shortcomings in the council working, so that it could be rectified in time.
Uniyal said he would extend all possible support to the new council on the development issue but would oppose any anti-people activity carried out by it.
Yashpal Arya said now it was the responsibility of the office-bearers to fulfil the promises made by them with honesty and integrity.
Preetam Singh Panwar said he would support the council on the issue of the construction of Town Hall, Clock Tower and parking lots in Mussoorie. Dinesh Agarwal said he would keep providing necessary suggestions on development to the council.
President of the local unit of the Congress Bhagwan Singh Dhanai, BJP unit president Roop Singh, Javed Khan, Satish Dhaundiyal, BP Kukreti, Shoorvir Rawat and Praveen Panwar were present.