High five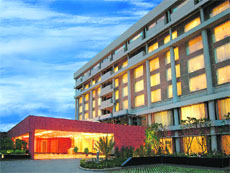 Coming from George Bernard Shaw, you can at least give it a thought. The Irish playwright had a good thing to say about hotels – 'the great advantage of a hotel is that it is a refuge from home life'. Exactly, he has driven the point home!





Outside view of Taj Chandigarh
Haute wheels
Driving into the wilderness with soothing music around is a divine feeling! Similarly, for city youngsters, cruising on the 'geri route' with blaring music and screeching sound (which makes a few pretty heads turn) is what makes one feel like a Rockstar. So what's the connecting thread in these two situations-of course, the car!
Together we can
A new dawn of love, friendship and peace is what documentary Caravan of Love and Peace heralds. A joint venture by Indubala Singh and SP Singh, this forty minutes documentary focuses on Preetnagar, near Amritsar, once the cultural hub of northern India. Saanjh Peace Festival held here brings artistes not only from our country but also from across the border.
Fab fabrics
City women love shopping and clothes top their priority list. Or, so it seems after a visit to the exhibition, Fab of India at Kisan Bhawan-35. "We received a tremendous response during our last exhibition, but couldn't extend it as the venue was booked. So, we are here again, with a lot more artisans and a fresh collection," says Rajesh, a craftsman and president Bunkar Avom Dastkar Vikas Samiti, Jaipur, which has organised the exhibition.


Pun'jab' Sandeep Joshi
Traditionally yours!
You see, everything in my house is according to Feng Shui
TREND SETTER
Mix & match
Some like to go in for formals, others for casuals but all feel a certain 'oomph' when there is a compliment thrown in. Some do not want to take risks and stick to brands but there are the adventurous ones who would like to try out different 'looks'. A student of knitwear design at Sportking Institute, Akash Dugar is one for experimentation.
star track
Gifting ideas from B-town
Drew Barrymore likes to role play
Best left alone
In pursuit of happiness
Million dollar home
Anushka's best kept style secrets
chatter box
The epitome of creativity
In pursuit of romance
Seeking critical acclaim
Signed and sealed
Role play
On a filmy note