Spreading the festive cheer
Katrina Kaif: During the shoot of Mere Brother Ki Dulhan, Katrina gave gifts to 150 staff and crew members right from the light men to the senior staff. Her personal staff members got perfumes and the crew members got gift vouchers or cash bonuses. This was during Diwali, where she just met everyone and gave away gifts. How sweet!





kind note: Shah Rukh Khan

Something for everyone

Shah Rukh Khan: He gifted Farah Khan, a Mercedes after the success of Main Hoon Na. Recently, he gifted Chennai Express director Rohit Shetty, a super bike worth over Rs 15 lakhs. He has been giving away high-end gifts including cars, bikes, or gizmos as tokens of gratitude to Priyanka Chopra, Sanjay Dutt, Arjun Rampal for their work. Very magnanimous, indeed.

On a bike ride

John Abraham: He is very generous with his staff members and gives them gifts from time-to-time. He recently gifted Sanjay Gupta, a fancy Yamaha bike for the success of Shootout at Wadala.

Drew Barrymore likes to role play

Actress Drew Barrymore and her husband Will Kopelman reportedly like to role play, with her dressing up as a chambermaid.

The couple will often have date nights at various hotels in LA where they pretend to be strangers, who meet at the bar, reported a publication.

"They'll get a sitter for their daughter, Olive, and take turns arranging a monthly overnight stay. They'll meet at the bar and pretend to be business travellers. Once Drew dressed up as a chambermaid and Will was a hotel guest," a source said.

Barrymore has previously spoken about her and Kopelman's night outs without their daughter, saying it is important for their relationship that they have time alone.

"You just have to do it, you just have to squeeze in the occasional date night. For our last date night, he took me downtown for ramen noodles. Of course, I woke up so swollen the next day, from all of the salt, that I looked like a puffer fish but it was worth it," she had said. — PTI

Best left alone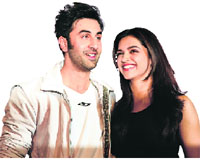 Three's a crowd: Ranbir Kapoor and Deepika Padukone.
They broke-up but they insist on being close friends and they did not allow their personal affair to come in between their work commitments. Yes, you got it right; we are taking about Ranbir Kapoor and Deepika Padukone. Despite their break-up, Ranbir and Deepika worked together for Ayan Mukherjee's Yeh Jawaani Hai Deewani. The duo was supposed to travel to London to promote their movie but at the last minute, Deepika cancelled her trip and rumour has it that this is because of Katrina Kaif. It was heard that the dusky beauty was to promote YJHD in London with her co-star Ranbir Kapoor but when she came to know that Katrina Kaif, Ranbir's ladylove, is in London, she cancelled her trip to avoid a face-off.
But another source informs that Katrina is not the only reason for her not promoting the movie. She needs to complete the shooting of Rohit Shetty's Chennai Express, starring Shahrukh Khan, which is slated for Eid release. Deepika's Yeh Jawaani Hai Deewani will release on 31 May
In pursuit of happiness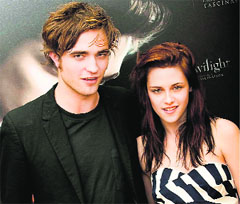 Quality time: Robert Pattinson and Kristen Stewart
Twilight star couple, Robert Pattinson and Kristen Stewart, are reportedly planning a vacation in Cannes. The actors have booked a 5,000 pounds a-night suite at the Hotel Du Cap but once they are done there, they will be off on a camping tour of the local vineyards, reported a publication online.
"Robert is going to be in Cannes on promotional duties and is taking Kristen along. They have their eye on doing a tour of the local museums, like the Picasso one in Antibes, and Renoir's house," a source said. "But they are also going to go down to Provence and visit the vineyards there. You can camp in the grounds of these massive chateaus and they have decided that they need some 'normal living'," it added. — PTI
Million dollar home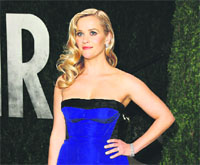 Net worth: Reese Witherspoon
Actress Reese Witherspoon has purchased a third home in the Brentwood Circle area of Los Angeles for USD 3 million. The blonde beauty has now spent USD 11 million on properties on the same stretch of road after splashing out on the ranch-style home, according to publication online. The listing agent described her new home as a "warm and inviting enchanted cottage." Witherspoon bought her first property in the area in 2003 while still married to Ryan Phillippe and picked up a second home in the neighbourhood in 2009, following their divorce in 2007. The 37-year-old, who has a 13-year-old daughter Ava and nine-year-old son Deacon with her ex-husband, as well as an eight-month-old son Tennessee with Jim Toth, recently slashed the price of her luxurious house in Ojai, California. She dropped the asking price for the seven-acre ranch for the second time to USD 7.25 million after originally putting it at USD 10 million. — PTI
Anushka's best kept style secrets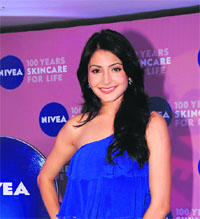 Comfort zone: Anushka Sharma
Anushka Sharma is 24. She is a star and has a great body that can carry off almost any garment. She is thin yet shapely. She works out regularly so she is fit, strong, and toned. She talks about her take on style and fashion.
Shoe fetish
I love shoes. I buy them from everywhere! My mother knows the exact count and yells at me because some of them are untouched and have got fungus! In my new house, I have a walk-in closet so everything is arranged properly and is in good condition. I am not into designer clothes as such.
I feel like a princess or a lucky girl to be going to promos everyday because I get an expensive designer outfit and then I return it after wearing it.
Style statement
I am not a fashion diva but I am stylish. I wear clothes for comfort. I know my body type very well so I know what suits me and what does not. I like white, grey, navy blue, and beige colours. I wear a lot of high-street brands. For example, I have a sheer shirt from Vero Moda, which I wear a few times a week. I am a casual dresser and I like feeling free in my clothes. I buy clothes from the men's section, which I wear at home, especially when it is too hot.
Shopping spree
I love buying perfumes. My favourites are Narciso Rodriguez For Her and Chance by Chanel. I like shopping from flea markets and little quirky stores in London. I put different things together to create a look. I love it when they recognise me and give me discounts! I cannot spend too much money on clothes and accessories because of my middle-class mentality.