Uttarakhand has lowest rates of infant, maternal mortality
Dehradun, May 17
Though the report card of Uttarakhand in the area of maternal and child healthcare among the nine empowered group of states has shown an improvement in the new annual health survey report (2010-2011), experts say poor referral mechanism, absence of gynaecologists continue to be hurdles in providing care to pregnant women.
DM tells ambulance service, docs to cut time in reaching patients
Dehradun, May 17
District Magistrate BVRC Purushottam held a meeting with officials of 108 emergency service and doctors of city hospitals today. He objected to the time taken by 108 emergency service in the city. He asked the official related to the emergency service to provide him with the entire details, including condition of ambulances, model number, distance covered along with the districts and hospitals, where this service was being provided in the next two days.
Haridwar MC begins removing illegal hoardings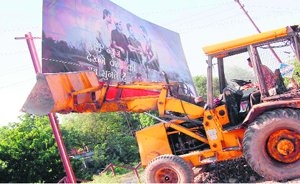 Haridwar, May 17
A Municipal Corporation team started removing illegal hoardings today that had mushroomed in all parts of Haridwar. It also gave a stern warning to private advertising agencies which had put up these hoardings without the MC permission.



An illegal hoarding being removed by the Municipal Corporation in Haridwar on Friday. Tribune photo: Rameshwar Gaur

MC employee's house gutted
Mussoorie, May 17
The flat of a Municipal Council employee was gutted in a devastating fire that broke out in the housing colony at Kingcraig, near a petrol station, yesterday damaging property worth several lakhs of rupees. However, no loss of life was reported and even the domestic dog locked inside the house had a miraculous escape.
Tibetans express solidarity with Panchen Lama
Dehradun, May 17
Tibetans held a meeting here today to express solidarity with religious leader 11th Panchen Lama, who disappeared along with his family at the age of six in 1995 and is suspected to be in the captivity of China. They demanded the immediate release of Panchen Lama and condemned the alleged atrocities being committed in occupied Tibet.
Aarti at Brahamkund on Ganga Saptami draws thousands
Haridwar, May 17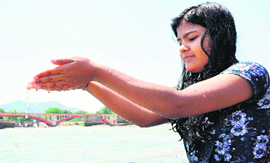 Ganga ghats today reverberated with the chants of 'Har Har Gangey', and 'Jai Ganga Maa' as devotees took a holy dip in the river and performed rituals on occasion of Ganga Saptami today. Various religious processions were also organised. It is mentioned in several Hindu scriptures that the Ganga had descended on the earth on the seventh day of Shukla Paksha in Vaisakh month.
A girl performs rituals at the Ganga ghat, Haridwar, on the occasion of Ganga Saptami on Friday. Tribune photo: Rameshwar Gaur

Plan of Rs 16.14 crore approved for police modernisation
Dehradun, May 17
Chief Secretary Subhash Kumar today presided over a meeting of the committee for police modernisation, where an annual plan for Rs 16.14 crore was approved .It was decided that a cyber police station would be established in the state .It was also said that the Police Training College, Narendranagar, would begin functioning this year.
Kandali residents demand park on encroached land
Dehradun, May 17
Residents of the Kandali area of the city have met Mayor Vinod Chamoli, urging him to dismantle the encroachment from their area and construct a park on that patch instead.
Tussle among parties over burial grounds for Muslims
Dehradun, May 17
A tussle has begun among political parties as well as in Uttarakhand Wakf Board to appease the Muslim community with the offer of burial grounds. Surprisingly, no one is talking about development projects for the Muslim community. Muslims have been demanding a burial ground for long. The one at Chandan Nagar is not in good condition. The other two in Sevlakala and Tapkeshwar are not preferred due to their poor maintenance.



Demanding immediate release of religious leader 11th Panchen Lama, Tibetans take out a march in Dehradun on Friday. Tribune photo: Vinod Pundir

Mayor challaned for carrying red light on official car
Dehradun May 17
The Additional Regional Transport Officer (ARTO) today issued a challan to Mayor Vinod Chamoli for carrying red beacon light on his official Ambassador car. The Mayor had come to attend to people hailing from Tibet near Budha crossing. Chamoli tried to reason out with the official and asked him to discuss the matter at his office. But the ARTO denied obliging Chamoli and issued the challan. Chamoli took strong reservation to the behaviour of the official.
Chief Secy wants simplified financial procedures
Dehradun, May 17
Chief Secretary Subhash Kumar, reviewing the progress of the State Finance Department, yesterday directed for formulation of Standard of Procedure (SOP). He said financial procedures should be simplified. He said a budget of Rs.500-600 crore could be released every month and spent proportionately. He said this should be monitored. Spending a large proportion of the budget in March would not be allowed.