Actor, director, author and IPS officer — all rolled into one
Seema Sharma
Tribune News Service
Dehradun May 7
IPS officer Satish Shukla is a police official with a difference.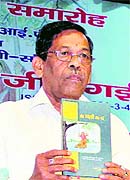 IPS officer Satish Shukla

Despite his hectic schedule as Additional Inspector General, he has maintained his hobbies of writing articles and directing and acting in plays.
He came up with his first book, compilation of 18 short stories titled as ''Aur Ladki Jeet Gayi,'' which was released by Governor Aziz Qureshi yesterday in a gala function attended by all the top police officials of the state.
While talking to The Tribune about his book, he said:''The stories have been woven around real life incidents. The names of the characters have been changed to shield the identities of real persons connected. Few inputs have been added to enrich the flavour. At the end, a paragraph is attached as the writer's take on the message embedded in the story.''
He gave reference to some stories from the book. For instance, the one ''Mishraine ka Jeth'' where a family member of a dead person embraces the latter just to steal the thread attached with a key of coffer around the neck of the body.
People thought the embrace as manifestation of his love for the departed soul but it was actually the crass deterioration of human relations and affection in the face of pure greed.
The title story is based on the struggle of ''Brave Heart,'' a girl gang-raped in a moving Delhi bus in December last year.
It describes the poignancy of her ordeal and grit and emphasises on the need of proper rehabilitation of such victims.
Shukla said the power in women is intrinsic which must be understood deeply.
Shukla, who also served as Indian Forest Officer, but before that, he began earning his living as an auto-driver for 14 months at night in-order to arrange for fund for his PHD in plant pathology.
He mentioned it at the back jacket of his book. Coming from a family of toppers, he took to this humble mode for a brief period, when his father retired from his service. His keen observation of the deprived ones instilled sensitivity in him for them, which was perceptible in his story ''Shaeni Ki Amma.''
He said:'' I see a woman sitting near a very small hut made up of polythene and trash and little opening to crawl inside on Rajpur road. The lady is not leaving the space as she is waiting for her daughter, who went missing long ago in childhood, to return. That one streak of hope is making her withstand all the tribulations.''
He said he was so much moved by the pathos associated with her life that he had planned a full novel, hoping it to be titled as ''Shaeni Ki Vapsi'' by then.
A novel on the subject of childhood is on the way.
He said his childhood was an important juncture.
''A person is shaped up in the childhood. To undo any of the attributions, he has to make painful efforts.''
Shukla is also toying with the idea of converting his stories into screenplay for theatrical adaptation.
His play'' Kishanpur Ke Sholay,''a spoof on superhit ''Sholay'' film where several IPS officers of the state, including the then DGP acted, was a thorough hit in the department.