68 bus shelters in Doon to have steel structures
Dehradun, May 10
About 68 bus shelters will be renovated as part of a beautification drive in the city. Instead of dull brick and cement structures, the new bus shelters will be made of stainless steel.
Abundant fun, excitement on third day of cultural festival
Dehradun, May 10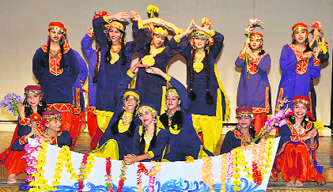 The third day of the cultural festival at St. Joseph's Academy remained packed with abundant fun and excitement. The cultural programme included competitions in a number of activities serving a high dose of entertainment. The chief guests for the occasion were Principal Bro George and Vice Principal Bro Dennis.
Students of St Joseph's Academy perform a Kashmiri dance on the concluding day of a cultural festival at St Joseph's Academy in Dehradun on Friday.

Dehradun chemists close shops in protest
Dehradun, May 10
Protesting against government policies, medical stores in the city remained closed on Friday as part of a nationwide strike call given by the All-India Organisation of Chemists and Druggists.
Ex-CM Nishank objects to shifting of Dhari Temple
Dehradun, May 10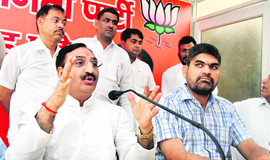 Former Chief Minister and senior BJP leader Ramesh Pokhriyal Nishank today objected to the shifting of Dhari Temple falling in the submergence area of the 330 MW Vishnu Prayag hydroelectric project to some other place. Work on the project is expected to begin from May 13.
Former Chief Minister Ramesh Pokhriyal Nishank addresses a press conference in Dehradun on Friday. Tribune photo: Vinod Pundir

Panicky UKD president starts damage-control exercise
Dehradun, May 10
Uttarkhand Kranti Dal president Trivender Singh Panwar has panicked following his detractors calling a party convention on May 19-20 to change his leadership in the party is getting obvious. To minimise the damage triggered by this lethal move of the disgruntled elements, he has called a meeting of district president and another of working committee at Rishikesh to finalise the blueprint of the party convention to be called by him on July 24 and 25.
Mothers walk the ramp at DPS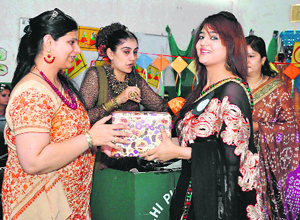 Dehradun, May 10
Mothers' Day was celebrated at Delhi Public School with great enthusiasm here today. The theme of the celebration was traditional and mothers were told to dress accordingly. The entire place was decorated traditionally. Different attractive stalls were also put up. Principal BK Singh gave his best wishes to all mothers and various competitions like flower arrangement and salad making were held for mothers.
Mothers being honoured at a function held on Mothers' Day at Delhi Public School in Dehradun on Friday.

Woodstock signs agreement with London institute
Mussoorie, May 10
Woodstock School and the University of London's Institute of Education have signed an agreement. Under this partnership, the University of London's Institute of Education will run a professional development programme for the Woodstock staff over the next two years.
Haridwar overcome Tehri, Doon beat Haldwani in junior basketball
Dehradun, May 10
The 13th Aspen Crew Uttarakhand State Junior (U-18) Basketball Championship for Boys and Girls is currently on at Welham Boys' School. Seventeen teams in both boys and girls' sections are participating in this championship.
Buta Singh meets Guv
Dehradun, May 10
Former Union Home Minister and former Bihar Governor Buta Singh called upon Governor Aziz Qureshi here today.