Gang of robbers busted; mastermind escapes
Tribune News Service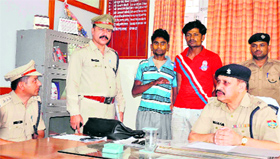 SP (city) KL Shah and circle officer, Kankhal, JR Joshi, inform about the arrest of two in vehicle-lifting cases in Haridwar on Monday. Tribune photo: Rameshwar Gaur
Haridwar, May 20
In a major success to the district police, a gang of three persons was busted today, with one absconding. The gang used to target small commercial vehicles.
The arrested persons, Sandeep, resident of Lakshar, and Johny, resident of Akbarpur, Lakshar, have confessed to their involvement in such incidents, while the police is in search of the mastermind of the gang, Sonu, also a resident of Lakshar.
Informing about the whole episode, Superintendent of City Police Kiran Lal Shah said that the police was in search of these three when on May 18, they looted a commercial vehicle, Tata Acer, at gupoint from Subash, resident of Lakshar, from Rani Mazra bridge. They also took away Rs 10,000 in cash and a cellular set also.
Sonu drove the vehicle while Sandeep and Johny fled away in a motorcycle. Subash filed a complaint in Lakshar police station. The SP City formed a special team to look into this matter.
Led by senior Inspector TS Rana, SI Vidya Dutt Joshi and SI Vikram Lal, the team carried out impromptu search and kept a routine tab on the same model of the looted vehicle. Other police station and checkpost personnel were also apprised about the vehicle. As a result, yesterday night during similar search operations, a Tata Acer was signalled to stop.
But instead of stopping, the driver of the vehicle drove the vehicle to nearby dense forest. The police team chased the vehicle arresting Sandeep and Johny, while Sonu fled away.
From the persons a revolver, live cartridges and the purse of complainant Subash were recovered. Later, it came to light that the vehicle in which the culprits were travelling was the same one that was looted on May 18 from Subash. It was painted in a different colour to avoid identification. Sandeep and Johny claim that Sonu was the mastermind, who used to provide them liquor, cash and phones, while they just used to accompany him and were involved in more than six such acts.
DIG, Dehradun range, has announced a reward of Rs 5000 in cash to the police team, while Rs 2500 were sanctioned by the SSP, Haridwar.