Breathtaking Bips
Bipasha Basu has it all; looks, personality and charm. In Chandigarh, she leaves a spellbound crowd...

That Bipasha Basu is hot is common knowledge, what strikes us most is the warmth she displays at an interaction at the launch of Vero Moda store in Chandigarh on Wednesday. Her short dress totally bared the hot pair of legs; 'she is towering' went a remark, 'her heels are least six inches' came another, a second later. In her skin, Bips greets the crowd and reveals the story of her transformation from a studious Bong girl to a glam queen! Looks matter: Growing up, looks were the last thing on my mind. But still at 15, I was at the international platform as Ford model, exposed to the best in the fashion industry. Grasping details over a period of time helped me evolve my individual style. Fashion funda: There is no diktat in fashion. Criticise me as much, I will wear what I like. After all I spend a lakh on shoes, why wouldn't I wear them again? I buy dresses that I like; I will wear them again and again, circle me as much you want.
Cocktail girl
After a long wait, when Diana Penty walks in, the shutterbugs go on a crazy clicking spree. Blue long dress does justice to her petite frame; a side plait, the Cocktail girl takes her place. On the launch of Vero Moda, she is all for the brand that she labels as contemporary and reasonable priced.
Guru cool!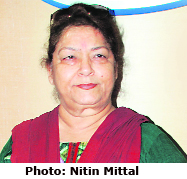 Famous Bollywood choreographer Saroj Khan, in Chandigarh to inaugurate her dance workshop, does not approve of the heavy Western influence on Indian dance but says this is what the public demands now...
Had it not been for the virtue of her talent, Saroj Khan's contribution to Bollywood would not have made much of a difference to its entertainment value that was essentially dependent on the dance numbers. In Chandigarh to inaugurate her dance workshop, 'Danse Gurukool', at the Hallmark Public School, Saroj exchanges a gamut of ideas as she pours them on a traditional platter, garnished with the tunes of Bollywood.
The 'in' side
A touch of red!
Red is a colour of energy, love and warmth. In China it is associated with happiness. In Japan it is linked to heroism, whatever its association, it is a powerful and beautiful colour. Red is a primary colour but its spectrum is vast and ranges from pale pink to scarlet. Today I will give you a few strategies to incorporate this beautiful colour in your homes.
Shooting with the Ex
Bollywood couples do not always get married and nowadays they even work together after their break-up. Here are some instances
Shahid Kapoor and Kareena Kapoor: Shahid and Kareena broke up soon after they completed shooting Jab We Met. The break-up was declared before Jab We Met was released. They shot for a song Tum Se Hi and a few scenes after their break-up during which they did not talk to each other or come in the same car.
Shahid Kapoor and Priyanka Chopra: They never declared their relationship which blossomed during Kaminey and they have been unstable. After their break-up, they still agreed to do Teri Meri Kahaani which was conceptualised for them when they were still together. They even promoted the film quite happily.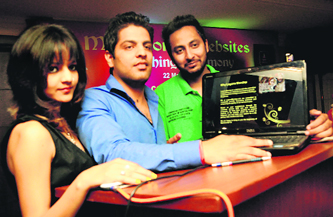 In the web of matrimony…
The wedding market in our country is huge. Right from finding the match to elaborate ceremonies, there are countless things that come into play. And, catering to those is Lagana Mandap. Launched in Chandigarh on Wednesday, this matrimony website offers hordes of features at prices much less than their competitors in the business.
Aman Ahuja (Centre). Photo: PARvesh Chauhan

Get physical
Right path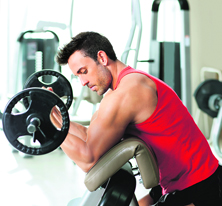 People spend hours and hours in a gym on a daily basis and yet they look the same month after month. Clients spend a huge sum of money for private training yet their trainer has them doing stuff that is not even related to their goals. The ideal workout regime is the one which focuses on burning maximum calories in the minimum time spent. No matter how much you love to exercise, spending long hours in the gym will not fetch the desired results, only doing the right way will give you the ideal shape you are looking for.
Warm up to it: It is important to stretch before working out because stretching makes muscles more elastic and flexible. Remember, it's important to work out to your ability and fitness level. If you've been overweight, or just haven't exercised in years, take it easy in the beginning. Start slow and light.


Pun'jab' Sandeep Joshi


Food fad: I hope this is organic chicken!

Astro turf
ARIES: You are in line for a promotion or an increase in salary. The focus is on pleasure and entertainment. Strong feelings will overwhelm you and distort your sense of perspective. Tarot message: Don't reveal your plan of action. Lucky colour: Pink. Magic number: 63
TAURUS: Make more of an effort to attain and maintain harmony. Communication on the job will assume greater importance, but you also need to be more careful. Tarot message: Don't do anything at the cost of health. Lucky colour: Blue. Magic number: 59
Chatter box
The giant leap
The up and coming episodes of Parvarrish will experience a major change as Barkha Sengupta will replace Rupali Ganguly to essay the role of Pinky Ahuja, as Rupali is pregnant. Also, the show will take a leap of two years with Barkha's entry on May 27. Tarana's tribute to her mom: Tarana Raja, who stars in Sony TV's Bade Achhe Lagte Hain as Neha Vikram Shergill, says that she wants to write a book on her mom. "I would love to write a book on her life as she has led a fascinating one." Her mother Madhu Raja is also a part of the same show. She plays Krishna Ji (Ram Kapoor's mother). She says, "It is indeed a pleasure to work with her. We don't have too many scenes together though. Our green rooms are different too.
Seriously speaking
Sonam wants to be recognised as an actor
Sonam Kapoor has just returned from Cannes and she is all set to continue shooting for her YRF film with Ayushmann Khurrana. She wants to be taken seriously as an actor.
Break even: Even before Thank You, Mausam and Players were released, I knew that my life was going the way I wanted. I was working on big projects but I had not earned my place in the industry and I needed to be a better actor. So, I switched off and took a break.
CELEB POINT
Of dreams & desires
Yes, I love to be on the sets. The hustle bustle, the energy, the enthusiasm, the pace and yes the people around. I have realised whatever my state of mind is when I reach the sets and see the light boy shouting while putting the lights, the assistants rushing to the vanity to give the scene, the designers in a hurry to check the fitting, the make-up man saying, 'ma'am please get ready'. All that buzz, I feel good.
What an idea!
Some latest web applications have turned a boon for young entrepreneurs…
Technology just keeps surprising us with all the fresh concepts, which spring up each new day. It's not a matter of choice anymore; rather it's a way to keep up with what's new. Talking about the booming mobile culture, with the demand for I-Phone along with the android fever that has caught up with Chandigarh folks, the best thing to do is make the most of it!
Project report
The Fashion Marketing and Management (FMM) students of Northern India Institute of Fashion (NIIFT) Mohali presented their final diploma projects at NIIFT, Mohali campus. The jury evaluating these projects comprised eminent personalities from leading organisations, including Nidhi Gill, manager, Fab India, Chandigarh, and Gaurav Kumar, GM, marketing merchandising, Winsome Knitwear.
Ajay, Sonakshi to romance again
The Son of Sardaar actors are back again. Ajay Devgn and Sonakshi Sinha have been roped in for director Prabhudeva's next untitled project. The choreographer-cum-director Prabhudeva roped in the two actors for the project to be produced by Gordhan Tanwani of Baba Films.
Essence of an artist
Chandigarh Lalit Kala Akademi is going to screen a film on eminent artist S H Raza, The Very Essence, directed by Laurent Bregeat on May 26. The Akademi has started a new programme to show films on art and artists, twice a month. The film is produced by Lalit Kala Akademi (National Academy of Art) New Delhi, based on the idea by Ashok Vajpeyi, Raissa Padamsee and others.
The return of Danny
After sharing screen space with Rajnikant in The Robot in 2010, not much was heard of Danny Denzongpa. People in the trade thought that he has played his last role with him declining each and every offer coming his way. But the veteran has bounced back and is all set to play a negative character in Karan Malhotra's upcoming film Shuddhi that is to be produced by Karan Johar. The film also stars Hrithik Roshan. It is said that Danny, one of the most respectable actors in the industry, was on a on a self-imposed exile since he always wanted to do films that excited him as an actor. Few of Danny's favourite roles are as Kaancha Cheena in Agneepath, as Bhaktawar in Hum, Sher Khan in Sanam Bewafa, Khuda Baksh in Khuda Gawah and as Gurang in China Gate.
Crowd puller
Ranbir Kapoor is a true superstar. There was a crowd of 8,000 people at a mall in Kanpur for him as he was promoting Yeh Jawaani Hai Deewani and 1,000 people outside his hotel in Indore. He was accompanied by Shah Rukh Khan's bodyguard Yusuf.
Ready for new home
Kangna Ranaut is going to live in a duplex apartment in Bandra, suburban Mumbai. As her new place is getting ready, she is staying with her parents and shopping for her new place. She is shooting for Revolver Rani at the moment.
Box office collection
Aurangzeb has fared poorly at the box office collecting around Rs 12.5 crore over the weekend which is lower than Ishaqzaade's collections of Rs 14-15 crore in its weekend. Aashiqui 2 and Go Goa Gone are still going strong at the box office.
Couple of news
It seems something is brewing between Aashiqui 2 co-stars Shraddha Kapoor and Aditya Roy Kapur and that Varun Dhawan and Alia Bhatt are going steady ever since their Student of the Year days. There is nothing like a romance that blooms during a movie that becomes a hit. It's all showbiz strategy!
Common doctor
Rani Mukerji, Kangna Ranaut, Kareena Kapoor Khan, Aditya Chopra and Ajay Devgn consult the same medical doctor by the name of Dr Agrawal but they are never present at the clinic at the same time.
Intellectual bonding
Ekta Kapoor has been receiving study and campus tips from her younger brother Tushhar Kapoor, who studied in Michigan some years ago. She is having a blast at Harvard and Tusshar is missing her back home.