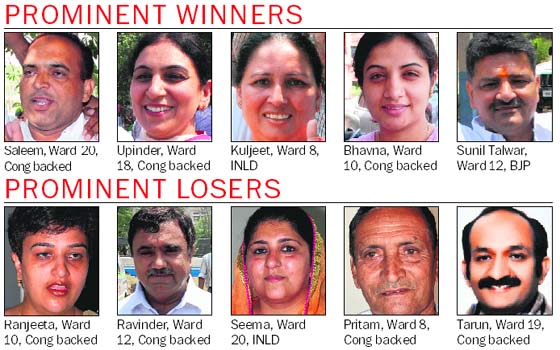 Heavyweights face defeat in MC poll
Panchkula, June 4
All heavyweights in Panchkula — all three MC presidents and others — who had never lost elections and were sure of their clean win, lost the Panchkula MC elections by heavy margins. After the results were declared, all of them vanished from the scene.
Supporters rejoice at the counting centre at the BEL Colony in Sector 14, Panchkula, on Tuesday. Tribune photos: Nitin Mittal


| | |
| --- | --- |
| Ward 14: Lily Bawa with her supporters in a jubilant mood after her victory. | Ward 16: Mamta Mittal (winner) |

INLD manages to win only 3 seats
Panchkula, June 4
The first election after Om Prakash Chautala and his son Ajay Chautala's conviction in the recruitment scam in January this year, the INLD's performance came down considerably as it could bag only 3 seats out of 20. The INLD had decided to contest the municipal corporation elections on party symbol.
Ward 3: Surjit Kaur (winner)


| | |
| --- | --- |
| Ward 15: Omwati Punia (winner) | Ward 9: C B Goel (winner) |
Misuse of Govt Land
Admn to fence Chandigarh Club boundary
Chandigarh, June 4
After the Golf Club, now the Chandigarh Club is on the radar of the UT Administration. A month after imposing a ban on commercial activities and marriage functions in the Chandigarh Club, the Administration has now decided to fence its boundary.

Inmates get degrees at Burail jail
Chandigarh, June 4
Burail Model Jail today organised its first convocation-cum-certificate distribution programme for inmates on the jail premises. Degrees and diplomas were conferred on as many as 124 inmates. These were acquired by them while serving their sentences in the jail.

An inmate receives a certificate during a convocation at Burail Model Jail in Chandigarh on Tuesday. A Tribune photograph


Malaria spreads its tentacles in city
Chandigarh, June 4
A total of 19 cases of Malaria have been reported in city hospitals since April this year. These include 13 cases from the city and the remaining from the region ie. parts of Punjab, Haryana and Himachal Pradesh.


Auto-rickshaw operators block entry to ISBT-43
Chandigarh, June 4
Following a clash between a CTU bus driver and an auto-rickshaw operator over the parking of autos on the road in front of the bus stand, members of the Hina Auto Workers' Union today staged a protest outside the Sector 43 Inter-State Bus Terminus.
Auto-rickshaw drivers block the road outside the Inter-State Bus Terminus in Sector 43, Chandigarh, on Tuesday. Tribune photo: Pradeep Tewari
Encroachments removed from Phase IX market in Mohali
Mohali, June 4
Taking action against encroachments, the estate office wing of Greater Mohali Area Development Authority (GMADA) today carried out a demolition drive at the Phase IX market. The GMADA team not only demolished illegal sheds of some shops, but also removed unauthorised boards and hoardings installed on walls of the shops.
Boundary wall to come up around burial ground for infants
Chandigarh, June 4
The Chandigarh Administration and the Municipal Corporation have agreed to construct boundary wall at the burial ground for infants in Sector 25. Presently, forest area is being used for burying infants.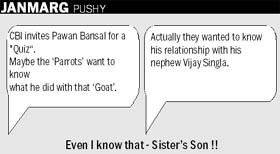 Anupama's parents seek compensation
Chandigarh, June 4
Anupama Sarkar's parents today filed an execution appeal with the State Consumer Redressal Commission to obtain compensation from the PGI. The case will come up for hearing on June 7.
bansal scam exposure
BJP compiles report
Chandigarh, June 4
Pawan Kumar Bansal scam exposure committee constituted by the BJP has compiled its report. The report will be submitted to the CBI Director on June 5. Chandigarh BJP president Sanjay Tandon made this announcement during a meeting today.
Air pollution crosses permissible limit in city
Chandigarh, June 4
The rising number of vehicles in Chandigarh is not only adding to traffic woes, but has also taken its toll on the ambient air quality of the City Beautiful.
Gen set ban: Traders meet member secy of pollution panel
Chandigarh, June 4
A deputation of traders, comprising Subash Kataria, JP Singh Kalra, LC Arora and Kamaljit Singh Panchhi, met the member secretary of Chandigarh Pollution Control Committee, PJS Dadwal, to apprise him of problems being faced by them due to the ban on the use of diesel generation sets in commercial establishments of the city.
Community bhawans may house preparatory schools
Chandigarh, June 4
The UT Administration is mulling over allowing the community bhawans to run preparatory schools and creches for children up to the age of six. A senior official of the Administration said the move would help in the management of bhawans, as these were facing financial problems.


Accident case
Student to plead before PU panel
Chandigarh, June 4
The University Institute of Legal Studies (UILS) student, reportedly involved in racing on the campus that had led to a major accident of April 16, has made a request that the university should give him a chance to present his case in front of the four-member committee.
classes IX, XI
CBSE introduces open-book exam
Chandigarh, June 4
Now students will sit for the open-book exam in the Central Board of Secondary Education (CBSE) affiliated schools. In a major change in the Comprehensive and Continuous Evaluation (CCE) system, CBSE has introduced an element of Open Text Based Assessment (OTBA) for classes IX and XI in March 2014 examination.
govt schools
13,000 seats available in Class XI
Chandigarh, June 4
Nearly 13,000 seats are available for class XI in the government senior secondary schools in Chandigarh this year. According to the officials, the admission process in government schools will begin with the sale of prospectus from June 11.
bcom course
PU restricts online admissions to city colleges
Chandigarh, June 4
Panjab University is going to start the centralised online admission process to Bachelors in Commerce (BCom) for the colleges of Chandigarh on June 8. Till last year the admission to the colleges of Ludhiana was also centralised, however, the university had decided to restrict it to the city colleges only.
from schools
Students shine in board exams
Zirakpur: The students of Class X of ACNP Sr Secondary School, Zirakpur, showed excellent board results in session 2012-13. Parneet Kaur topped the school by securing 597 out of 650, followed by Bhawna, who secured the second position with 593 scores. Aarzoo stood on the third position by securing 569/650 marks.