Few opt for hotel management seats
Nikhila Pant Dhawan
Tribune News Service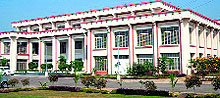 The Institute of Hotel Management, Catering Technology and Applied Nutrition, Bathinda. File photograph

Bathinda, June 22
The authorities at the Institute of Hotel Management, Catering Technology and Applied Nutrition, inaugurated four years ago in Bathinda, are hoping to attract a good number of students this academic year.
Although the institute is affiliated to the National Council for Hotel Management (Ministry of Tourism, Government of India), the institute is yet to gain popularity in the region, but the principal of the institute, Kamal Piyush, is hopeful that it will make a name in the days ahead.
While the admission process is centralised one, he says if all the seats are not filled, the institute may initiate a local admission process. "The first round of counselling is over. The second and third rounds of counselling got delayed as the Nationbal Council of Hotel Management wanted to make sure that aspirants from Uttarakhand and Himachal Pradesh got time to return their homes and have access to the Internet," he said.
He stated the step was taken as hospitality courses were extremely popular in the two states.
"A large part of the workforce in the hospitality industry belongs to these two states and keeping the fact in mind, the counselling rounds were postponed to make sure that the aspirants from these states had access to the Internet to facilitate online payment of fee," he added.
"We have a total of 127 seats out of which 99 seats are for the students from general category. In case, we fail to fill all the seats through the centralised admission procedure, we will plan and initiate a local admission drive," he added.
Talking about the reasons for the lack of popularity of the institute in the region among students, especially among girls, he said, "The biggest drawback of the institute is that it is located in a remote area. Girls usually do better than boys in written test and go to the institutes located in metropolitan cities rather than coming to Bathinda."
At present, out of the 150 students that we have, only five or six are girls. The number girls in hotel management institutes across the country is low as compared to boys. Out of the total number of students at the Institute of Hotel Management, Catering & Nutrition, PUSA, New Delhi, only 10 per cent are girls," he added.
Talking about the 30 students, who passed out of the institute this year, the principal maintained that all had been placed with reputed hotels across the country.
The institute offers B Sc in hospitality and hotel administration, diploma courses in food and beverage service, accommodation management, front office management and bakery and confectionery. The institute runs "Hunar Se Rozgar Tak", a two-month free of cost course, which aims at improving the employability skills of the students.