Runaway affair
The team of Bhaag Milkha Bhaag is no short of energy. They look like running the full distance…
They entire team has been running all over the country; a few pit-stops, a few glitches, but with an unbeatable spirit they are already flying towards a glorious finish. The team of Bhaag Milkha Bhaag — Farhan Akhtar, Rakeysh Om Prakash Mehra, Sonam Kapoor, Prasoon Joshi, Divya Dutta, Yograj Singh and the man of the moment Milkha Singh himself — is in a race to reach out to the maximum number of people. They stopped in Chandigarh for a breather before they resume their race!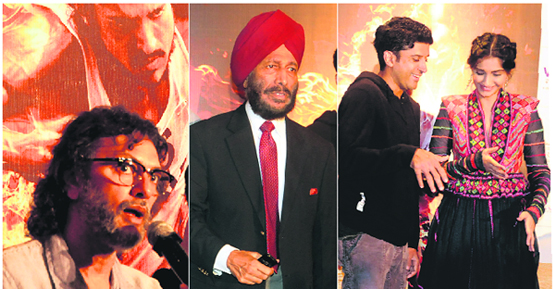 (L-R) Rakeysh Omprakash Mehra, Milkha Singh, Farhan Akhtar and Sonam Kapoor

For a rainy day!
Monsoon is synonymous with taste-bud tantalising food.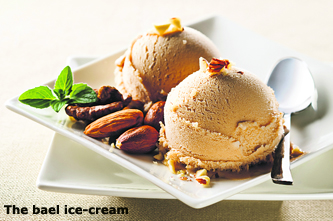 Here are some recipes that you can try out at home…
Heavy rain spattering the windowpanes, different shades of green all around, water puddles all over, there is something refreshing, rejuvenating about the monsoon. And one of the biggest indulgences of the season is food! Now that it's not advisable to eat outside in the rainy season, we get you a quick recipe guide for simple, easy snacks you can make in your kitchen…here you go…
Astro turf
ARIES: This is an important day for any job that you can tackle away from public scrutiny. An unexpected guest can gate-crash. A romantic mood can colour even the toughest of situations. Tarot message: Plan your life better to avoid delays. Lucky colour: Brown. Magic number: 41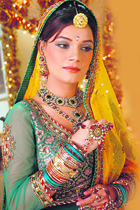 Chatter box
Kanica turns designer
Kanica Maheshwari, who is currently seen in Star Plus' Diya Aur Baati Hum (DABH) as Meenakshi, was really excited and anxious to make her debut at the 11th STAR Parivaar Awards. Kanica couldn't be part of the Parivar awards last year due to her personal commitments, but she ensured her presence this year was a memorable one. Unlike her screen persona, Kanica is an ultimate fashionista and a taskmaster in real life. So when it came to her first performance at the Parivaar awards, she jumped on the opportunity to represent the best of herself. Kanica didn't leave any stone unturned and even designed her own costume for the performance. Dressing up: Kanica Maheshwari
New releases
Bhaag Milkha Bhag
Producer: Rakeysh Omprakash Mehra, Viacom 18 Motion pictures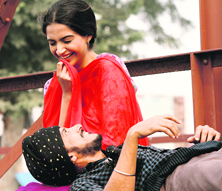 Director: Rakeysh Omparkash Mehra
Bhaag Milkha Bhaag, a film based on the legendary athlete Milkha Singh, talks about the sportsman's perseverance, courage and the resilience of human spirit. To help needy athletes, Milkha Singh told his story to the producers of this film. The lead actor Farhan Akhtar had to do rigorous workouts in order to look like him. Milkha Singh's life illustrates that true victory lies in overcoming obstacles rather than running away from them. Shankar-Ehsaan-Loy has composed the music for this biopic.
Real take: A still from Bhaag Milkha Bhag
Make up a look!
Lisa Munlua, make-up expert, shares a tip or two on how to get that perfect look…
Some good make-up may not buy you a great skin, but it can certainly hide that! The truth about make-up is that it need not look like make-up. If it does, it better be in sync with the current trends. "During monsoon, less is always preferred on the face," shares Lisa Munlua, make-up expert, Inglot, during a promotional workshop by the brand in Chandigarh on Thursday. Apart from the monsoon look and the neon-inspired look that was demonstrated, there were other things that came up.
Katrina on a forced break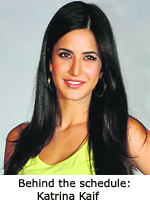 It seems fans of Katrina Kaif would have to settle down with watching other leading ladies of Bollywood. This year might not see any release of Katrina Kaif's movie. Although, the actress was seen in cameo roles in Bombay Talkies and Main Krishna Hoon. Though Katrina was working on two movies, one of which was scheduled for 2013 release, but things seem to be not working in favour of the pretty actress. Her movie Dhoom 3 which is a multi-starrer was scheduled for December 25th release. Katrina was playing the lead role along with Aamir Khan. But Aamir Khan, who plays an antagonist in this movie, has delayed the shooting. He wanted to be physically and mentally at his best for this role. He has asked the film makers for some time.
Pet passion
A beautiful bond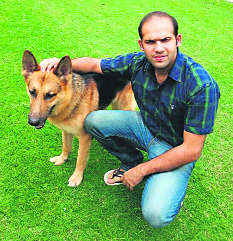 Eight years ago a small bundle of brown and tawny hair came into the Aggarwal house hold and became an inseparable part of the family. "He has integrated himself into the family routine so much that it is unbelievable," affirms the fond owner, industrialist Rajneesh Aggarwal as he looks at his canine friend, a handsome German Shepherd named Scotch, who seems to be realise that he is the centre of the conversation. Actually we are told that Scotch can make out if somebody was talking about him. Santosh Rajneesh's mother has to just mention that she needs to go for a walk or a bath and he would start walking in the same direction.
Rajneesh Aggarwal with his pet Scotch
First look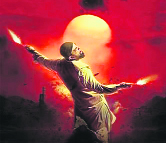 After receiving critical reviews for his last movie Vishwaroop, Kamal Hassan is all set to make the sequel of this movie. The movie will be named Vishwaroop 2. At the recently concluded IIFA function at Macau, veteran actor cum producer cum director Kamal Hassan launched the first look of his upcoming movie Vishwaroop 2. The poster of the movie shows Kamal Hassan in Muslim attire, standing tall in a war situation. The movie will cast Pooja Kumar, Rahul Bose, Shekhar Kapoor, Andrea Jeremiah and Jaideep Ahlawat. The film is still under production but it is scheduled for 2013 release. The film is written and directed by Kamal Hassan. This film is produced under the banner of Raajkamal Films International.
Gomez's new song features Bieber's voicemail?
Singer Selena Gomez has reportedly opened up about her relationship with singer Justin Bieber through a new song. The song, Love Will Remember from her album Stars Down, has been leaked and it reportedly features a voicemail from her on-and-off beau Bieber. The song, which the singer had previously confessed is indeed about her ex, begins with a recording of a voicemail from Bieber confessing his love to his former girlfriend. The recording goes like this — "Hey babe, it's me. I just want to call and tell you that I love you so, so, so, so much. I just wanted to let you know that you are my princess. You are worthy of all the love in the world. You are the love of my life."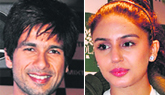 New couple?
Rumour has it that Shahid Kapoor and Huma Qureshi are a couple. They would look odd together as she looks older than her age and he looks younger his age. Anyway, apparently they are an item. Shahid was annoyed with these stories but he admitted that he has met her twice.
Street smart
Hometel Hotel-Chandigarh is organising Street Food Festival. The festival is being organised at the open air Terrace Grill & Flavours-All Day Dining Restaurant in the evenings. The beautiful ambience of the open-air restaurant lends a perfect match to the sizzling sound of the bhaji and tikki creating a harmony with the soothing echo of the tranquil water body around.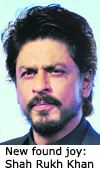 Shah Rukh names son AbRam
A statement by Shah Rukh Khan's publicist reveals the newborn's name. "Amidst all the noise that has been going around, the sweetest is the one made by our new-born baby, AbRam. As a family our silence on this subject has been because of the personal nature of emotional strife that we have been going through due to his health. Just to put the record straight there was no sex determination for our child. The baby was born much before the speculations of 'sex determination' were being raised. Our son is a surrogate baby. We would appeal to all, to allow us to cherish this private moment as a family," says the detailed statement.

Once all over again
Kareena Kapoor Khan got nostalgic while shooting Gori Tere Pyar Mein at Filmistan Studios. Thirteen years ago she shot for the song Leja Leja from Kabhie Khushi Kabhi Gham over there. Both films are Dharma Productions and Manish Malhotra had done her costumes in both films. Moreover, Punit Malhotra assisted Karan on K3G. Step up: Kareena Kapoor Khan

Sonakshi shots back


Sonakshi Sinha was once again asked about her weight by a news agency so she shot back saying that she was very happy with her weight and she is getting a lot of work and is probably working more than the skinny-minnies. She also said she will no longer answer questions about her weight so people stop writing and talking about it. Weighty issues: Sonakshi