Runaway affair
Jasmine Singh
The team of Bhaag Milkha Bhaag is no short of energy. They look like running the full distance…
They entire team has been running all over the country; a few pit-stops, a few glitches, but with an unbeatable spirit they are already flying towards a glorious finish. The team of Bhaag Milkha Bhaag — Farhan Akhtar, Rakeysh Om Prakash Mehra, Sonam Kapoor, Prasoon Joshi, Divya Dutta, Yograj Singh and the man of the moment Milkha Singh himself — is in a race to reach out to the maximum number of people. They stopped in Chandigarh for a breather before they resume their race!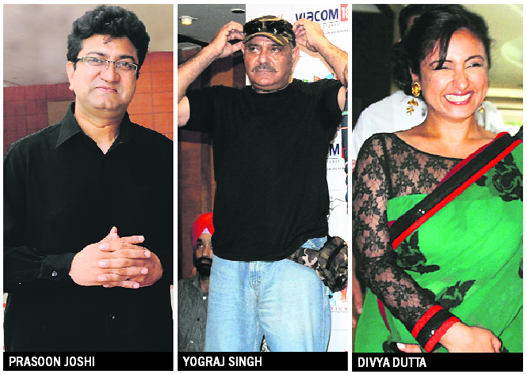 Reel take
He has gone under the skin of the character and he looks every bit the real Milkha — a sexier Milkha. This was a compliment well-taken. Pretty similar to how he took to the role of Milkha Singh in the movie. Laughs Farhan, "It was quiet an emotional investment for me; I play a character that had to look real in flesh and blood. I had an opportunity to learn from this role," shares Farhan, who feels breaking away from the character is not easy. "First, of course, I am going to miss the team; I don't know when I get the opportunity to work with them again. I believe in moving ahead and we need to break away from things. It is difficult, but I have to do it."
It is the next movie Pyar Ke Side Effects that gave Farhan space to move out of his earlier character. "The same thing happened to me after Lakshya," he adds. Defining his role in the movie as a life-changing experience, Farhan feels there is no space for emotional breakdown once you get into the character. There is so much excitement that it gives you wings."
Direct word
Rakeysh Omprakash Mehra came across a biography written on Milkha Singh in Gurmukhi script. After reading the first few lines nothing was the same. "I could not sleep for two-three months as deciding upon what movie to make is not an easy task," he says.
He sounds confident about his work, but the director is scared! "The film has been snatched away from me; had it been with me, I would still be doing something about it." And this doesn't come as a joke. Calling it one of the defining moments in his career, Rakeysh adds it is far bigger than this. "It is a once-in-a-lifetime experience for me." Casting Farhan Akhtar for the role made all the difference. "Once I start shooting, I take three steps back from the camera and leave it to the actors as well as the cameraman to visualise."
Write act
A director and actors definitely get to talk much about the film, little is the writer's perspective highlighted. Prasoon Joshi, a student of literature, who has read Sadat Hassan Manto, has a good understanding of the Partition. "A writer also goes through a journey, I had to understand historical, political and all other facts while writing Bhaag Milkha Bhaag," he quips.
Glam factor
Sonam Kapoor is indeed riding high on the success of Raanjhanaa, which shows in her attitude. She plays Milkha Singh's girlfriend in the movie. It is, however, her style quotient that interests everyone. "I did ten movies after Aayesha, I am glad that people still remember my style from the movie."
Coming home
Divya Dutta plays Milkha Singh's sister in the the movie. Something different is the word for her. "After Veer Zaara everyone was offering me similar kind of roles. Raskeysh sir offered me the character of Jalebi in Delhi 6 and now he has invested his faith in me for this movie."
Always a coach
Yograj Singh plays Farhan's coach in the movie — close to real life. "This is how I would feel; while shooting the scenes sometimes I would imagine Yuvraj standing there," says Yograj, who felt real while doing the movie.
jasmine@tribunemail.com