LIFE+STYLE

CHANDIGARH

LUDHIANA

BATHINDA

JALANDHAR

AMRITSAR TRIBUNE

JALANDHAR TRIBUNE

BATHINDA TRIBUNE

JAMMU TRIBUNE

KASHMIR TRIBUNE

DELHI

DEHRADUN

DEHRADUN PLUS
Cabinet okays mega plan for smoother NCR traffic
New Delhi, July 11
In an effort to decongest the growing traffic in the National Capital region (NCR), the Union Cabinet today gave its approval for the setting up of a National Capital Region Transport Corporation Limited (NCRTC) under the Companies Act with an initial seed capital of Rs 100 crore.



Business page: Aviation body to replace DGCA
India has exploration right in South China Sea, says Vietnam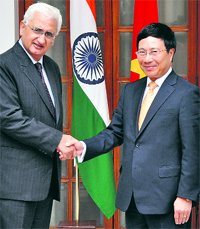 New Delhi, July 11
Notwithstanding growing Chinese assertiveness in the South China Sea, Vietnam today made it clear that India has every right to carry on with 'exploration and exploitation' work it was undertaking in the blocks allotted to it by Hanoi in the disputed sea.

Minister for External Affairs Salman Khurshid with Vietnam Foreign Minister Pham Binh Minh in New Delhi on Thursday. A Tribune photo


OTHER PAGES

PUNJAB: Punjab rural doctors refuse to be shifted to Health Department


HARYANA: Tariff hiked by 34 paise


HIMACHAL: Tussle with Bali costs Addl Chief Secy dear


CHANDIGARH: Buying a property to get costlier


LUDHIANA: Girl dies in freak accident


DELHI: Janakpuri residents fear for their homes


Business:

Bernanke's 'stimulus' remarks send stocks to 6-week high

OPINIONS: Cleaning up politics


NATION: Cabinet nod to Rs 702-crore projects for Sonia's Rae Bareli


SPORTS: Agar sparkles on debut

WORLD: Egypt PM struggles to form Cabinet


The tribune guide to best colleges

Budget
2013-14

INDIA CHINA WAR 50 YEAR LATER

YEAREND SPECIAL: 2012

Year of survival

The tribune 130 years
a witness to history
book released by prime minister manmohan singh

Guide to best colleges

Results of Punjab Assembly Polls 2012

HIMACHAL VOTES 2012

EARLIER FEATURES
Apex court: Those in jail can't vote, contest polls
New Delhi, July 11
The Supreme Court has upheld a 2004 Patna High Court verdict debarring those in lawful police custody and serving jail terms from voting or contesting elections to Parliament and Assemblies even if they are enrolled as voters.
Ramdev, Jethmalani pitch for Modi as PM


New Delhi, July 11
Influential yoga guru Ramdev and maverick lawyer Ram Jethmalani, recently expelled by the BJP for "breach of discipline", today backed party's poster boy Narendra Modi for the post of Prime Minister. The Gujarat CM is understood to be considering contesting the next Lok Sabha elections from home state Gujarat and Uttar Pradesh.
Egypt PM struggles to form Cabinet
Cairo, July 11
Egypt's new Prime Minister was faced with road blocks in forming a new Cabinet and steering the deeply polarised nation through a transition phase, as the Muslim Brotherhood today vowed to continue protests against the ouster of President Mohamed Mursi by the army.


UPSC cracks whip on 2 Punjab IAS officers
Lokpal Principal Secretary CS Srivastava let off by commission
Chandigarh, July 11
The Union Public Service Commission (UPSC) has recommended disciplinary action against two senior Punjab IAS officers even as it has overruled the state government to let-off a third officer.In a letter received by the Punjab Government a week ago, the UPSC is learnt to have conveyed that action be taken against Punjab Agro Financial Corporation (PAFC) former managing director Kripa Shankar Saroj in the iron ore scam case.
Convicted lawmakers to lose membership: SC
July 11, 2013
Bodh Gaya blasts probe handed over to NIA
July 10, 2013
13 bombs were planted, says Shinde
July 9, 2013
9 serial blasts rock Bodh Gaya
July 8, 2013
India, China to scale up defence ties
July 7, 2013
Freebie offers vitiate poll process: SC
July 6, 2013
Food security ordinance raises Opposition hackles
July 5, 2013
Ishrat encounter was fake: CBI
July 4, 2013
Maoists kill SP, 5 cops in Jharkhand
July 3, 2013
U'khand gets rehab authority
July 2, 2013