Uttarakhand the challenge ahead
The Tribune series on what needs to be done to rebuild state
Use eco-friendly material for building roads: CRRI chief
Sandeep Rawat
Tribune News Service
Roorkee, July 19
With flash floods, landslides and soil erosion causing havoc in Uttarakhand, the lifeline of the hills, roads, are the ones that have suffered the most. This, in fact, has disconnected the affected areas from rest of the country and has also affected the rescue, relief and rehabilitation process, as roads are the only medium of transport in hill districts.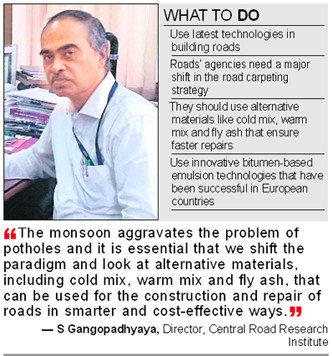 Despite the Border Roads Organisation maintaining the border area roads in Uttarakhand, due to the hilly terrain, adverse climate and sensitive mountains, it is imperative that roads be constructed in a technical and environmentally sensitive manner.
Central Road Research Institute (CRRI) Director S Gangopadhyaya suggests comprehensive and latest technologies in building the roads in Uttarakhand.
With most damage occurring in the monsoon season in the hill state, Gangopadhyaya points out that monsoons have been hostile to roads, be it hills or plains. Rains create woes for Indian road users. They grapple with water-logging on the one hand, their torture is aggravated by innumerable potholes that dot their paths on the other.
"To overcome this challenge, our roads' agencies need a major shift in the road carpeting strategy. These agencies should start using alternative materials, which ensure faster repairs.
"The monsoon aggravates the problems of potholes and it is essential that we shift the paradigm and look at alternative materials, including cold mix, warm mix and fly ash, that can be used for construction and repair work, in smarter and cost-effective ways," stated Gangopadhyaya.
Traditionally, Indian agencies have been using hot mix for repair work, which does not work in wet conditions, causing inordinate delays in potholes' repair.
Citing the latest trend in European countries in recent years, he points out that innovative bitumen-based emulsion technologies have demonstrated their ability in meeting the challenges of carbon credit, economy and environmental concerns. Besides, consequently various standards and specifications have also been brought out on those aspects. There is a clear benefit in the use of emulsion-based cold mix and half warm technologies which can bring about durable as well as sustainable development of roads in Uttarakhand.
Referring to this technology, he says Mumbai has been using cold mix successfully and now it is being modelled in Delhi, too. The same can work wonders in Uttarakhand. Fly ash is another input, which Gangopadhyaya believes has the potential to transform roads' structure in hill belts.
Like, for example, CRRI has used fly ash for Nizamuddin Bridge embankment and the results have been positive. He accepts that the roads in Uttarakhand need to be made under apt guidance from geologists and environmentalists.
Crucial parameters like geological safety factor, slopes and the characteristics of rocks should be considered before making a road in the Himalayan terrain, adds Gangopahdyaya.
According to World Bank, India loses a whopping Rs 30,000 crore due to poor roads. On the Global Competitive Index (2010), India ranks 90, which is well below China, Pakistan and Sri Lanka. There is a clear need to improve road sector, which is under severe stress also owing to dramatic increase in the number of vehicles.
The road pressure in Uttarakhand is also increasing in recent years with the rise in the number of vehicles.
Uttarakhand State Transport Department figures state that in 2005-06, 83,000-odd vehicles were registered in the state. The figure rose to nearly 1, 80, 000 in 2012-13. Out of this, the proportion of cars, jeeps and taxis, which are the most preferred means of transport for pilgrims and tourists landing in the state, increased the most.
In 2005-06, 4,000 such vehicles were registered, which jumped to 40,000 in the previous financial year, 2012-13.
"As an apex organisation, CRRI has always remained in the forefront by exploring new frontal and emerging areas and providing guidance to user departments and agencies in solving complex civil engineering technological problems," added Gangopadhyay, highlighting the need to resort to latest technologies while laying roads.