G R O U N D Z E R O
India sends a shot heard all across China
The UPA government's decision to set up a Mountain Strike Corps along the China border is an act of great maturity long overdue. It signalled that India meant business and would not be browbeaten into an unequal settlement of the border dispute.
Raj Chengappa

While three 'M's — Modi, mayhem and midday meals — crowded the nation's mind-space during the past week, there was a fourth 'M' that deserved equal if not far more attention. That was the go-ahead from the Union Cabinet Committee on Security (CCS) to raise a separate Mountain Strike Corps along the China border — the first of its kind by the Indian Army.
The CCS cleared Rs 64,000 crore towards expenses for setting up such a corps. The new formation would have two divisions of the infantry specialised in mountain warfare, three heavily equipped artillery brigades, an air defence brigade to ward off enemy attacks from the sky and a highly trained engineering brigade to repair equipment and lay bridges in the forbidding heights of the Himalayas.
In addition, the Mountain Strike Corps will have an aviation brigade that will include both attack and heavy-lift helicopters apart from drones for reconnaissance. Expected to take seven years to set up, the corps will have over 45,000 combat-ready personnel poised to launch an offensive against China if the need arises.
The decision of the UPA government is of immense strategic significance and was a huge message to a China that has of late stepped up its aggressive posture across the disputed 3,448 km border between the two countries. By setting up such a corps, India is not indulging in sabre-rattling to counter the recent spate of border intrusions. Instead, it is a decision of great thought and maturity that has come not a day too late. It is a shot that would be heard all across China, signalling that India means business and would not be browbeaten into an unequal settlement of the border dispute.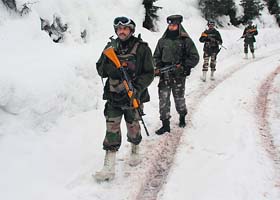 Raising the Mountain Strike Corps is expected to cost Rs 64,000 crore. A Tribune file photo
Currently, India has three strike corps — 1 Corps in Mathura, 2 Corps in Ambala and 21 Corps in Bhopal. But these are meant primarily to take on Pakistan. The planned Mountain Strike Corps would result in a manifold increase in India's combat readiness. It would result in the setting up of many kinds of infrastructure, including roads in the border districts, boosting the local economy and giving confidence to Indians living close to the Line of Actual Control (LAC) that the country cares for their security and needs.
The border issue continues to remain contentious, and India should tread with care while entering into the Border Defence Cooperation Agreement that China is proposing. China is clearly concerned over India going into an overdrive over the past five years to set up long-overdue infrastructure along the border. This includes building 72 strategic roads and setting up 10 advanced landing airfields. Beijing wants to cramp India's plans and Delhi should ensure that it is not restrained in fortifying its defences on the border while negotiating the agreement.
The new Chinese leadership led by Xi Jinping has been sending mixed signals since it took command in March this year. It gave India its due importance, including Premier Li Keqiang making Delhi his first overseas stop after taking over, and assurances that the new leadership was looking to vastly improve its relations with India. Xi Jinping even outlined a Panchsheel type of policy principles when he met Prime Minister Manmohan on the sidelines of the BRICS summit in Durban in March.
Yet, soon after Chinese troops intruded deep into the Daulat Beg Oldie sector in Ladakh, and it required intervention at the highest level to have them pull back. Since then there have been sporadic intrusions that have hit the headlines. It is apparent that China's powerful Peoples Liberation Army (PLA) has become more assertive and wants a larger say in the new power dynamics that is emerging in Beijing. But the new leadership under Xi Jinping, while indicating to the PLA that it will make no compromises on border disputes, has of late become far more nuanced in its approach.
Recent high-level interactions with China, including a visit by Defence Minister AK Antony and a meeting of the Special Representatives on the border issue, indicated a major shift in the Chinese approach. The Chinese leaders were apparently willing to listen to what India had to say without mouthing the usual shibboleths. There seemed a new openness that was non-confrontational, though no commitments were made by the Chinese interlocutors. They made the right noises about setting up mechanisms to sort out incidents on the border, including hotlines between the two militaries. They were also keen on addressing India's concern about correcting the adverse balance of trade.
India should look upon these developments positively and wait till the new leadership sorts out its equations in its internal power structure — whether political or military — and arrives at a new balance. Meanwhile, the Manmohan approach of speaking softly but wielding a big stick may just be working.