Two brothers lost, and a wedding on hold
A bazaar washed away, and all in it
Jotirmay Thapliyal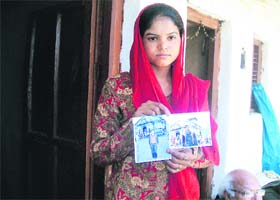 Uma with the photographs of her brothers Umesh and Pradeep, who were killed in the June 16 disaster. A Tribune photograph
DEHRADUN: For Gabar Singh, life will never be the same. He lost both his sons in the disaster. His 22-year-old daughter Uma was to be married in October, and he wanted his sons to make a neat sum before the Char Dham season ended. His wife is in shock. "I had big hopes from my sons. They were helping me collect money for the wedding. Now, I have neither the money nor my sons," says Gabar, breaking down.
The family lives in Bhadasu village (21 km from Guptkashi), which has been the most affected in terms of loss to human life. Twenty people of the village perished in the floods.
Dilbar Singh ran a shop at Rambara Bazaar. His 14-year-old son was in the shop when the catastrophe struck. The waters swept away the entire bazaar. Dilbar is left with two daughters and a younger son, but his helping hand is no more.
Many locals were engaged in operating mules on the 14-km trek from Gaurikund to the Kedarnath shrine. They earned well during the peak season. But the loss of their loved ones as well as their mules has jolted them.
Bharat Singh owned a hotel at Rambara. His 14-year-old son was working with him on the fateful evening of June 16, when gushing waters started entering Rambara. They ran uphill, but while Bharat survived the ordeal, his son succumbed to fatigue and hunger.
Similar is the story of Bhagat Singh who ran a "dabha" at Rambara and lost his son. "We ran for safety the whole night, but my son could not survive due to hunger and dehydration. He died even as I tried to pull him along," he says, his eyes brimming with tears.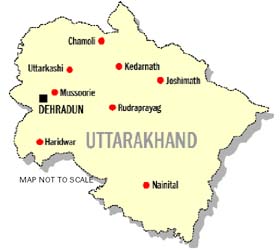 Raju Nepali, a labourer, drowned at Kedarnath. He leaves behind his ailing wife Luxmi, a toddler and daughters aged five and three. "I don't know what the future holds for my children. I can't even feed them. I will take refuge in an ashram in Haridwar," she cries.
For Harendra Rana of Ukhimath, it was death that brought him to Rambara. He worked in Delhi, but when his brother died in a road accident some months ago, he rushed back to take charge of his brother's business. He was among the causalities.
Darshan Singh of Krokhi village and his son died at Rambara. Prem Singh from the same village lost his two sons, who worked as helpers in shops, at Rambara.
Rajendra Prasad of the nearby Kimana village and his two sons also died at Rambara. His widow, aged 36, is left with no hope and has no source of livelihood.
Sarveshwar Nautiyal from Dilmi village, 6 km from Ukhimath, is also among the deceased. He leaves behind two children. Gajapal Singh of Byentee village in Rudraprayag district lost his 18-year-son at Rambara.



in tragedy, tales of sorrow and valour
Entrepreneurs once, scrounging for food now
DEHRADUN: Pulna was one of the most prosperous villages as one moved from Govindghat to Hemkund Sahib in Chamoli district of Uttarakhand, but this was till the raging Lakshman Ganga flattened it.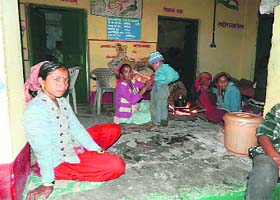 Pulna residents take refuge at a school in Joshimath. A Tribune photograph
Pulna has been home to entrepreneurs, contrary to the popular mindset of the hill people who prefer government jobs. Residents of the village would run hotels, motels, "dabhas" and other businesses linked to pilgrim amenities; besides working as guides and mule operators. Most of their establishments were located at Gangharia, an important stopover for pilgrims to Hemkund Sahib.
The ill-fated village of 99 families is a 7-km trek from Govindghat. The furious river swept away the entire village, forcing a complete evacuation of the residents with the help of the Army.
The residents are traumatised. With little hope left for the future, these families are living in tents at Joshimath. They don't know for how long they will have to stay in makeshift arrangements. Even relief coming to them has been poor despite being at Joshimath, an important township. With no provision to start a fire, raw food made available to them as relief has been rendered useless.
The aggrieved villagers harbour strong resentment against the political leadership of the state. They had sent an SOS to Badrinath MLA Rajendra Singh Bhandari, but any help for the distressed people of his constituency is still to come.
Some families are huddled in two halls of the Youth Hostel. "We don't know what the future holds for us. Rebuilding a destroyed village will take time. Our basic need today is food," says Sanjay Rawat, a displaced Pulan resident.
The education of their children is also a matter of concern. "Houses can be reconstructed, but what about the education of our children? We don't know when normalcy will return. Time is precious. It will have an adverse impact on the career of our children," says Govind Singh, another resident.
Sanjay Chouhan ran a hotel, which is in a shambles now. "We have lost our source of earnings," he says, adding that with pilgrims not preferring Uttarakhand, they are bound to suffer losses.
Another hotelier Santosh, whose mules were swept away, has little hope for the revival of his business. "It may take years for us to get over this massive setback," he says. — JT

13 years of camping for birds, nest gone in blink
DEHRADUN: A spell of heavy rain destroyed what took years for 50-year-old Yashpal Singh Negi to build. His dream project — Mandakini Magpie Bird Watchers Camp — at Kankra Gad in Mandakini valley of Rudraprayag district is in ruins. The camp was swept away by the tempestuous Mandakini.
With no formal training in bird-watching or knowledge of eco-tourism, Negi set up the camp in 2000. Being in the lap of nature, the camp was an instant hit with bird watchers across the country. The camp would be abuzz with activities, particularly in the winter, as rare Himalayan birds arrived in the sylvan surroundings of the picturesque Mandakini valley. "Yashpal is no more," said a crestfallen Negi when he was contacted by The Tribune. Losing his camp was like death for him. He had set up the camp with his meagre financial resources, including a bank loan. But now with all gone, he is in a state of shock. He earned Rs 4,000 every day during the peak tourist season, but now Yashpal has no source of income.
The camp was unusual in the Garhwal hills. Fellow villagers jeered at his interest in birds, but a determined Yashpal went ahead and started the camp 12 years ago. Initially, he converted a few of his rooms into accommodations, and then set up tents and other infrastructure.
His authority on birds, by virtue of being brought up in hilly village environs, catapulted his efforts. To top it, he was an excellent host. Some eminent bird watchers of the country who visited his camp include Nikhil Devasar (Delhi Bird Club), Rajnish (Bangalore Bird Club), Kiritam Mukherjee (Kolkata Bird Club), Dr Arun Pratap Singh from the Forest Research Institute, and wildlife photographer Rakesh Sahay. The camp had a commendable collection of bird nests and a large number of books on birds.
Prateek Panwar, who organises the Great Himalayan Bird Count in Uttarakhand through his NGO, Action for Research and Conservation in Himalayas (ARCH), says: "Yashpal's contribution to bird watching has been immense. I feel extremely sorry for him. The camp was a labour of love. I hope the state government helps this poor man. We will try to mobile resources from the bird watchers' fraternity across the country. I salute his spirit. I hope he overcomes the tragedy and rebuilds the camp." — JT
DEHRADUN: Many locals not only braved the catastrophe, but also came forward to help others in distress, unmindful of their own safety.
Sixtyfive-year old Kamla Bhatt from Nallah village, 15 km from Guptakashi, was in Kedarnath when the rushing waters hit it. She got stuck in a mud-pit, but managed to pull herself out and ran towards a hillock. She guided a large number of pilgrims towards safer areas. Her knowledge of the local topography helped her and the others find their way around forests and the tough terrain. It took her eight days to reach her village. Sangeeta, her daughter-in-law, says Kamla has always been an inspiration for the family.
Pandit Mahadev Prasad Mishra, a priest at Tripur Sundari Lalita Mai Devi temple, opened the gates of the temple to the pilgrims in distress. He even arranged food for them with his own limited resources.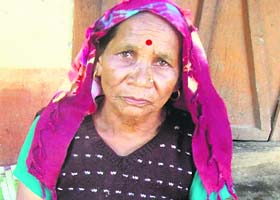 Kamla Bhatt, who was out for a week guiding pilgrims
Lokendra Singh Rana, who runs a hotel at Mayali village in Rudraprayag district, provided food free of cost to the pilgrims, even though his own stock of ration was running out. All his LPG cylinders are now empty, but Lokendra says he is at peace as he was able to feed people in need and keep up the tradition of Uttarakhand.
Similarly, Naveen Dumoga, who runs a "dhaba" at Guptkashi started langar for people who were starving. Today, he does not have a business as the Char Dham yatra stands cancelled, but he has no regrets.
There were others who rose to the occasion. Suman, a grocer at Gram Panchayat Khat in Guptakshi, provided biscuits and snacks to the pilgrims while Ganesh Thapliyal, a cloth trader of Rudraprayag, gave shelter to a number of pilgrims in his house. "Averting the tragedy was not in our hands, but we could help others," he says.

Mainstay of economy, tourism hits a roadblock
Fear does what rain didn't
Ajay Ramola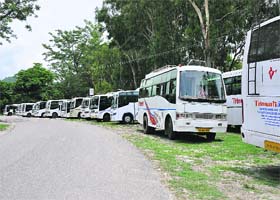 Tourist buses for Char Dham pilgrimage parked idle in Haridwar. Tribune photo: Rameshwar Gaur
MUSSOORIE: The aftershock of the Himalayan tsunami is being felt in Mussoorie, which is facing economic losses in the absence of tourists. The hotel industry, retail shops, taxi operators, street vendors and daily-wage earners are feeling the pinch; and any news of fresh landslips or heavy rains is compounding their problems.
The period between June 15 and July 15 sees the maximum number of tourists, bringing in the much-needed revenue. Tourism is the mainstay as it provides employment to a large work force. But the negative publicity and the failure of the state government to "segregate" disaster affected areas from the unaffected ones has resulted in tourists keeping away.
RN Mathur, president of the Mussoorie Hotel Association, and Javed Khan, general secretary of the Traders Association, claim Mussoorie has incurred a loss of around Rs 100 crore.
"The Mall Road is deserted. It has affected the livelihood of a cross section of society, be it the street vendor or a luxury hotel owner," says Mathur. "Most hotels are on the verge of shutting down due to the fear among tourists that such a disaster could strike again. It is causing retrenchment and mass migration of the work force to greener pastures," he adds.
The luxury tax collection from hotels has dipped to 15 per cent. "In June last year, the collection was over Rs 1.16 crore while this year it is Rs 1 crore," says Additional Tax Commissioner Saurabh Tivari. The loss has also affected the revenue of the Municipal Council. Its president Manmohan Singh says the town used to receive additional revenue through eco-tax collection at Kholokhet and at the Mall Road from tourists, but with the fall in their number, the MC has suffered losses, hindering the plans of developing infrastructure.
The business community has urged the government to hold road shows across the country to instill confidence among tourists. The other demands include: Five-year luxury tax exemption for hotels; waiving arrears up to June 30; VAT exemption on food items for three years; waiving arrears on taxes; deferring water and sewerage charges; exemption of service and income tax for five years; and amendment to the RBI circular of non-performing assets.
Sandeep Sahni, spokesperson for the Uttarakhand Tourism Development Board, says the unprecedented devastation requires unprecedented development measures. The government should first provide relief to the affected areas and then restore the confidence of tourists.
Vijay Singh, a hotelier, says the government should segregate religious tourism from leisure tourism and regulate the inflow of tourists so that it can be managed in adverse circumstances.

Lake city loses Rs 30 cr in 20 days
Tourism industry badly hit in the Kumaon region after all bookings were cancelled.
Those planning to buy property in Almora and Nainital (pic, above) have backed out.
Land and property registration has dropped from 50 every day to 20.
Hoteliers at Nainital, Berinag, Chaukori and Munsiyari are facing huge losses.
Nainital, the lake city, has lost nearly Rs 30 crore in the first 20 days of June.
Trekkers have cancelled bookings at Munsiyari in Pithoragarh after fresh landslide along the Munsiyari-Milam track.
— BD Kasniyal