Midday meals
The unpalatable truths
The midday meal scheme that feeds 12 crore children on schooldays has succeeded in increasing enrolment and reducing dropout rates, but the Bihar tragedy exposes how rules meant to ensure regular and hygienic feeding are jeopardised along the chain.
By Aditi Tandon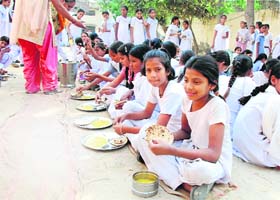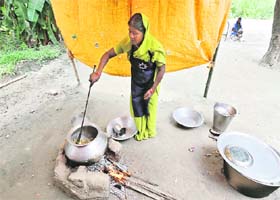 Despite aid from the Centre, many states have failed to provide kitchen sheds to all schools. Reuters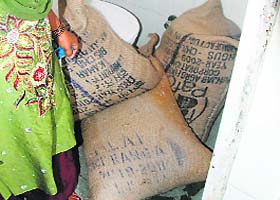 Food grains have even been found stored in a toilet. A Tribune file photo
IN its long journey of 18 years, the National Midday Meal Programme has never quite suffered a setback as huge as the one it suffered last week when 23 children died in a Chapra (Bihar) government school after consuming dal, rice and soyabean curry.
Forensic examination of the food served to the children has found it was contaminated by a pesticide. Prima facie, it stands established that the cooking oil used to prepare the meal had been stored in a can meant for pesticides. The school principal, who has absconded, was procuring ration from her husband's shop in the vicinity. Neither she nor her colleagues had cared to taste the food before serving it to children, who complained of a noxious smell in the food, but were allegedly forced to eat.
This tragedy which unfolded at Dharmasati Primary School has put question marks on the very structure and operation of the world's largest school feeding programme, which has often been hailed in global forums as a 'scheme to emulate'.
Questions are now being asked: how did a pesticide can find place in a school; why was the food not tasted before being served when programme guidelines clearly stipulate prior testing of food by three adults, including a teacher; why was the ration lying with the principal and not in a storage room; how was she procuring the groceries from her husband's shop without even keeping an inventory of purchases.
Clearly, no one was watching her. Given its vastness (meals are served to 12 crore children in 12 lakh primary and upper primary schools every working day), the food programme relies heavily on community support for monitoring, though it has an inbuilt government led review mechanism also in place.
Out of Rs 13,215 crore earmarked in this year's Budget estimates for the programme, close to Rs 226 crore is set aside for monitoring and evaluation of the scheme, which means food quality, delivery aspects, inspections and reviews. This component is the weakest link in the entire chain with half of the states reporting less than 50 per cent utilisation of the monitoring and review funds.
Picture this: the total allocation for monitoring the scheme for 2012-13 is Rs 19,320.54 lakh. Against this, the utilisation nationally was just 85 per cent. Every state is supposed to send a quarterly progress report on the scheme in their schools. These reports arrive delayed by at least four months.
Checks and tasting
An analysis of the latest reports from states by The Tribune shows that less than 50 per cent schools have been inspected in Jammu and Kashmir, Jharkhand, Haryana, Puducherry, Andhra Pradesh, Mizoram and Meghalaya. In the rest, around 80 per cent schools were inspected. Inspection in all schools was reported by no state.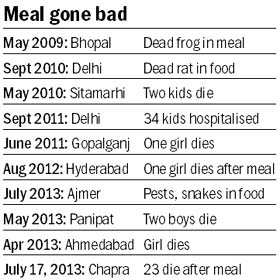 "It is very well known that in a programme of this scale, covering close to 12 crore children daily, quality of food and delivery would always be a challenge. Monitoring is the soul of the programme and it has to be strengthened locally. Parents have to engage themselves in the process and demand accountability from schools. The Bihar tragedy is unfortunate but we can draw lessons from it rather than question the scheme, which has served hugely to improve school enrolments and retention by addressing classroom hunger," says Vinod Raina, Member, Central Advisory Board of Education, the apex advisory body for education policy in India.
That's not to say the governments can escape responsibility. MDM guidelines lay down clear systems for review of the programme to the last school. They mandate quarterly meetings of State MDM Steering and Review Committees and monthly meetings at district and block levels. These are not happening anywhere. In Bihar, only three meetings of the state committee have happened in the past five years. Nationally, during 2012-13, 140 meetings should have happened of these state steering panels across India. Only 55 happened.
Given the apathy of governments, community solutions to midday meal monitoring are a must. Bihar is now contemplating forming mothers' groups to oversee the delivery in schools. Many states like Rajasthan and Kerala are already experimenting with this model.
Dr Prema Ramachandran, a leading nutrition expert who has helped frame nutrition norms for the scheme, says, "This disaster could have happened anywhere. For this to be averted, locals need to take leadership in the programme. Only they can demand accountability from schools. Safety of food being served is paramount and no one can understand this better than the mother of a child who is being served. Also, testing of food must become a habit. Don't we at home taste the food before serving it? The same principle should apply to midday meals."
A day after the Bihar tragedy, the state government issued advertisements in local newspapers highlighting the most basic requirement of the scheme that had been violated in the Dharmasati school case: teachers must taste the food they serve to children. "Safety aspect of midday meals can be fully addressed by meeting this basic requirement. This was violated in Bihar," says HRD Minister MM Pallam Raju, who has now ordered the constitution of a permanent committee at the Central level to monitor safety, quality and hygiene aspects of the scheme.
Constrained facilities
There are challenges in this direction. The first is availability of safe water for drinking and cooking in schools. The Centre's review reports that only 17 states have the facility of drinking water in all schools. These are Goa, Mizoram, Karnataka, MP, Daman and Diu, Andaman and Nicobar Islands, Tamil Nadu, Lakshadweep, Himachal, Punjab, Rajasthan, Delhi, West Bengal, Puducherry, Uttarakhand and UP.
The remaining are still struggling despite the fact that the Right to Education Act, 2009, mandated the provision of nine infrastructure requirements (drinking water included) within three years of the Act's implementation. The deadline expired on March 31, 2013. Pallam Raju says a circular has been sent to every state to complete the requirement immediately.
That apart, the programme mentions kitchen-cum-stores as absolutely essential for the supply of healthy and hygienic hot cooked meals to children, apart from safe storage of food grains supplied. The importance of kitchens is evident from the fact that its provision has been made mandatory under the RTE Act.
Yet, states continue to lag on this count. In Bihar only 56 per cent schools have kitchen-cum-stores and storage cans, which explains why food and condiments were kept in a can meant for insecticides. The Dharmasati school, where 23 children died, does not even have its own building. It is run in a community hall and there is no storage space for the ration, which is kept at the principal's house.
Nationally, the Government of India has sanctioned 9,97,663 kitchen sheds for schools up to 2012-13. At the end of the 2012-13 financial year, only 6,26,154 (63 per cent) sheds had been constructed. The slowest on this count are Andhra Pradesh (only 4 per cent); Haryana (35 per cent), J&K (40 per cent) and Kerala (13 per cent).
"You can't underestimate the importance of sheds for cooking and storage. Safe storage is possible only in a protected shed-cum-kitchen. Our reviews have found lizards, rodents and pests infest food and food grains where there are no storage sheds and covered spaces," HRD Ministry officials handling MDM programme said. Of late, incidents of pest infestation of food grains and condiments and poisoning of food by lizards have become commonplace. Safe storage is the solution.
Supply crunch
Another challenge is the timely lifting of food grains for meals. The scheme aims to provide 450 and 700 calories of energy to primary and upper primary students, respectively. To facilitate this, it offers 100 grams of food grains (wheat or rice) for primary and 150 gram for upper primary every day per student. In addition, cooking cost is provided at the rate of Rs 3.11 and Rs 4.65 per student per day for primary and upper primary levels, respectively.
Ideally, the consumption of food grains and utilisation of cooking costs should match, but nationally against 84 per cent utilisation of food grains, there is '86 per cent utilisation' of the cooking cost. This means the states are consuming less food grains, of which the lifting from Food Corporation of India godowns remains poor, allowing schoolteachers to procure low quality stuff locally, whereas the FCI is under instructions to provide food grains of at least 'Fair Average Quality'.
Financial review of the lifting of food grains shows that nationally only 86 pc of the allocated grains were lifted last year. Lifting was less than the national average in Chandigarh, Haryana, West Bengal, Assam, Puducherry, Tamil Nadu, Manipur, J&K, Delhi and Rajasthan.
"Inadequate lifting of food grains allows local level corruption. For instance in the Bihar case, the principal was procuring rations from her husband's shop. If states can streamline the food grain lifting, a lot can be done," said a government official.
Broken links
At present, there are three main steps in the process of lifting food grains — the state Midday Meal Directorate makes quarterly allotments to districts on the basis of food grain available. Second, depending on requirements, each district lifts food grains from the regional FCI godown. Third, food grains are transported from the district godowns to block godowns, and onwards to the individual school through PDS shops.
A recently study commissioned by the HRD Ministry to review the food grain delivery system revealed several loopholes. Conducted in Bihar and UP, it found pilferage at every level to the extent of 5 kg per 100 kg sack of food grains. It also found that while the norms require 100 gram to be given per student per day, in Bihar schools only 75 grams was being given and in UP schools 82 grams was being given.
This PAISA study has recommended to the Centre to develop Gujarat and Tamil Nadu models, which have delinked the food grain delivery system for midday meals from the PDS structure and built in systems for doorstep delivery of food grains and condiments to schools.
How the food money moves
Centre releases funds to states in two instalments - 60% by June and second 40% by October through e-transfer to state accounts in the RBI.
State Finance Depts issue sanction orders to release funds to each district.
n District authorities order the district Treasury to pay the District Education Officer (DEO).
The DEO sanctions money to Block Education Officer (BEO) through Treasury.
The BEO releases money through sanction orders to accounts of respective schools. Money is finally deposited in the midday meal account of the school.
Total time: Four-six months. Till then, schools operate on loan or credit. Cooks are paid only when money reaches school. Often panchayats or parents extend credit.
Entitlement
450 calories a day per student in primary
700 calories for upper primary.