Two booked for holding cement trader captive
Amritsar, August 5
The Chheharta police has booked two persons for allegedly illegally confining a cement trader and cheating him.

Police refutes custodial death charge
Amritsar, August 5
A couple of days after the mysterious death of Satinderpal Singh, alias Rambo, the city police today gave a clean chit to the police official concerned by denying the charges of the custodial death as claimed by the deceased's family members.

3 booked for obstructing, attacking police party
Amritsar, August 5
The Sultanwind police has booked three persons on the charges of coming in the way of a government employee from performing his duty and attacking the police party which had gone to arrest a person wanted in a criminal case.

Patients, attendants find it hard to get seating space
Amritsar, August 5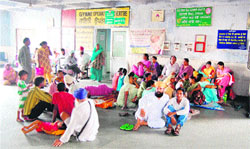 The absence of sufficient seating space for patients and theirs attendants at government-run medical institutions in the city is giving them a tough time as they look for a place to sit comfortably.




In the absence of a proper seating arrangement, attendants of patients sit on the floor at Civil Hospital in Amritsar. photo: Sameer Sehgal

Aided school teachers protest
Amritsar, August 5
The employees of aided schools under the banner of the Punjab State Aided School Teachers and Other Employees Union today held a demonstration outside the District Education Office (DEO) seeking merger of aided school teachers with the Education Department.
Bhagat Puran Singh remembered
Amritsar, August 5
The All India Pingalwara Charitable Society today organised kirtan and paath to remember its founder member Bhagat Puran Singh.
Cong raking up issue of Sikh farmers' eviction to tarnish Modi's image: BJP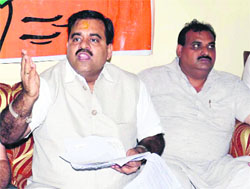 Amritsar, August 5
The Punjab unit of BJP today defended Gujarat Chief Minister Narendra Modi for evicting Sikh farmers from their land in Gujarat. Addressing mediapersons here, state general secretary Tarun Chugh said an ordinance passed by the Congress Party enforced a new rule as per which only actual agriculturists, who till land, could buy agricultural land in the state.


BJP leader Tarun Chugh (left) addresses the media in Amritsar on Monday. A Tribune Photograph
Police-politician nexus responsible for easy availability of drugs: Shashi Kant
Amritsar, August 5
The Sikhs for Human Rights today organised a seminar at Virsa Vihar to prepare a policy to encourage the general public to raise voice against the growing menace of drugs in the state.
Ravneet Kaur of MA Fine Arts tops in GNDU
Amritsar, August 5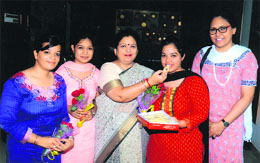 Ravneet Kaur, a student of MA (Fine Arts semester-IV) of BBK DAV College for Women, Amritsar, stood first in Guru Nanak Dev University (GNDU). Ravneet scored 1,387 out of 1,600 marks while her classmate Sonia Mahajan stood third in the university by scoring 1,346 marks.



Ravneet Kaur of BBK DAV College for Women, Amritsar, being greeted in Amritsar on Monday. A Tribune Photograph

Regional Basketball Sports Championship held
Amritsar, August 5
Two-day Regional Basketball Sports Championship of Kendriya Vidyalaya, Jammu Region (Girls), was held at Kendriya Vidyalaya 1 here today. In under-14 group, KV 1, Udhampur, secured the first position, KV 2, Jammu, bagged the second position while KV Jindrah got the third slot.
Representatives of 13 varsities participate in seminar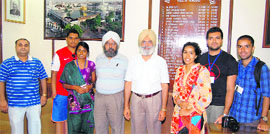 Amritsar, August 5
Representatives of thirteen universities from Atlantic Canada today participated in a seminar projecting Canada as a viable destination for studying abroad.




Rajinder Mohan Singh Chinna (centre) with a delegation of students at Khalsa College Amritsar on Monday.