Murder accused's wife alleges implication
Dharmendra Joshi
Tribune News Service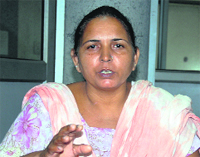 Shanti Rani says her husband and minor son were implicated falsely at the behest of a local Akali councillor.
Jalandhar, August 18
A day after her husband Nathpal and her minor son Amit Kumar were arrested on the charge of Vicky's murder, Nathpal's wife Shanti Rani has alleged that her husband and her son had been falsely implicated in the case as a part of a deep-rooted conspiracy.
Nathpal is the complainant and an eyewitness in his relative Vijay Kumar Dhilwan's murder case, who was allegedly shot dead by an Akali councillor from ward number 11, Balbir Singh Bittu, during violence after the Vienna incident a few years ago. The hearing into the case is on.
Shanti said "My husband was being approached by Bittu's men, who offered him a huge amount for changing his statement in Vijay's murder case to save Bittu. But he did not agree to that. So, he has been now implicated in a false case of Vicky's murder at his behest."
Nathpal and 17-year-old Amit had gone to bring dal from a dhaba near Rama Mandi on August 16 at around 9 pm. On their return, Bittu's driver Raj Kumar Jhona and Vicky rammed their motorcycle into Nathpal's motorcycle. At this, Jhona and Nathpal started fighting with each other. Meanwhile, another vehicle, with several persons on board, reached there. Getting whiff of a conspiracy, Nathpal immediately called the police control room and Rama Mandi police and ran for shelter, leaving his motorcycle behind, she added
Shanti further said "When the Rama Mandi police reached there, we asked them to take action against Jhona and Vicky. Instead, they advised us to go home and said they would take appropriate action."
She added "The Rama Mandi police came to our home after some time and took my husband along on the pretext of taking him to the spot, but later said he had killed Vicky."
BSP seeks judicial probe
"A conspiracy has been hatched to implicate Nathpal. We want an independent judicial or CBI probe for the sake of justice. There are several basic questions which raise doubt over the police theory of Nathpal killing Vicky. First of all, there was no motive behind the killing. Secondly, had he planned to kill Vicky, why would he take his minor son along. Thirdly, had he planned to kill someone, he would have carried weapons with him," said Kamaldev Jandusingha, BSP district general secretary.
Nothing to do with this case, says Bittu
Balbir Singh Bittu, Akali councillor, said "Allegations levelled by Nathpal's wife are baseless. This is a fact that an FIR in Vijay's murder case
had been lodged against me on his complaint and Jhona is my driver. As far as I know, Nathpal had some fight with Jhona and Vicky that day. Both of them were drunk. As a result, Vicky died."
"FIR lodged on merit"
"The FIR under Section 302 of the IPC has been lodged on merit against Nathpal and his son. Both the parties had a fight on August 16. We got calls from Nathpal about the fight. When we went to Vicky's house for taking action against him, we came to know that he had been admitted to a hospital. While there was no outer injury on his body, he died due to internal injuries on his groin, as he was reportedly kicked by Nathpal," said Inspector Bimal Kant, Rama Mandi SHO.