Double role
Almost twelve years ago, when the 'galan gorian wich toye' singer Harbhajan Mann featured in the Punjabi film Jee Aayan Nu the audience went berserk and the man with a saccharine voice was the talk of the town. A singer-actor was a new phenomenon then. Likewise, when celebrated singer Gurdas Maan came in full-fledged Punjabi movies, people flocked the theatres to see how a singer could act. It was gradually that the surprise factor started to decline.
Out of the box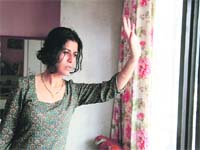 The Lunchbox (Dabba) has created much buzz long before its release. Pretty actress Nimrat Kaur officially debuts with the film. We catch up with her.
What is your take on the film?
I play a loveless housewife who lives life in an old lane. She cooks and has her share of fairly simple dreams. I was pleasantly surprised to see the film, as it has turned out to be beautiful. With Karan, the best in the industry, liking it and being on board promoting it I know it's even a greater journey that lies ahead.
Go-getter
An officer and a sportsman
Ravindra Kumar, 31, walked through life with a bag full of dreams, one of which was to become an IAS Officer. After Plus Two, he cleared the IIT JEE Entrance Exam in the first attempt and joined TS Chanakya to take shipping as a career in order to support his family financially. Today, Ravindra Kumar is serving as the Sub Divisional Officer in Sikkim. Besides, he is also the first IAS officer to have set his foot on the highest point of Earth, Mount Everest.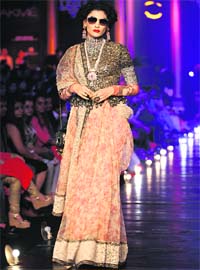 Walk like an Indian: A model showcases a creation by Sabyasachi at Lakme Fashion Week
Wear about
She's got the looks
The vintage look that Priyanka Chopra sported earlier this month at the premiere of Planes in California re-established her as the most stylish Indian actress. Marcel waves with loose curls, red lipper, metallic belt adding glitter to plain peach jumpsuit, a Christian Louboutin clutch, she got her looks so perfect that she raised the bar for herself. And she didn't disappoint. For her latest appearance to promote the same film in Mumbai, she opted for a look that was in stark contrast to the retro Hollywood look.
CELEB POINT
Recipe for success
It's been a good year. Three good films—Gippy, Special 26 and Bhaag Milkha Bhaag. I just got back from the IIFA awards where I was nominated for Heroine. And now I got the news that I've been nominated for the first ever International South African Awards for Special 26 where the jury comprised the likes of my very favourite Waheedaji. It's an honour, but more so, it's a great feeling that good roles choose you and you are appreciated for your work. It's a great feeling to be nominated every year. To win or not is another matter.


Regional aroma
Amritsar Express has landed at Elante Mall, Chandigarh, loaded with specialties like Amritsari kulcha, fish, pithiwali puri and more. Amritsar enjoys the grand status when it comes to food, and to bring out the same flavour in Chandigarh, Ritesh Puri, who has been into steel business, has ventured into this territory with Bhavya Foods. "I am a great foodie.
Mouth watering: Ritesh Puri (in red) with one of his chefs Photo: Manoj Mahajan
Ice cream on the go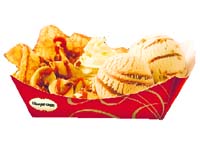 Ever had an ice cream craving but not the time to sit and savour one at leisure? How would you like to have ice cream on the go? Häagen-Dazs believes that your busy lifestyle should never keep you from indulging yourself. Ergo, the brand that has taken the luxury desert experience to a whole new level, is all set to pamper you with its "on the go" service in Chandigarh. Häagen-Dazs has announced its "takeaway menu" in its outlet in Courtyard Cafes, Ground Floor, Elante Mall in Chandigarh.
Deepika is the new box-office queen
She debuted with Farah Khan's Om Shanti Om and since then there is no looking back for the leggy actress, Deepika Padukone. In the beginning of her career, she was criticised for naive acting but she took those criticisms in a positive way and polished her skills. Today, she is at the peak of her career and is ruling the box-office. She is the only actress in Bollywood who has scored Rs 500 crores in a single year. She has surpassed her contenders Katrina Kaif and Kareena Kapoor.
Dream sequence
Be it Sonam Kapoor, Anushka Sharma, Sonakshi Sinha, Alia Bhatt, Shraddha Kapoor or Parineeti Chopra, the new kids on the block are indeed proving themselves to be a fun-loving and funky yet the intelligent lot. Joining the bandwagon this week is Mandana Karimi, the dazzling new face in Vikram Bhatt's forthcoming film Bhaag Johnny.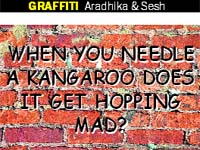 Name dropping!
Shahid Kapoor has recommended Anushka Sharma's name for Vishal Bharadwaj's next film which is based on Shakespeare's tragic drama, Hamlet. Shahid has worked with Anushka in Badmaash Company and felt that Anushka would be the right choice for the film.