M A I N N E W S
Sidhu fires another salvo as Sukhbir deflects blame
Diversion of Funds: Says it's up to BJP's Minister for Local Government to respond to charges
Perneet Singh & Umesh Dewan/TNS
Amritsar/Jalandhar, Sept 15
After seeking a probe into the "diversion" of funds from the Amritsar Improvement Trust to other local bodies, MP Navjot Singh Sidhu today fired another salvo at the government, stating that Amritsar was above everything else and it did not bother him that his utterances could affect his equation with the SAD.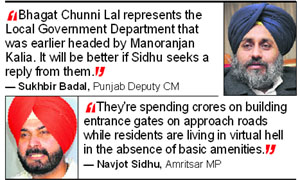 The SAD, in the meantime, tried to deflect the blame with the Deputy CM pointing out that as the matter pertained to the department headed by BJP Minister Bhagat Chunni Lal, it was up to the BJP to respond to Sidhu's charges.
Sidhu claimed that for him Amritsar was bigger than any party. "It is the centre of Sikh faith. It represents the spirit of Punjab and Punjabiat. In my fight for Amritsar's development, I am not thinking about profit or loss."
Asked why the BJP had not come to his support, he replied: "I'm the party here as I am the elected representative of 15 lakh Amritsar residents." Ridiculing the SAD-BJP's "development vision," he said: "They've to auction government property to generate funds for streets and sewers in Amritsar. They're building entrance gates on approach roads spending crores while city residents are living in virtual hell in the absence of basic amenities. What sort of a vision is this?"the MP alleged that the government had set a deadline for 2016 for the completion of city projects with an eye on the 2017 assembly poll while it had nothing to show for the 2014 Lok Sabha elections. Speaking on the sidelines of a function organised by the Aggarwal Mahasabha in Jalandhar, where he promised an end to 'Inspector Raj', Deputy Chief Minister Sukhbir Singh Badal, said it was up to the BJP to respond to Sidhu's charges.
" Bhagat Chunni Lal represents the Local Government Department that was earlier headed by Manoranjan Kalia. It will be better if Sidhu seeks a reply from them," he said.
On Sidhu's demand for a probe into the alleged diversion of funds from the Amritsar Improvement Trust to other bodies, Sukhbir evaded a direct reply. " Sidhu is like a younger brother to me. If he has any grievance against the SAD, he is welcome to talk it out with me," he said.
The Deputy CM said it was incorrect to term the recently announced development projects for Amritsar as a "lollypop". " I would like to say it on record that maximum grants have been released for Amritsar during the SAD-BJP tenure and Amritsar has witnessed unprecedented development in the past five years."
State BJP president Kamal Sharma, who was present at the function said: "So far, Sidhu has not sought any clarification about the funds from the Local Bodies Minister." He said BJP chief Rajnath Singh and in charge of party's affairs in Punjab Shanta Kumar had spoken to Sidhu. The latter would meet Shanta Kumar in New Delhi an September 19.