LIFE+STYLE

CHANDIGARH

LUDHIANA

BATHINDA

JALANDHAR

AMRITSAR TRIBUNE

JALANDHAR TRIBUNE

BATHINDA TRIBUNE

JAMMU TRIBUNE

KASHMIR TRIBUNE

DELHI

DEHRADUN

DEHRADUN PLUS



N-capable Agni-V clears 2nd hurdle; closer to induction
New Delhi, September 15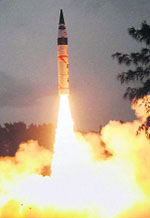 India successfully test-fired its inter-continental surface-to-surface ballistic missile Agni-V from Wheeler Island off the Odisha coast today. The missile has a strike range of over 5,000 km and the ability to deliver a nuclear warhead with precision. The successful testing brings India a step closer to matching China's prowess in long-range missiles. Beijing's nuclear missiles can reach targets up to 11,000 km away.
Agni-V lifts off from Wheeler Island off the Odisha coast on Sunday.

Storm whips Punjab, Haryana


3 killed, 37 hurt in Chandigarh area

Power outage in region
Chandigarh, September 15
At least three persons were killed and scores injured after high-velocity winds slammed parts of Punjab, Haryana and Chandigarh this evening. Power supply was severely affected in the region.
OTHER PAGES

HARYANA: CM takes on INLD in its bastion


HIMACHAL: Kinnaur apple fails to lift sluggish market


CHANDIGARH:3 dead, 37 hurt as squall leaves tricity in the dark


LUDHIANA: Storm wreaks havoc on city, periphery


DELHI: AISA in lead for three of four JNUSU posts

BUSINESS: Fed meet, RBI policy key for markets this week: Experts

OPINIONS: BJP's gamble

SPORTS: Yuvi is back with a smashing ton

WORLD: Putin protecting Syrian regime, doesn't share US values: Obama



Lahore Log

The tribune guide to best colleges

Budget
2013-14

INDIA CHINA WAR 50 YEAR LATER

EARLIER FEATURES
Bill on judges' appointment sent to House panel
New Delhi, September 15
The proposed law to set up a Judicial Appointments Commission (JAC) will ensure the selection of judges in a fair and transparent way without giving any room for allegations of favouritism and nepotism, top Law Ministry sources asserted today.
Slugfest over Badal pics on ambulances
New Delhi, Sept 15
The Centre and the the Akali Dal-led Punjab Government continue to slug it out on the issue of Chief Minister Parkash Singh Badal's pictures on the ambulances that are partially funded by the Ministry of Health under the National Rural Health Mission (NRHM).



Editorial: The face on the bicycle
Pak General, Colonel killed in Taliban blast
A roadside bomb attack on Sunday killed Pakistan's two senior military officers and a soldier in the country's troubled northwest, the military said. Major General Sanaullah Niazi and Lieutenant Colonel Touseef were visiting troop posts in the Upper Dir district of northwestern Khyber Pakhtunkhwa province, along the Afghan border, when their vehicle hit a planted bomb killing them and a soldier.
Sidhu fires another salvo as Sukhbir deflects blame
Amritsar/Jalandhar, Sept 15
After seeking a probe into the "diversion" of funds from the Amritsar Improvement Trust to other local bodies, MP Navjot Singh Sidhu today fired another salvo at the government, stating that Amritsar was above everything else and it did not bother him that his utterances could affect his equation with the SAD.
Anger is Advani's right, will pacify him: Rajnath
September 15, 2013
BJP crowns Modi as PM candidate for 2014
September 14, 2013
BJP to decide on Modi as PM nominee today
September 13, 2013
Prosecution seeks death penalty for rapists; sentencing tomorrow
September 12, 2013
4 guilty of Dec 16 gang rape, murder
September 11, 2013
UP on edge as riots toll rises to 30
September 10, 2013
Muzaffarnagar clashes toll 21; Army out
September 9, 2013
Happy to work under Rahul in party: PM
September 8, 2013
House passes Bill to allow those in jail to contest polls
September 7, 2013
RS okays Bill to give Executive role in judges' appointment
September 6, 2013
SC turns down Centre's review plea on convicted lawmakers
September 5, 2013