Dehradun witnesses spurt in crime cases
Dehradun, September 23
Law and order situation in Dehradun has considerably deteriorated in the past few months. Murders, loot and cases of chain snatching seem to have become the order of the day.
SSP directs SHOs to keep constant vigil on patrolling
Haridwar, September 23
Haridwar SSP Rajeev Swarup has directed all Station House Officers (SHOs) to keep a constant tab on patrolling in their respective areas.
17 'Munna Bhais' sent to Doon jail
Dehradun September 23
The 17 accused, arrested for cheating in the Ayush pre-medical entrance examination yesterday, were sent to jail after being presented before the Chief Judicial Magistrate (CJM) court here today.
MGNREGA employees protest in support of demands at Thatyur
Mussoorie, September 23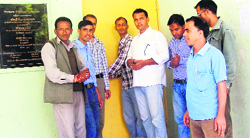 More than a dozen employees working under the Mahatma Gandhi National Rural Employment Guarantee Act (MGNREGA) raised slogans and locked down the office of Block Development officer (BDO) in support of their demands in Thatyur, the block headquarters of Jaunpur development region, today.

MGNREGA employees lock the Block Development Office in protest at Thatyur on Monday. A TRIBUNE PHOTOGRAPH

Harish Rawat: Forests, water equally important for healthy environment
Dehradun, September 23
Union Minister of Water Resources Harish Rawat today said that both forests and water held equal importance as natural resources as they not only contribute towards ensuring a healthy environment but also help in sustaining the existence of human civilisation and also other forms of life.
Tipping fee for garbage collection Rs 112 per tonne
Dehradun, September 23
Dehradun Municipal Corporation (DMC) has sent its report to the state government with regard to increasing the tipping fee over garbage collection to Rs 112 per tonne. SPML company running Doon Valley Waste Management project had been demanding increase of Rs 175 per tonne instead.
Anti-encroachment drive to continue in city
Dehradun September 23
District Magistrate BVRC Purushottam held a meeting to review the anti-encroachment drive undertaken by the Dehradun Municipal Corporation (DMC). He directed Additional Mukhya Nagar Adhikari Uday Singh Rana to further spearhead the drive and provide him with the list of areas where shopkeepers had encroached on footpath and walkways on roadside.
Medha Patkar: Unchecked exploitation of natural resources led to devastation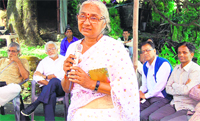 Mussoorie, September 23
The eminent social activists from around the country gathered at Kandi village, 18 km from Mussoorie, under the aegis of Yusuf Meher Ali Centre, to discuss the road ahead after the disaster in the state.




Social activist Medha Patkar during a talk at Akandi village near Mussoorie on Monday. Photo: Ajay Ramola


VC: Sanskrit language is identity of India
Haridwar, September 23
Sanskrit language, being mother of all languages and rich in culture, is in fact the identity of India for outside world.

MAD, Navdanya volunteers' cleanliness drive


Dehradun, September 23
Making a Difference (MAD), an organisation of youngsters, and Navdanya volunteers jointly organised a cleanliness drive today.

Accident victim dies at hospital
Dehradun, September 23
Arvind Kumar, a resident of Tehri Garhwal, who was hit by a vehicle on EC Road on Saturday night, succumbed to his injuries at a hospital here today.

Body found under Sahaspur bridge
Dehradun September 23
Panic gripped the area after a dead body was discovered under the Sahaspur bridge here today. The police reached the spot after getting information about a body lying under the bridge on the Dehradun-Paonta Sahib road in the afternoon today and took it into its custody. Later, the body was identified as that of 24-year-old Naeem Ahmed, resident of Ritha Mandi, Dehradun.

Woman drowns in canal
Dehradun, September 23
The body of a 22-year-old woman, who drowned in the Shakti Canal last evening, was recovered today.

Convent of Jesus and Mary trounce Doon International in basketball tourname

nt
Dehradun September 23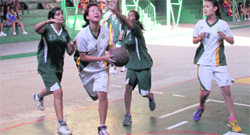 Convent of Jesus and Mary thrashed Doon International School by 31-12 score in the ongoing 9th Gardner Silver Jubilee Inter-School Basketball Tournaments for girls at the multipurpose auditorium of St Thomas School here today. Rida from Jesus and Mary scored 12 points and remained the top scorer of the match.
A match under way during the 9th Gardener Silver Jubilee Inter-School Basketball Tournament in Dehradun on Monday. Tribune photo: Vinod Pundir


North Point Academy win football match
Dehradun, September 23
North Point Children Academy School got full points as it got walkover due to Pestle Weed team not coming on time in the ongoing 15th Colonel Shashi Memorial Under 19 Boys Football Tournament, which is being played at Gorkha Military School.