M A I N N E W S
Strong quake jolts southwest Pak, leaves 45 dead
Islamabad/Karachi, Sept 24
Forty-five people were killed and dozens injured when a major 7.7-magnitude earthquake hit southwestern Pakistan today, with most damage and casualties reported near the epicentre in Balochistan. Dozens of people were killed and houses and shops damaged in Awaran area of Khuzdar district in Balochistan province, TV news channels reported.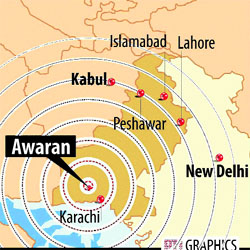 Two bodies were pulled from the debris of a collapsed building. Dozens of injured were taken to hospital, media reports said.
"Houses and shops have collapsed and the casualties could increase. An emergency has been declared in Awaran and some other parts of Balochistan," local administration official Ghulam Baloch said from Khuzdar. Houses were also damaged in Pasni and Windar but details were awaited from these areas, Baloch said.
The Army despatched over 200 troops, rescue and medical teams and a helicopter to the worst-hit areas. Balochistan Chief Minister Abdul Malik, too, said an emergency had been declared in Awaran, seven to eight hours' drive from Quetta, the provincial capital.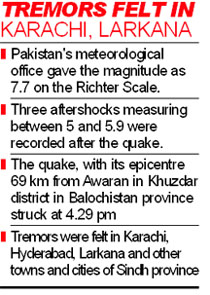 Both US Geological Survey (USGS) and Pakistan's meteorological office gave the magnitude as 7.7 on the Richter Scale. The USGS said three aftershocks measuring between 5 and 5.9 were recorded after the quake.
The quake, with its epicentre 69 km from Awaran, struck at 4.29 pm Pakistani time at a depth of 23 kilometres.
Tremors were felt in Karachi, Hyderabad, Larkana and other towns and cities of Sindh province. Reports said the quake was also felt as far away as Lahore, Rawalpindi and Islamabad.
The tremors that lasted almost a minute caused widespread panic in many places. People rushed out of their offices and homes in Karachi, the country's largest city, and other parts of Sindh and Balochistan provinces.
National Seismic Monitoring Centre Director Zahid Rafi told PTI the tremors were of "great intensity" in Quetta and in some remote areas of Balochistan.
"The affected areas include Jaffarabad, Noskhi, Kalat, Windar, Naseerabad, Panjgur and Mastung," he said.
"The shockwaves were strong enough to even be felt in Karachi, Hyderabad, Thatta, Khairpur and Larkana," Rafi said.
In Karachi, people ran out of buildings on I I Chundrigar Road, the main thoroughfare in the financial district, when tremors were first felt in the city.
"I could feel the chair I was sitting on moving and shaking and there were shouts of 'earthquake, earthquake' and we all rushed out of our building," said banker Sameera.
Residents of Clifton, Defence, Gulshan-e-Iqbal and Bahadurabad too fled their homes and offices after feeling the jolts. People were seen sitting on sidewalks and footpaths, their hands raised in prayer.
TV channels beamed footage of furniture and other items moving within homes because of the quake.
Haider Ali, a resident of Clifton area in Karachi, returned home to see his wife and children running out of their high-rise apartment block.
Long traffic jams were seen on the roads of Karachi as people left office early after the met office said there could be more aftershocks.
In October 2005, a 7.6-magnitude quake killed around 75,000 people and caused massive destruction in the Kashmir region.
In April this year, a quake that hit Karachi and parts of Balochistan killed about 40 people and destroyed or damaged hundreds of houses. — PTI