LIFE+STYLE

CHANDIGARH

LUDHIANA

BATHINDA

JALANDHAR

AMRITSAR TRIBUNE

JALANDHAR TRIBUNE

BATHINDA TRIBUNE

JAMMU TRIBUNE

KASHMIR TRIBUNE

DELHI

DEHRADUN

DEHRADUN PLUS

Strong quake jolts southwest Pak, leaves 45 dead
Islamabad/Karachi, Sept 24
Forty-five people were killed and dozens injured when a major 7.7-magnitude earthquake hit southwestern Pakistan today, with most damage and casualties reported near the epicentre in Balochistan. Dozens of people were killed and houses and shops damaged in Awaran area of Khuzdar district in Balochistan province, TV news channels reported.
Portfolios of Punjab BJP ministers reshuffled
Chandigarh, September 24
On the recommendation of the BJP leadership that was not duly satisfied with the functioning and performance of its some ministers, Chief Minister Parkash Singh Badal today reshuffled the portfolios of BJP ministers in his cabinet. On Badal's advice, Punjab Governor Shivraj Patil has approved the reshuffle.
PM leaves for US today, to address UN General Assembly
New Delhi, September 24
Prime Minister Manmohan Singh will leave tomorrow on a visit to the US during which he will hold talks with President Barack Obama and attend UN General Assembly, besides having a meeting with his Pakistani counterpart Nawaz Sharif.
OTHER PAGES

PUNJAB: Power gets costlier in state


J&K: NC lashes out at Gen Singh, wants him to name ministers paid by Army


HIMACHAL: Storm-hit Kangra villages without power, water


CHANDIGARH: SC order hits UT Admn Aadhaar plans


LUDHIANA: MC official manhandled, staff stall work


DELHI: Rally venue: Posters showing Goel, Modi together removed

BUSINESS: No move to hike diesel prices as of now: Moily

OPINIONS: Hate in Harlem

SPORTS: HC allows BCCI to decide on Modi's fate

WORLD: Attacked US prof to dispel notions about community


Lahore Log

The tribune guide to best colleges

Budget
2013-14

INDIA CHINA WAR 50 YEAR LATER

EARLIER FEATURES
We have defeated militants: Kenyan Prez


Five militants killed, 11 held


67 others found dead


Bodies still under rubble of collapsed floors
Nairobi, September 24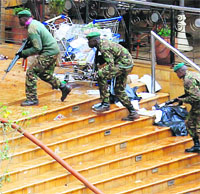 Kenya's President said on Tuesday that his forces had "defeated" Islamists from Somalia's Al Shabab, had shot five of them dead and detained 11 others suspected of killing 67 people after storming a Nairobi shopping mall.
Kenyan soldiers take up position at the Westgate shopping mall in Nairobi on Tuesday. — Reuters



Exporter from Bangalore among 6 Indians killed
For Haryana's wonderkid, no question is tough enough


Karnal, September 24
At five years and eight months, Kautilya Pandit talks about world geography, per capita income, gross domestic product, politics, economy, and answers questions on various topics with ease while others his age learn ABC and recite nursery rhymes.
Mini encyclopaedia


Kautilya Pandit, five years and eight months old, has an enviable knowledge of 213 countries, their population, GDP, source of income, currency, religion, culture and heritage


The Class I student has an IQ of 150, which psychologists say is the same as that of Albert Einstein


Living in Karnal's Kohand village, he also writes songs and poetry and is an amazing dancer
Crack down on communal elements, PM tells states
September 24, 2013
Suicide bombers kill 78 at Pak church
September 23, 2013
BCCI chief's son-in-law charged with betting, leaking team info
September 22, 2013
Home, car loans to cost more as RBI raises lending rates
September 21, 2013
Sensex rides on US stimulus, gallops to three-year high
September 20, 2013
Arrest warrants against 16 UP leaders for 'inciting' riots
September 19, 2013
Sharif presses for serious dialogue with India
September 18, 2013
PM, Sonia reach out to UP riot victims
September 17, 2013
In poll mode, Modi calls for strong leadership at Centre
September 16, 2013
Anger is Advani's right, will pacify him: Rajnath
September 15, 2013
BJP crowns Modi as PM candidate for 2014
September 14, 2013