Serious note on comedy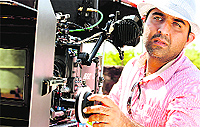 When everyone around is whipping 'dollops done-to-death punches' in Punjabi films, one man is not deterred by all the talks about comedy films in Punjabi losing their steam. Amit Prasher, the director who successfully tickled the funny bone of the audience in his debut film Tu Mera 22 Main Tera 22, is all set to present another laughter riot, Ishq Brandy, the part of last schedule of which is being shot in the Chandigarh Group of Colleges, Jhanjeri campus. lens eye: Amit Prasher
Chill pill
Change could be just around the corner; the much-hyped growth of Punjabi film industry might jump on a different track. With some new themes, the scenario might get better; seriously hoping for the best though.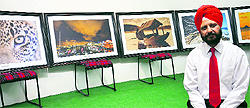 The eyes have it!
Photography has evolved as one of the most experimental mediums of visual art. SPS Grewal, the CEO of Grewal Eye Institute, Chandigarh, has a vision that is much different from others in the medical profession.
Right Click: Dr SPS Grewal
Par Excellence
The importance of the Ďaimí
The position of the putter face at impact has the most significant effect on the direction of the ball. To get the putter face square at impact consistently, the aim of the putter face at address must be correct to avoid sub-conscious correction. As mentioned in the previous article there are two ways of holing a putt, a perfect stroke or a perfect compensation.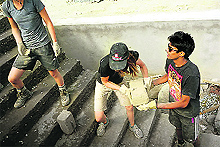 Service sector
Working with the international student community from different parts of the world and in order develop their sense of social responsibility, six senior students from Vivek High School participated in Round Square International Service Projects in Baisoara, Ladakh and Mpumalanga.


Students taking part in construction in Ladakh
CELEB POINT
A no-fuss birthday
This is from me to you. As you read this write-up on my birthday! What better way to celebrate than to share your thoughts and feelings with those who love and appreciate you!
In step with fashion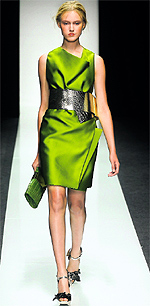 A model presents a creation from the Gianfranco Ferre Spring/Summer 2014 collection during Milan Fashion Week. óReuters

TROUBLE SHOOTER
Take charge
They say early morning depression is more of biological depression. I feel very low in the mornings and towards the evenings I am better. Why?
Rapid fire with Alia Bhatt
Alia Bhatt answers our questions on movies, dates, beauty and much more.
Cool weaves
An array of artfully crafted statues of various sizes in natural colours of stone greet you as you step into the handicraft extravaganza brought by Utkalika the Odisha State Emporium.
For a good nightís sleep
Sealy mattresses introduces the new collection of technologically advanced sleep systems
star track
Aamir Khan backs Shahid
Aamir Khan is backing Shahid. He saw the trailer and was bowled over and immediately decided to come forward. He will be hosting the trailer on his official Facebook page.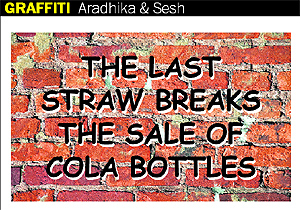 chatter box
For a social cause
The National Commission for Scheduled Castes (NCSC) will award Star India CEO Uday Shankar and Aamir Khan for their show Satyamev Jayate. The show created awareness against many social discriminations and this honour will celebrate that. They will be awarded at a function on International Valmiki Day, October 18, in New Delhi.