Haji Islam is BSP's LS nominee from Haridwar
Sandeep Rawat
Tribune News Service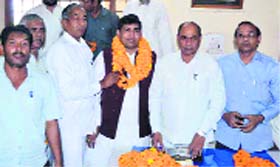 BSP Lok Sabha candidate from Haridwar Haji Mohammed Islam being welcomed by party workers in Haridwar on Monday. Tribune photo: Rameshwar Gaur
Haridwar, September 30
Despite Bahujan Samaj Party naming Dr Antriksh Saini as its Lok Sabha candidate a year ago from Haridwar constituency , in a major change of events, the party has now opted for Haji Mohammed Islam, a political novice, putting water on the one-year-long efforts of Saini.
Interestingly, Haji Islam was just two days ago Congress Party's loyal worker, but after meeting BSP supremo Mayawati in Lucknow earlier this week, he not only opted for BSP but also was named the party's official Lok Sabha candidate from important Haridwar constituency.
Hailing from Bharapur Bhauri village, Haji Mohammed Islam is a Jojha Muslim and his candidature is being linked with the substantial presence of Muslims in the constituency.
Notably, previous candidate Antriksh Saini was also a BJP leader but left the saffron party just months ago when BSP named him official party candidate.
To popularise Haji's candidature, party think tank has planned a series of party workers' meetings, conventions, agitations, demonstrations and mass rally, keeping Haji in the front of all these.
As a first on October 5, in Roorkee, BSP will be holding a major rally presenting Haji before the public and commencing its election campaign post change of Lok Sabha candidature in Haridwar.
But it's quite interesting to see how much mileage Haji can take from these programmes as, forget common voters, even party leaders and workers don't know him.
Close insiders within the party also point that in fact this decision may backfire too as this may help present parliamentarian from Haridwar and Congress candidate Harish Rawat, as minority votes often don't bifurcate.
It is pertinent to mention here that Samajwadi Party too has named a Muslim candidate in the form of Azmal Nawaj Khan from Haridwar Lok Sabha seat.
So it is a probability that votes of minority, which constitutes about 23 per cent in this constituency, will not only go for either BSP or SP, but with Harish Rawat having a good pro-Muslim-Dalit image, a major chunk of votes Congress will also get. It is quite an uphill task for Haji Islam if he has any serious dreams of being an MP from Haridwar.
As for a win he needs to have votes from every community and each of the 11 Assembly segments of Haridwar constituency.
Ex-legislator and last parliamentary election BSP candidate from Haridwar Mohammed Shahzad refused to comment on party's decision but seemed disgusted with the party ignoring him and instead opting for two other party parachute candidates. He said that it was the party supremo's decision.
Talking to TNS Uttarakhand party unit chief Megh Raj Zaravare said that the decision is of party high command, taking into cognisance various political-local-electoral considerations.
Zaravare accepted that Haji's name emerged as the local party unit had sent a report to the high command about luring minority votes, which are in a considerable number in the constituency and owing to his non-controversial and clean image.
Haji Mohammed Islam, after being nominated party official candidate, paid a visit to holy shrine of Piran Kaliyar.Thanking party national president Mayawati ,Haji said that he will take ''Sarv Samaj'' ideology during his campaign and work for party's causes ensuring a win from the Haridwar seat.
A confident looking Haji said that be it Harish Rawat or probable BJP candidate Uma Bharati or Madan Kaushik, ''I am committed to work for the party and with time on my side, Iwill reach both urban and rural voters with right approach and corner Opposition parties for their failure to provide development in the area.''