M A I N N E W S
Haryana housing policy: Affordable for builders, not aam aadmi
101 firms show interest in 'realtor-friendly' policy; max applications for Gurgaon projects
Pradeep Sharma/TNS
Chandigarh, October 8
The much-touted Affordable Housing Policy-2013, launched by Haryana Chief Minister Bhupinder Singh Hooda on August 6, is set to make housing out of aam aadmi's reach across the state, especially in major cities.
With the housing policy fixing unaffordable allotment rates for the apartments, apparently to benefit the powerful builder lobby in the run-up to the parliamentary and state Assembly elections next year, the dream of the common man to have roof over his head is set to be delivered a jolt.
Under the policy, the maximum allotment rate for Gurgaon, Faridabad and Pinjore-Kalka urban estate (Panchkula) would be Rs 4,000 per sq ft. For other high and medium-potential towns, the rate would be Rs 3,600 per sq ft; and for the low-potential towns, it would be Rs 3,000 per sq ft.
In fact, attractive pricing for the builders is not the only highlight of the housing policy. It would be a virtual bonanza for the recession-hit realty sector as the projects passed under the new policy would be eligible for a slew of incentives, including exemption from licence fee, infrastructure development charges, floor-area ratio (FAR) of 225 instead of current 175, higher ground coverage of 50 per cent against the current 35 per cent.
Hooda had claimed that the policy was intended for the creation of mass availability of nearly 1.25 lakh dwelling units at "affordable rates" through private builders over the next five years. That is perhaps the reasons that the "builder-friendly" housing policy has evoked tremendous response from the builders at a time when the realty sector was passing through severe recession. As many as 101 builders have applied for new projects under the policy with 55 applications being received for the projects in Gurgaon alone.
The major players, who have applied for approval of new housing projects in the national capital region (NCR), particularly in Gurgaon, include DLF Limited, Emaar MGF Land Limited, Raheja Developers Private Limited and Suncity Projects Private Limited.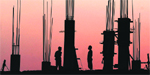 Economics of 2BHK flats (1200 sq ft)
* Gurgaon, Faridabad, Panchkula: `48 lakh plus stamp duty etc.
* Karnal, Sonepat, Rohtak: `43 lakh plus stamp duty etc.
* Jind, Kaithal, Shahbad: `36 lakh plus stamp duty etc.
Bonanza for builders
* Exemption from licence fee, infrastructure development charges
* Floor area ratio (FAR) of 225, instead of current 175
* Higher ground coverage of 50% as against 35% in other projects