LIFE+STYLE

CHANDIGARH

LUDHIANA

BATHINDA

JALANDHAR

AMRITSAR TRIBUNE

JALANDHAR TRIBUNE

BATHINDA TRIBUNE

JAMMU TRIBUNE

KASHMIR TRIBUNE

DELHI

DEHRADUN

DEHRADUN PLUS
No SC relief for Centre on Aadhaar card
New Delhi, October 8
The Centre today failed to get any relief from the Supreme Court on the Aadhaar card issue even as it contended that the SC had issued two orders, one for linking the Aadhaar to public distribution system (PDS) for checking corruption and the other for non-insistence of the card for offering subsidy or other benefits and services to the people.

Cabinet clears Bill to give statutory status to UIDAI :
Nation page

Telangana tussle
Employees' talks with CM fail; health, transport services hit
Hyderabad, October 8
The spectre of southern power grid collapse is looming large with more than 30,000 employees of electricity department in the Seemandhra region of Andhra Pradesh vowing to continue their indefinite strike following failure of talks with the Chief Minister N Kiran Kumar Reddy here tonight.
Dalits need Jupiter's escape velocity to break free: Rahul


New Delhi, October 8
Representatives of the Valmiki community burst into applause today when Congress vice-president Rahul Gandhi described the Dalits as the "spine of the party", saying he would love to see them in Assemblies and Parliament.

OTHER PAGES

PUNJAB: Badal miffed at not being invited for cancer hospital's stone-laying


HARYANA: Hooda promises job to women's hockey goalie Savita Punia


HIMACHAL: Arun Dhumal rakes up CM's IT returns issue


CHANDIGARH: IAF urged to give land for taxiway


LUDHIANA: Rail travel becomes costlier


DELHI: Five leaders booked for violation of Model Code

OPINIONS: Bar on bureaucrats


NATION: Cabinet clears Bill to give statutory status to UIDAI


BUSINESS: IMF cuts India growth forecast to 3.75%

SPORTS: SC allows Srini to take charge

WORLD: US target in Somalia plotted Kenya attacks


Lahore Log

The tribune guide to best colleges

Budget
2013-14

INDIA CHINA WAR 50 YEAR LATER

EARLIER FEATURES
Tandoor case: Sushil's death penalty commuted to life term
New Delhi, October 8
The Supreme Court today commuted to life term the death sentence awarded to Sushil Sharma for murdering his wife Naina Sahni in July 1995 and trying to dispose of the body by burning it in a 'tandoor' (clay oven) at his restaurant at the then Ashok Yatri Niwas (a budget hotel between Parliament building and the historic Jantar Mantar) of India Tourism Development Corporation.
'Questionable' land deals in Mohali to be probed
Chandigarh, October 8
The Punjab Government has ordered an inquiry into the alleged evasion of stamp duty by undervaluing land being sold or bought by certain politicians in Mohali district.
Sikh family attacked at Gujarat farm, four injured
Chandigarh, October 8
At least four members of a Sikh family were injured when they were attacked by a group of men at their farm in Loria village of Bhuj district in Gujarat early this morning, reports reaching here said.
Haryana housing policy: Affordable for builders, not aam aadmi
101 firms show interest in 'realtor-friendly' policy;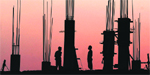 max applications for Gurgaon projects
Chandigarh, October 8
The much-touted Affordable Housing Policy-2013, launched by Haryana Chief Minister Bhupinder Singh Hooda on August 6, is set to make housing out of aam aadmi's reach across the state, especially in major cities.
India rejects Pak denial on incursion
October 8, 2013

Curfew, shoot orders in coastal Andhra town
October 7, 2013
Jagan begins fast, says will move SC against AP division
October 6, 2013
EC declares poll dates for 5 states
October 5, 2013
Lalu gets 5-yr jail in fodder scam
October 4, 2013
Govt withdraws ordinance, Bill on lawmakers
October 3, 2013
No question of me resigning, says PM
October 2, 2013
Lalu guilty in fodder scam, jailed
October 1, 2013
India, Pak DGMOs to draw road map for LoC peace
September 30, 2013
Shut down terror machinery, Manmohan tells Pak at UN
September 29, 2013
Rahul trashes ordinance on convicted netas
September 28, 2013
Twin terror strikes in Jammu; 10 killed
September 27, 2013