Efforts afoot to revive Nurpur Silk Mill
Nurpur, October 8
The Himachal Pradesh General Industry Corporation (HPGIC) is all set to revive sick Nurpur Silk Mill, which had once earned the fame not only in the state but also in the country for its silk. The previous BJP government had taken the initiative after exploring the possibilities of its revival, but the proposed strategy has taken a final shape after the present government came to power.
Illegal mining goes on unabated in Neugal riverbed
Palampur, October 8
The state government had recently imposed a complete ban on mining in the Neugal riverbed and other tributaries of the Beas. However, the large-scale illegal mining and quarrying is going on unchecked in the region. It is not only creating environmental imbalances but also causing a huge loss to the exchequer every year.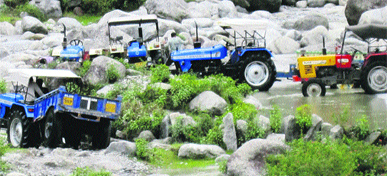 Tractor-trailers extract stones from the Neugal river, near Palampur. Photo by writer