dasehra celebrations
Cong leaders at loggerheads with dist administration
Kapurthala, October 9
Congress leaders of Sultanpur Lodhi are at loggerheads with the administration by initially allowing them to hold separate Dasehra celebrations on the grounds of Government Senior Secondary School there, but today withdrawing the permission for the same.
assessing vat liability
Scrutiny of major players on NSEL begins
Jalandhar, October 9
Excise and Taxation Commissioner, Punjab, Anurag Verma, has stated that the Punjab Sales Tax Department has started scrutinising the returns of major players trading on National Spot Exchange Limited (NSEL) to assess their value added tax (VAT) liability.
PIMS staff stir enters 4th day
Jalandhar, October 9
Hundreds of patients visiting the Punjab Institute of Medical Sciences (PIMS) here were put to a great hardship, with the strike of its staff entering the fourth day today.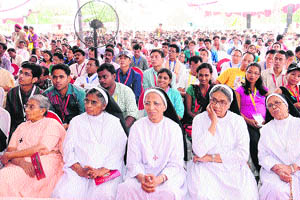 Badal's call for strong India
Jalandhar, October 9
Punjab Chief Minister Parkash Singh Badal addressed the youth from across the nation during a National Youth Conference organised by the Indian Catholic Youth Movement (ICYM) at Trinity College here today.



Staff and students of Trinity College attend National Youth Convention in Jalandhar on Wednesday. Tribune photo: Malkiat Singh

NCC camp ends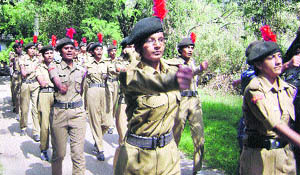 Jalandhar, October 9
A Combined Annual Training Camp for the NCC cadets was organised here from September 29 to October 8 by the 21 Punjab Bn, NCC, Kapurthala. The aim of the camp was to instill confidence among the cadets and provide them a launching platform, where they can sharpen their skills.The camp was organised under the Command of Col Shri Kant. As many as 383 cadets participated in the camp.
NCC cadets during a combined training camp at Jalandhar Cantt on Wednesday. A Tribune photograph

Punjab State Power Corporation Ltd beat CoS in Surjit hockey opening match
Jalandhar, October 9
In the inaugural match of Surjeet Hockey, Punjab State Power Corporation Limited (PSPCL), Patiala, defeated Corps of Signals (COS), Jalandhar by 4-3 at the Olympian Surjit Hockey Stadium here today. The tournament was inaugurated by KD Bhandari, Chief Parliamentary Secretary (Cooperation), Punjab. It was a fitting contest between the two prominent teams of the tournament as both PSPCL and COS matched each other stick to stick.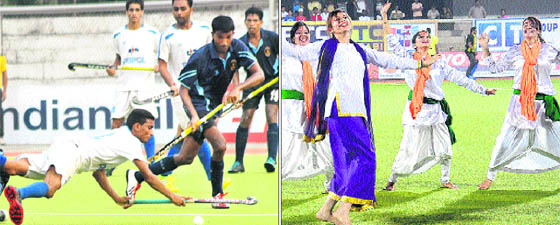 A match in progress during 30th Indian Oil Surjit Hockey Tournament; and (right) girls perform a culural programme during the opening ceremony on Wednesday. Tribune photos: Malkiat Singh
LPU to organise 3-day fest
Jalandhar, October 9
Creating a competitive platform for talented students of India, Lovely Professional University (LPU) is going to organise three-day National Open Fest - 'Youth Vibe - 2013' from October 21 onwards. According to the university authorities, more than 2,000 colleges and 30,000 students are expected to participate in the fest.
BSP demands Badal's resignation
Phagwara, October 9
The Bahujan Samaj Party while strongly condemning the SAD-BJP rule and describing the Badal government as total failure today demanded the resignation of Punjab Chief Minister Parkash Singh Badal on moral grounds.
Service Week concludes
Phagwara, October 9
On the concluding day of 'Service Week' organised by the Lions Club, Phagwara Service, 25 persons donated blood here today.
Tributes paid to martyrs
Jalandhar, October 9
As part of the 81st anniversary of the Indian Air Force, Air Force Station Adampur organised a programme to pay tributes to the martyrs yesterday.
Innocent Hearts win five gold in karate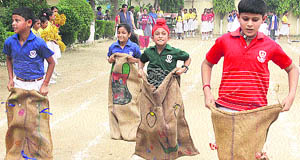 Jalandhar, October 9
Students of Innocent Hearts School have won five gold madals in Karate competition organised by the Punjab School Education Board. Gauri bagged the first prize in U-17 category. Chakshu Sharma and Akarshit won the gold medals in boys U-17 category. Rajwinder Singh and Shiva Singh won the first prize in U-19 category.

Students of St Soldier School, Mann Nagar, participate in sack race duirng the annual sports meet in Jalandhar. Tribune photo: Sarabjit Singh